Asian stocks fall, rattled by North Korean missile launch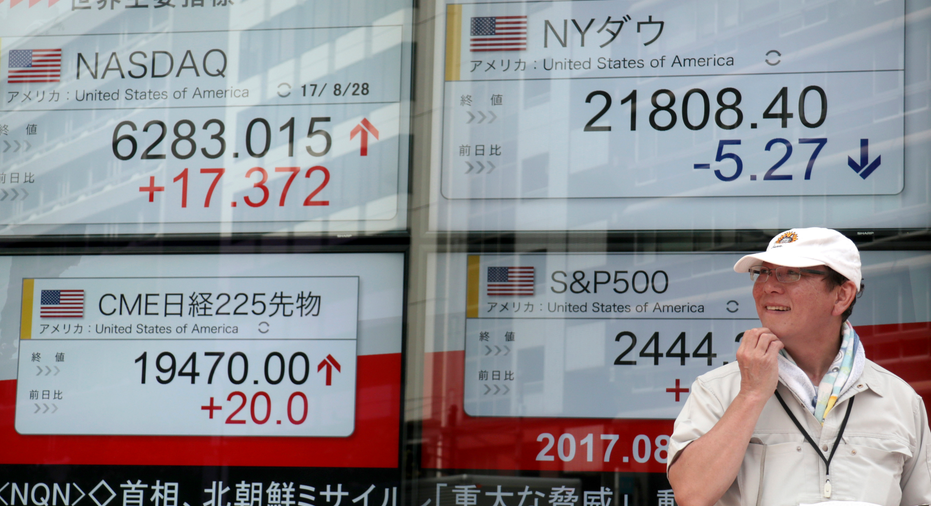 Asian shares were mostly lower Tuesday, as the region was rattled by a ballistic missile launch in which the projectile flew over Japan and fell into the Pacific Ocean.
KEEPING SCORE: Japan's benchmark Nikkei 225 fell 0.6 percent to 19,331.50, while Australia's S&P/ASX 200 dipped nearly 1.0 percent to 5,653.60 in early trading. South Korea's Kospi lost 1.4 percent to 2,337.88. Hong Kong's Hang Seng shed 0.2 percent to 27,802.15, while the Shanghai Composite inched up nearly 0.2 percent to 3,367.99.
MISSILE NEWS: North Korea fired a ballistic missile that flew over Japan before plunging into the northern Pacific Ocean, an aggressive test-flight over a close U.S. ally that sends a clear message of defiance as Washington and Seoul conduct war games nearby.
WALL STREET: The Standard & Poor's 500 index picked up 1.19 points, or less than 0.1 percent, to 2,444.24. The Dow Jones industrial average dipped 5.27 points to 21,808.40. The Nasdaq composite rose 17.37 points, or 0.3 percent, to 6,283.02. The Russell 2000 index of smaller-company stocks gained 4.78 points, or 0.3 percent, to 1,382.23. Most of the stocks on the New York Stock Exchange fell.
STORM FEARS: U.S. trading had focused on the effects of Tropical Storm Harvey in the absence of other market-moving news. Large parts of the energy and petrochemical industries are based in the Houston area and companies with a lot of stores in the area stand to lose business. While gas price spikes will be temporary, other effects of the storm will last for years. The U.S. Federal Reserve might hesitate to raise interest rates if they think the storm will slow the economy significantly.
ENERGY: Benchmark U.S. crude added 22 cents to $46.79 a barrel. It fell $1.30 to $46.57 a barrel in New York Monday. Brent crude, the international standard, rose 20 cents to $51.62 a barrel.
CURRENCIES: The euro rose to $1.1969 from $1.1926. The dollar fell to 108.82 yen from 109.18 yen late Monday in Asia.
___
AP Markets Writer Marley Jay contributed to this report. He can be reached at http://twitter.com/MarleyJayAP
His work can be found at https://apnews.com/search/marley%20jay
Follow Yuri Kageyama on Twitter at https://twitter.com/yurikageyama
Her work can be found at https://www.apnews.com/search/yuri%20kageyama