Asian shares tumble after Tillerson exit, Wall Street drop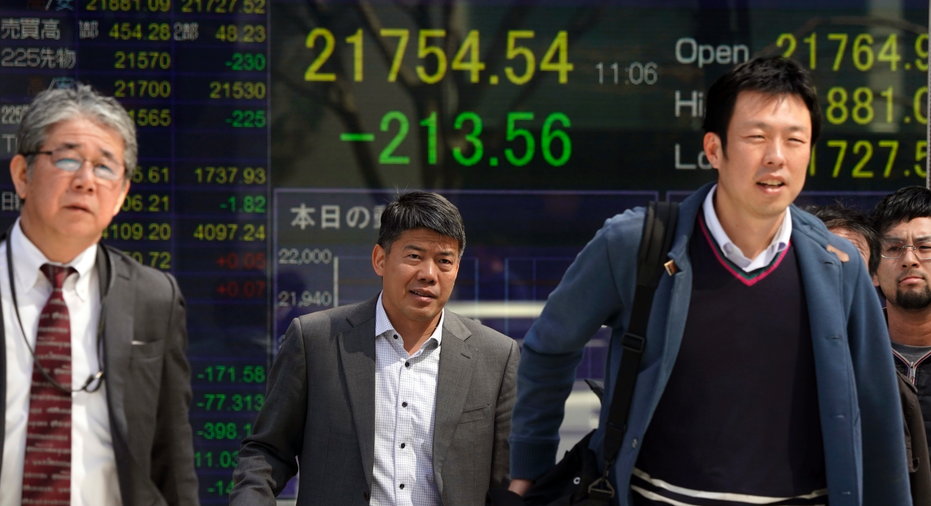 Asian shares fell Wednesday, taking their cue from a dip on Wall Street after the abrupt departure of U.S. Secretary of State Rex Tillerson. Concern over tariff hikes announced by President Donald Trump was weighing on sentiment.
KEEPING SCORE: Japan's benchmark Nikkei 225 lost 0.9 percent in to 21,771.52. Australia's AS&P/ASX 200 dipped 0.6 percent to 5,936.30. South Korea's Kospi fell 0.4 percent to 2,484.50. Hong Kong's Hang Seng dropped 1.3 percent to 31,206.31, while the Shanghai Composite slipped 0.6 percent to 3,290.72. Shares also fell in Southeast Asia.
TILLERSON EXIT: U.S. President Donald Trump fired Tillerson and picked CIA Director Mike Pompeo to shift from America's spy chief to its top diplomat. The abrupt announcement ended the turbulent tenure of the man who reportedly called the president a "moron" but wanted to stay, and deepened the disarray in the Trump administration.
THE QUOTE: "Over and above the reflection of chaos within the U.S. administration, the removal of another balancing voice in the White House shortly after ex-economic adviser Gary Cohn's departure certainly induced jitters within the market," said Jingyi Pan, market strategist at IG in Singapore.
WALL STREET: The S&P 500 index lost 0.6 percent to 2,765.31. The Dow Jones industrial average slid 0.7 percent to 25,007.03. The Nasdaq composite fell 1 percent to 7,511.01, its first decline after seven straight gains. The Russell 2000 index of smaller-company stocks sank 0.6 percent, to 1,592.05.
BLOCKED DEAL: Behind the Wall Street drop was Trump's blocking of Singapore-based chipmaker Broadcom's effort to buy Qualcomm, one of the biggest makers of processors that power smartphones and other mobile devices. The deal would have been the largest in the history of the technology industry and Broadcom's offer came as other countries are also getting ready to build faster "5G" wireless networks.
ENERGY: Benchmark U.S. crude added 3 cents to $60.74 a barrel in electronic trading on the New York Mercantile Exchange. It slumped 65 cents to $60.71 a barrel in overnight. Brent crude, used to price international oils, shed 5 cents to $64.59 per barrel.
CURRENCIES: The dollar fell to 106.49 yen from 106.58 yen late Tuesday. The euro rose to $1.2408 from $1.2388.
____
AP Markets Writer Marley Jay contributed to this report. He can be reached at http://twitter.com/MarleyJayAP
His work can be found at https://apnews.com/search/marley%20jay
Follow Yuri Kageyama on Twitter at https://twitter.com/yurikageyama
Her work can be found at https://www.apnews.com/search/yuri%20kageyama