Asian shares tumble after Italy rejects constitution changes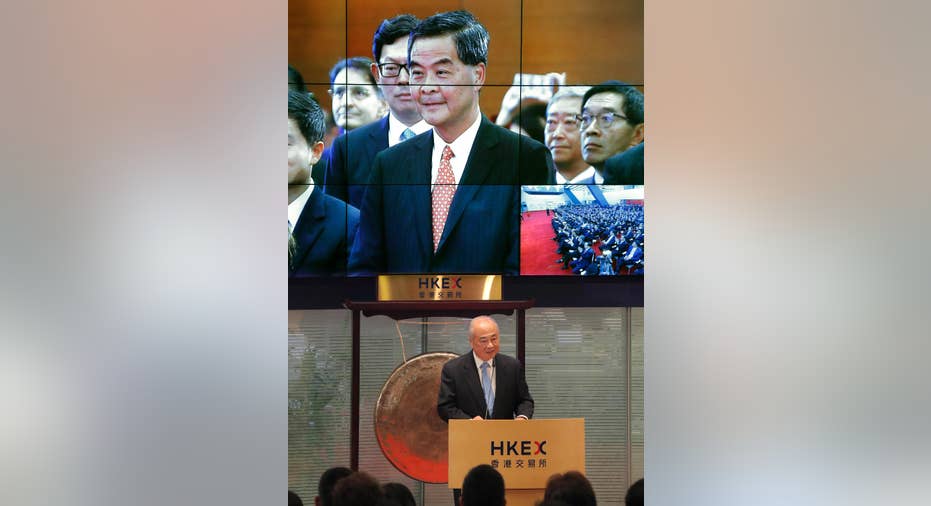 Asian shares tumbled Monday after Italian voters' rejected constitutional changes, raising questions over whether Italy will stay in the European Union and keep using the euro.
KEEPING SCORE: Sydney's S&P-ASX 200 index dropped 1 percent to 5,391.40 points and the Shanghai Composite Index lost 0.9 percent to 3,215.30. Tokyo's Nikkei 225 retreated 0.6 percent to 18,309.07 and Seoul's Kospi shed 0.1 percent to 1,967.67. Benchmarks in Taiwan and New Zealand also declined. Hong Kong's Hang Seng fell 0.4 percent to 22,484.24. Shares were mixed in Southeast Asia.
ITALY VOTES "NO": Italian voters rejected proposed constitutional changes, delivering a stinging defeat to Premier Matteo Renzi and galvanizing the populist opposition. Renzi had said the changes, which would strengthen the administrative branch and reduce the powers of Italy's Senate, were necessary to rejuvenate the economy. He announced his resignation. The rejection was a rebuke to industrialists, bankers and establishment institutions that supported the changes. It raises doubts about whether Italy will stay in the European Union and keep using the euro common currency.
ANALYST'S TAKE: "Risk sentiment has taken a hit from rejection of the Italian referendum," Citigroup analysts said in a report. The outcome was in line with polls but the heavy margin of rejection is surprising," they said. "Italy's Prime Minister Renzi has resigned after accepting defeat in the referendum. This raises the political risks in Italy and may weigh on its troubled banking sector. This also casts significant doubts over Italy's membership of the European Union and the future of Eurozone."
TRUMP WATCH: Donald Trump rattled Beijing by taking a phone call from Taiwan's president in a break with U.S. diplomatic protocol. China issued an unusually low-key complaint, saying it was a "small trick" by Taiwan, which the communist mainland claims as part of its territory. Washington has close ties with Taiwan but switched formal diplomatic relations to Beijing four decades ago. The call was the starkest example yet of how Trump has flouted diplomatic conventions since he won the Nov. 8 election. He apparently has been speaking with foreign leaders without guidance from the State Department, which oversees U.S. diplomacy.
HONG KONG-SHENZHEN LINK: Market reaction was muted as trading began Monday on a new cross-border stock link between Hong Kong and the neighboring Chinese city of Shenzhen, widening access to China's markets for global investors. It allows international investors to buy and sell 880 high-growth small and midcap stocks traded on the exchange in the southern boomtown of Shenzhen via the Hong Kong exchange. A similar link between Hong Kong and China's main exchange in Shanghai began two years ago.
LI KA-SHING'S DUET: Australia's DUET Group, a pipeline operator and power distributor, received a takeover offer from Hong Kong billionaire Li Ka-shing's Cheung Kong Infrastructure that values the company at 7.3 billion Australian dollars (US$5.4 billion). A successful acquisition would expand Li's position in Australian infrastructure. The bid comes amid debate in Australia about a surge in foreign corporate takeovers.
WALL STREET: Investors moved into safer assets Friday after government jobs data showed more hiring but weak wages. Banks took losses but most other stocks finished higher. The Labor Department said U.S. employers added 178,000 jobs in November as hiring remained steady. Investors have long expected the Federal Reserve will raise interest rates this month, and the jobs report did nothing to dispel that notion. The Dow Jones industrial average lost lost 21.51 points, or 0.1 percent, to 19,170.42. The Standard & Poor's 500 index rose 0.87 points to 2,191.95. The Nasdaq composite added 4.55 points, or 0.1 percent, to 5,255.65.
ENERGY: Benchmark U.S. oil fell 51 cents to $51.17 per barrel in electronic trading on the New York Mercantile Exchange. The contract jumped 62 cents on Friday to close at $51.68. Brent crude, used to price international oils, lost 44 cents to $54.02 in London. It rose 52 cents on Friday to $54.46.
CURRENCY: The dollar advanced to 113.57 yen from Friday's 113.50 yen. The euro sank to $1.0547 from $1.0665.