Asian shares track Wall St gains as inflation fears subside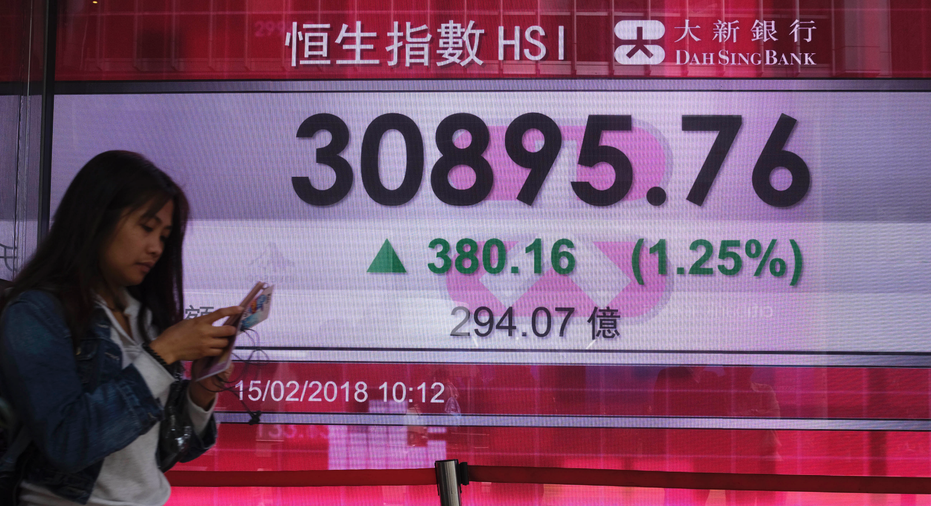 Asian shares posted solid gains on Thursday that mirrored Wall Street's advance as investors' worries over inflation receded, although trading was thinning as markets closed for Lunar New Year holidays.
KEEPING SCORE: Japan's benchmark Nikkei 225 rose 1.3 percent to 21,435.13 and Hong Kong's Hang Seng advanced 1.3 percent to 30,908.64. Australia's S&P/ASX 200 climbed 0.9 percent to 5,893.90. Markets in mainland China, South Korea and Taiwan were closed for the lunar new year holiday.
INFLATION: A report showed U.S. consumer prices climbed at a slightly faster pace than economists expected in January while a separate report on retail sales showed they were unchanged in December and slipped last month. Surprisingly, markets shrugged off the figures, suggesting investors are now much less concerned about inflation than they were earlier this month, when an upbeat wage growth report sent markets reeling over fears the Federal Reserve might start raising interest rates faster than anticipated earlier.
ANALYST TAKEAWAY: "Having just gone through the roller coaster of equity sell-off induced by bond yield rises, I am frankly at a loss to explain what is now happening now," said Rob Carnell, chief Asia economist at ING. "I can only assume that we are in a temporary lull before the turmoil returns," he added, noting that trading volumes have been lower in recent days, likely because traders are winding down for the Lunar New Year holiday in Asia and President's Day holiday in the U.S. on Monday.
WALL STREET: Major U.S. benchmarks rose for the fourth straight day. The Standard & Poor's 500 index rose 1.3 percent to close 2,698.63. The Dow Jones industrial average added 1 percent to 24,893.49. The Nasdaq composite climbed 1.9 percent to 7,143.62.
CURRENCIES: The dollar was at a 15-month low, weakening to 106.64 yen from 106.94 yen in late trading Wednesday. The euro strengthened to $1.2452 from $1.2452.
ENERGY: U.S. benchmark crude oil rose 38 cents to $60.98 a barrel in electronic trading on the New York Mercantile Exchange. The contract rose $1.41, or 2.4 percent, to settle at $60.60 a barrel on Wednesday. Brent crude, used to price international oils, gained 35 cents to $64.71 a barrel in London.