Asian shares track Wall St decline as China-US tariffs loom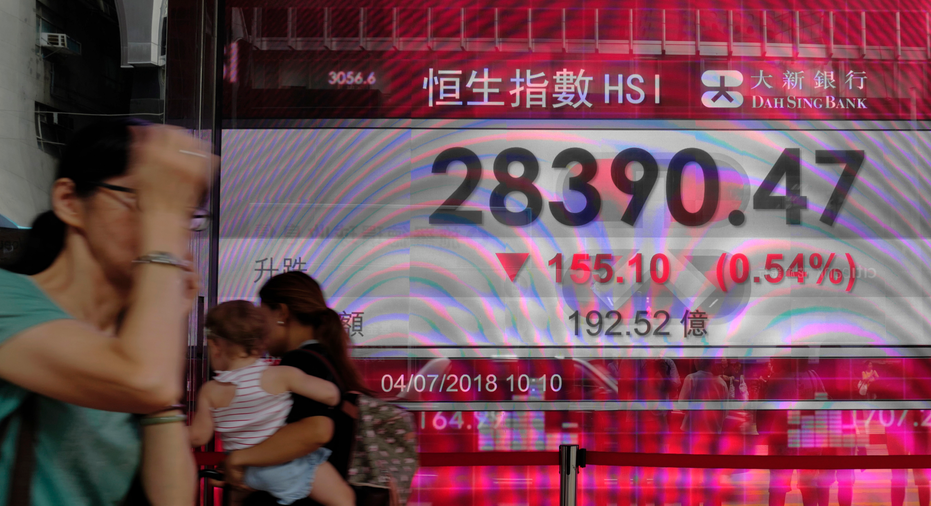 Asian shares were moderately lower on Wednesday after U.S. stocks succumbed to a sell-off in the final minutes of trading, snapping a three-day winning streak.
KEEPING SCORE: Japan's Nikkei 225 index fell 0.4 percent to 21,707.11 and the Shanghai Composite index dropped 0.7 percent to 2,767.91. Hong Kong's Hang Seng index fell 1.1 percent to 28,239.11 and the Kospi in South Korea lost 0.4 percent to 2,264.58. Australia's S&P ASX/200 gave up 0.6 percent to 6,176.00. Shares also fell in Southeast Asia and Taiwan.
WALL STREET: Technology companies and banks led the market slide, outweighing gains in health care and energy stocks. The trading session, shortened ahead of the Independence Day holiday, pulled the S&P 500 index down 0.5 percent to 2,713.22. The Dow Jones Industrial Average slid 0.5 percent to 24,174.82 and the Nasdaq lost 0.9 percent to 7,502.67. Smaller-company stocks bucked the broader market decline, with the Russell 2000 index picking up 0.3 percent, to 1,660.42.
CHINA-U.S. TRADE: On Friday the U.S. is set to impose a 25 percent tariff on $34 billion worth of Chinese imports. And China is expected to strike back with tariffs on a similar amount of U.S. exports. The big question is how far the two countries will go in their dispute over trade. The Trump administration has said it won't target an additional $16 billion worth of Chinese goods until it gathers further public comments. It's also identifying an additional $200 billion in Chinese goods for 10 percent tariffs, which could take effect if Beijing retaliates.
CHINESE CURRENCY: Reported comments by the head of China's central bank saying he's closely watching the recent slide in the value of the yuan, also known as the renminbi (RMB), against the U.S. dollar have helped to reassure investors. People's Bank of China Gov. Yi Gang said financial risks were under control and the China's international balance of payments and currency flows were stable.
ANALYST VIEWPOINT: "The statement puts paid to any fears that the PBOC could be engineering a depreciation to cushion the economy, as Yi Gang stakes his credibility on the RMB being stable within the bounds of broad USD volatility," Chang Weiliang of Mizuho Bank said in a commentary. The yuan fell to 6.70 yuan to the U.S. dollar on Tuesday but ended the day at 6.64 yuan in its first trading day gain in two weeks, Chang said.
ENERGY: Benchmark U.S. crude added 44 cents to $74.58 per barrel in electronic trading on the New York Mercantile Exchange. It added 20 cents to $74.14 a barrel on Tuesday, reaching more than $75 a barrel in early trading. Brent crude, used to price international oils, rose 31 cents to $78.07 per barrel.
CURRENCIES: The dollar fell to 110.44 yen from 110.59 yen on Tuesday. The euro strengthened to $1.1664 from $1.1657.