Asian shares subdued as missile fallout weighs on sentiment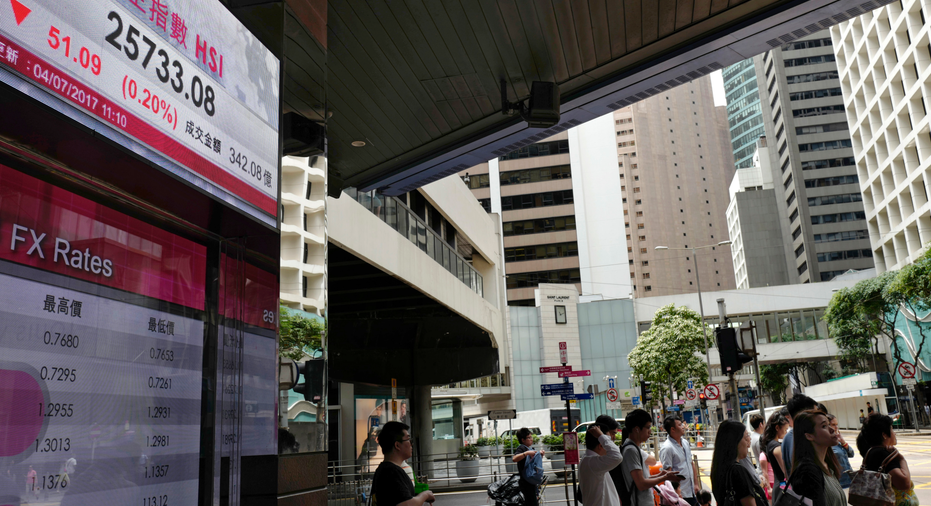 Asian shares were muted Wednesday as the geopolitical fallout from North Korea's long-range missile launch weighed on investor sentiment amid trading thinned by the U.S. Independence Day holiday.
KEEPING SCORE: Japan's benchmark Nikkei 225 index lost 0.5 percent to 19,928.79 and South Korea's Kospi edged 0.1 percent higher to 2,383.09. Hong Kong's Hang Seng rose 0.4 percent to 25,488.73 and the Shanghai Composite index in mainland China edged up 0.2 percent to 3,189.63. Australia's S&P/ASX 200 fell 0.1 percent to 5,776.50. Taiwan's benchmark gained and indexes in Southeast Asia were mixed.
NORTH KOREAN MISSILE: A day after Pyongyang successfully test fired its first intercontinental ballistic missile, North Korean state media boasted about the accomplishment. Washington confirmed it was an ICBM, with U.S. Secretary of State Rex Tillerson saying that "global action is required to stop a global threat." The U.S. and ally South Korea scrambled to respond to the test, firing "deep strike" precision missiles into South Korean waters. The United Nations Security Council was set to hold an emergency meeting.
WORLD SUMMIT: Investors are also looking ahead to the end of the week when leaders from the Group of 20 developed nations meet in Hamburg, Germany. Countries are expected to put forth competing visions of world trade when the summit begins Friday, with U.S. President Donald Trump's "America First" colliding with the European Union's push for broad trade deals like the one with Japan.
GLOBAL ECONOMY: Business activity in China slowed last month to its weakest pace in a year, mainly due to weakness in the service sector, according to the Caixin/Markit composite purchasing managers' index. For more clues on the state of the world economy, markets will be watching for the release of minutes from the Fed's Open Market Committee after U.S. markets open, followed by U.S. monthly payroll data later in the week.
MARKET VIEW: "The confluence of jitters from concerns over North Korea and the anticipation for the events ahead could set most Asian markets on a near neutral start," said Jingyi Pan, strategist at IG.
ENERGY: Benchmark U.S. crude slipped 5 cents to $47.02 a barre in electronic trading on the New York Mercantile Exchange. Brent crude, used to price international oils, dipped 2 cents to $49.59 a barrel in London.
CURRENCIES: The dollar fell to 112.94 yen from 113.28 yen in late trading Tuesday. The euro fell to 1.1364 from $1.1348.