Asian shares slump on fears of trade war between US, China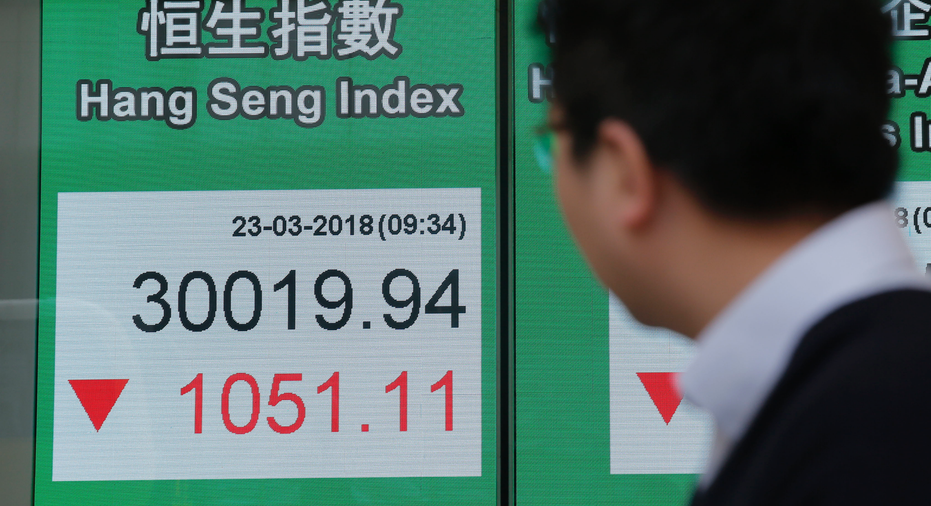 Asian stock markets slumped Friday after Beijing responded to the Trump administration's tariff hikes by saying it may order higher import duties on a range of U.S. goods, ratcheting up fears of a trade war.
Stocks plunged Thursday on Wall Street after U.S. President Donald Trump imposed sanctions on goods and investment from China. The Dow Jones industrial average dropped more than 700 points as investors feared that trade tensions between the world's largest economies would escalate.
The planned sanctions include tariffs on $48 billion worth of Chinese imports as well as restrictions on Chinese investments. Trump said he was taking those steps in response to theft of American technology.
The U.S. Trade Representative identified 1,300 product lines as potential targets, including aerospace, information and communication technology, and machinery. A more complete list is due soon, to be followed by a 30-day comment period.
The Chinese government said it will defend itself, and investors are worried that trade tensions will wreak havoc on the world economy.
On Thursday they fled stocks and bought bonds, which sent bond prices higher and yields lower. With interest rates falling, banks took some of the worst losses. Technology and industrial companies, basic materials makers and health care companies also fell sharply.
The fear rippled into Asia, where shares tumbled in early trading. By late morning in Japan, the benchmark Nikkei 225 index was down 3.5 percent at 20,827.92. South Korea's Kospi tumbled 2.3 percent to 2,438.03. Hong Kong's Hang Seng lost 3.2 percent to 30,090.32 and the Shanghai Composite in mainland China sank 2.7 percent to 3,169.19. Australia's S&P/ASX 200 skidded 1.9 percent to 5,824.50.
In response to President Donald Trump's tariff hike on steel and aluminum, China unveiled a list of U.S. goods including pork, apples and steel pipe that it may hit with higher import duties.
The Commerce Ministry in Beijing urged Washington to negotiate a settlement, saying tariffs undermine the global trading system.
"Markets are looking immensely fragile today. Strap in as a tit-for-tat tariff tiff is about to start," Stephen Innes, head of Asian trading at OANDA, said in a commentary.
On Thursday, markets sank. The S&P 500 index skidded 2.5 percent to 2,643.69. The Dow Jones industrial average sank 2.9 percent to 23,957.89. The Nasdaq composite gave up 2.4 percent to 7,166.68.
Investors also sold some of the market's biggest recent winners. Among technology companies, Microsoft fell $2.69, or 2.9 percent, to $89.79 and Alphabet, Google's parent company, fell $40.85, or 3.7 percent, to $1,053.15. Online retailer Amazon slid $36.94, or 2.3 percent, to $1,544.92.
The reaction to the moves in Washington and Beijing was somewhat muted, with Asian markets regaining some lost ground after early sell-offs.
Peter Donisanu, an investment strategy analyst for the Wells Fargo Investment Institute, said the risk of a damaging trade war is still low because the Trump administration is targeting specific goods that aren't central to China's economy. That could change if it puts tariffs on products like electronics or appliances imported from China.
"If the Trump administration really wanted to hurt China and start a trade war, then they would go after those larger sectors," he said.
Earlier this month the Trump administration ordered tariffs on imported steel and aluminum, and stocks dropped as investors worried about the possibility of tougher restrictions on international trade and smaller profits for corporations.
Their fears eased when the administration said some countries will be exempt from the tariffs. That continued Thursday, after U.S. Trade Representative Robert Lighthizer said the tariffs won't apply to the European Union, Canada, Mexico, Argentina, Brazil and Australia.
The jitters over trade tensions sent investors toward traditional "safe havens" like the Japanese yen, which strengthened against the U.S. dollar.
The dollar fell to 104.87 yen from 105.28 yen in late trading Thursday. The euro rose to $1.2337 from $1.2302.
Oil futures rallied. Benchmark U.S. crude rose 95 cents to $65.27 a barrel in electronic trading on the New York Mercantile Exchange. The contract shed 87 cents, or 1.3 percent, to close at $64.30 a barrel in New York. Brent crude, used to price international oils, rose 92 cents to $69.30 a barrel in London.
___
AP Markets Writer Marley Jay contributed to this report.