Asian shares rise on Wall St, oil gains; Nikkei dips on yen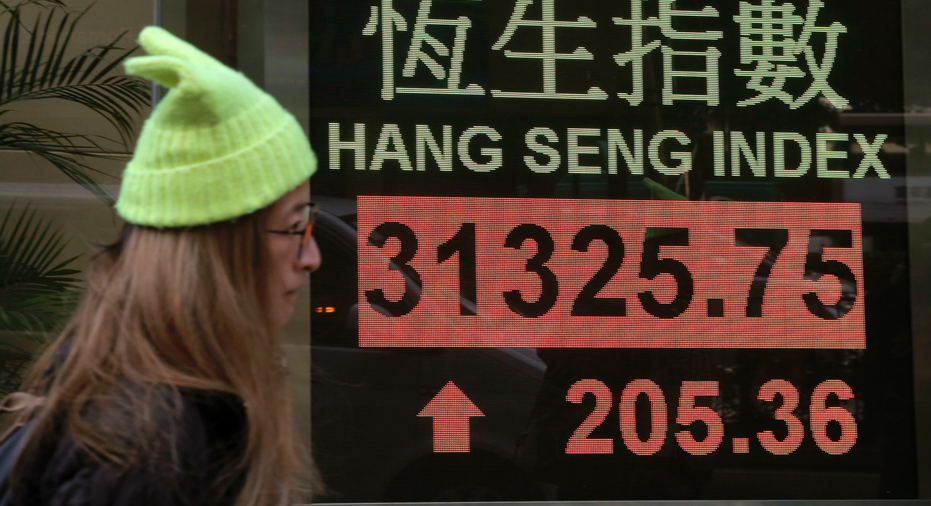 Most Asian stocks markets are higher after Wall Street's latest record close. Japan's Nikkei 225 recovered from early losses to gain 0.1 percent. Hong Kong's Hang Seng and the Shanghai Composite index also advanced.
KEEPING SCORE: Japan's benchmark Nikkei 225 index rose 0.1 percent to 23,712.27. South Korea's Kospi gave up early gains, slipping 0.1 percent to 2,485.18, but Hong Kong's Hang Seng advanced 0.4 percent to 31,245.86 and the Shanghai Composite index added 0.1 percent to 3,429.24. Australia's S&P/ASX 200 gained 0.2 percent to 6,077.50. Shares were higher in Southeast Asia and Taiwan.
MARKET CALM: Global equity markets settled after some turmoil earlier in the week sparked by a news report that China might slow or halt purchases of U.S. Treasurys, which Beijing later challenged. Treasury yields dipped, easing fears of a bear market for bonds. Investors are now looking ahead to the latest quarterly corporate earnings reports and consumer price inflation report later during the U.S. trading day.
CHINA TRADE: China's trade growth cooled in December in a sign of weaker global and domestic demand, but last year's total exports rose 7.9 percent over 2016 while imports were up 15.9 percent, according to customs data issued Friday. Chinese trade has been unexpectedly strong in the face of forecasts that economic growth will cool as Beijing tightens controls on credit to slow a rise in debt.
QUOTEWORTHY: "The market is still riding on the global positive sentiment," said Jackson Wong of Huarong International Securities in Hong Kong, where many investors predict the Hang Seng, which is hovering near a 10-year high, will soon surpass that record. "The momentum actually is quite strong," he said. Clients "are quite optimistic that the market will continue to go up, however they are not as aggressive as before," given the recent gains.
WALL STREET: Major U.S. benchmarks ended with solid gains. The S&P 500 rose 0.7 percent to a record 2,767.56. The Dow Jones industrial average rose 0.8 percent to 25,574.73. The Nasdaq composite gained 0.8 percent to 7,211.78.
ENERGY: Oil futures were mixed. Benchmark U.S. crude slipped 22 cents to $63.58 a barrel in electronic trading on the New York Mercantile Exchange. The contract gained 23 cents to settle at $63.80 per barrel on Thursday after earlier climbing as high as $64.77. Brent crude, the international standard, lost 1 cent to $69.25 per barrel.
CURRENCIES: The dollar was steady at 111.27 Japanese yen, its lowest since November. The euro strengthened to a four-month high after the European Central Bank indicated in its latest report that it might revise the outlook for its stimulus program, rising to $1.2049 from $1.2033 late Thursday.