Asian Shares Rise, But Gains For Dollar, Oil Capped by Jitters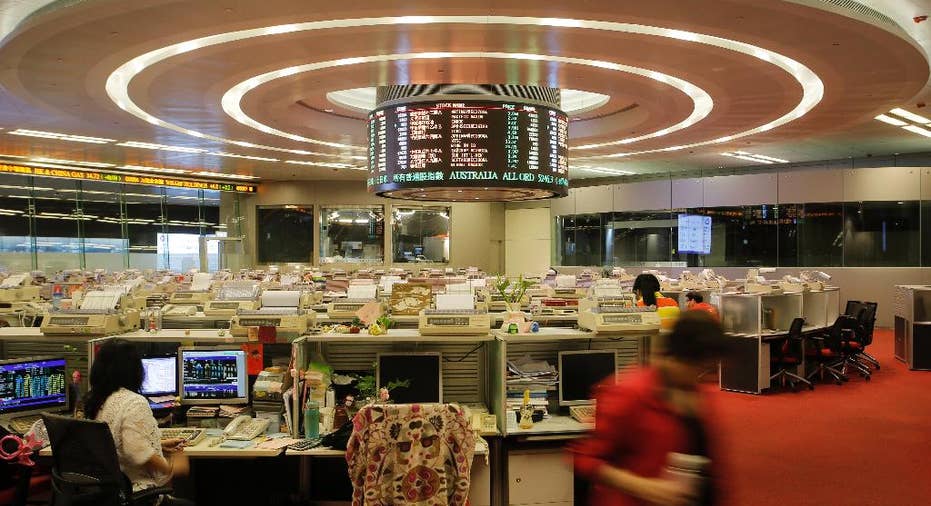 Asian stocks, taking some cues from a steady Wall Street, edged up on Thursday while the path for the dollar, which crawled up from a four-month low, remained clouded by concerns about the prospects for U.S. President Donald Trump's pro-growth agenda.
Sterling was steady at $1.2483 following a decline of as much as 0.4 percent on Wednesday, after an attack close to Britain's Parliament left five people dead, including the attacker and a police officer, and injured 40. Police said they believed the attacker was inspired by Islamist-related terrorism.
MSCI's broadest index of Asia-Pacific shares outside Japan advanced 0.2 percent.
Japan's Nikkei was flat despite a weaker yen, as a political scandal dented investor sentiment. The subject is the relationship of Prime Minister Shinzo Abe and his wife with a Japanese nationalist education group that bought state-owned land at a fraction of its appraised price to build an elementary school.
China's CSI 300 gained 0.4 percent, while Hong Kong's Hang Seng added 0.1 percent.
Overnight, the Nasdaq jumped 0.5 percent and the S&P 500 closed 0.2 percent higher, while the Dow Jones Industrial Average was flat, after all three touched their lowest levels in about five weeks earlier in the session.
The dollar advanced 0.3 percent to 111.44 yen, after dropping to 110.75, its lowest since Nov. 22 overnight.
The dollar index, which tracks the greenback against a basket of six trade-weighted peers, recovered about 0.1 percent to 99.81, after touching a seven-week low overnight.
Trump has been trying to rally support for his plan to repeal the 2010 Affordable Care Act, Democratic former President Barack Obama's signature healthcare legislation.
On Wednesday, Trump and Republican leaders of the House of Representatives said they were making progress in their efforts to win over conservative Republicans who have demanded changes to the legislation. They plan a vote on the bill, Trump's first major legislation since he took office, later on Thursday.
"The vote on Obamacare is a litmus test for Trump," said Masafumi Yamamoto, chief forex strategist at Mizuho Securities in Tokyo. "If he can't push through the bill, it would further damage stocks. It also raises the risk of his other policies, like tax cuts, being delayed."
Investors in Asia are awaiting a rate decision from Taiwan's central bank, which is expected to remain on hold.
Following a more than 6 percent jump in the Taiwanese dollar, the central bank is asking some custodian banks to advise their clients not to remit new funds, two people with direct knowledge of the matter told Reuters on Wednesday.
The central bank said the reported comments "do not match the facts" but did not elaborate. On Thursday morning, the U.S. dollar slipped about 0.1 percent to 30.477 Taiwan dollars.
The New Zealand dollar was 0.1 percent lower at $0.7036 after the central bank held interest rates at a record low 1.75 percent, and reiterated it would remain there for a "considerable" period of time, citing global volatility and U.S. protectionism.
In commodities markets, oil prices rebounded, after touching their lowest level since November overnight on data that showed U.S. inventories, already at a record high, grew by far more than forecast.
Analysts said oil had found technical support and was being pushed up as traders took new long positions after the overnight low, but supply concerns kept the gains in check.
U.S. crude added 0.7 percent to $48.38 a barrel on Thursday.
Global benchmark Brent climbed 0.6 percent to $50.96.
The dollar's recovery weighed on gold, which retreated 0.3 percent to $1,245.59 after hitting a three-week high overnight.
($1 = 111.4600 yen)
(Reporting by Nichola Saminather; Additional reporting by Shinichi Saoshiro; Editing by Sam Holmes and Richard Borsuk)