Asian shares rise as trade fears on Trump's tariffs ease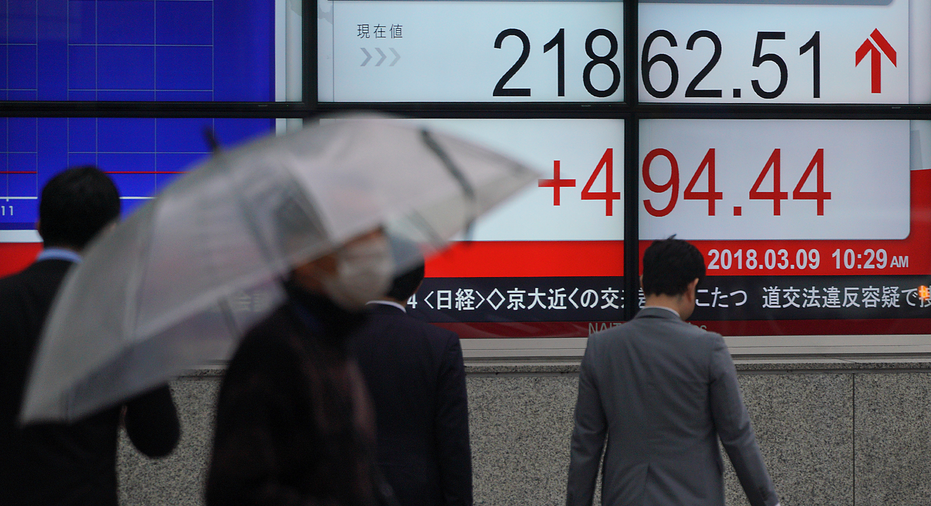 Asian shares were mostly higher Friday on relief that President Donald Trump's tariffs on U.S. steel and aluminum imports may not be as harsh as earlier feared. News Trump and North Korea's leader will meet also lifted sentiment.
KEEPING SCORE: Japan's benchmark Nikkei 225 gained 0.9 percent to 21,554.67. Australia's S&P/ASX 200 added 0.4 percent to 5,965.30. South Korea's Kospi jumped 1.6 percent to 2,470.80. Hong Kong's Hang Seng rose 1.0 percent to 30,947.02, while the Shanghai Composite index inched down nearly 0.1 percent to 3,285.98.
TARIFFS IMPACT: Wall Street rallied following reports that Canada and Mexico will be exempted indefinitely from the tariffs and that other countries will be invited to negotiate for exemptions as well. Although the tariffs are likely to hurt some Asian nations, the impact may be not that damaging to countries like Japan that export more to other Asian countries such as China.
ANALYST TAKE: Junichi Makino, analyst at SMBC Nikko said the tariffs were more damaging in principle to the idea of free trade than on the actual realities of economic growth. The tariffs will lower the profitability of Japan's major companies by 0.02 percent only, he said. "When protectionism grows, this can lead to a trade war," he warned.
NORTH KOREA: Trump agreed to meet with North Korean leader Kim Jung Un by May to negotiate an end to Pyongyang's nuclear weapons program, South Korean and U.S. officials said Thursday. No American president has ever met with a North Korean leader while still in office.
WALL STREET: The Standard & Poor's 500 index climbed 0.4 percent to 2,738.97. The Dow Jones industrial average also gained 0.4 percent, to 24,895.21. The Nasdaq composite rose for the fifth day in a row, adding 0.4 percent to 7,427.95.
ENERGY: Benchmark U.S. crude added 13 cents to $60.25 barrel in electronic trading on the New York Mercantile Exchange. It fell $1.03 to $60.12 a barrel in New York overnight. Brent crude, used to price international oils, rose 21 cents to $63.82 a barrel in London.
CURRENCIES: The dollar rose to 106.73 yen from 105.97 yen late Thursday. The euro fell to $1.2304 from $1.2408.
____
AP Markets Writer Marley Jay contributed to this report. He can be reached at http://twitter.com/MarleyJayAP
His work can be found at https://apnews.com/search/marley%20jay
Follow Yuri Kageyama on Twitter at https://twitter.com/yurikageyama
Her work can be found at https://www.apnews.com/search/yuri%20kageyama