Asian shares mostly lower after sluggish Wall Street session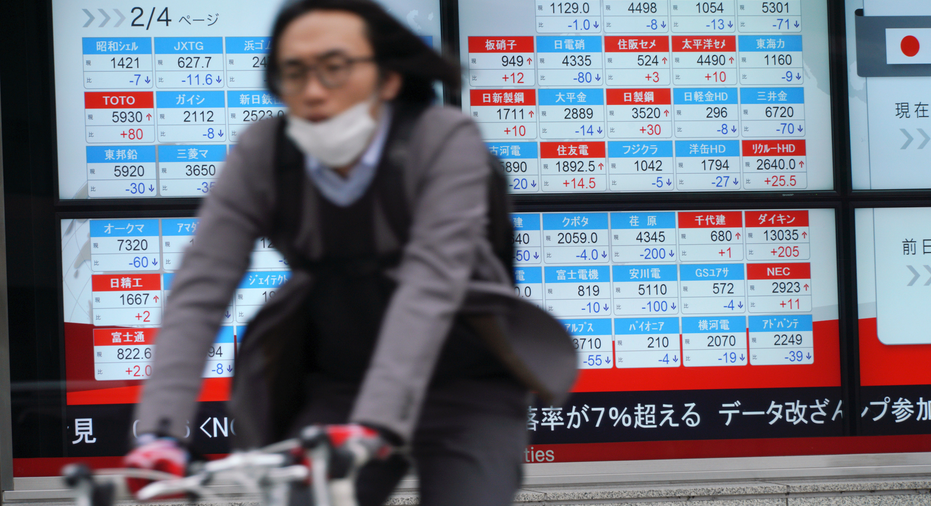 Asian shares were mostly lower Tuesday following a sluggish post-Thanksgiving trading sessionon Wall Street.
KEEPING SCORE: Japan's benchmark Nikkei 225 fell 0.1 percent to 22,461.10. Australia's S&P/ASX 200 lost less than 0.1 percent to 5,986.80. South Korea's Kospi added 0.2 percent to 2,513.45. Hong Kong's Hang Seng slipped 0.7 percent to 29,485.42, while the Shanghai Composite dipped 0.4 percent to 3,308.55. Shares in Southeast Asia were mixed.
WALL STREET: The Standard & Poor's 500 index slipped 1 point to 2,601.42. The Dow Jones industrial average edged up 0.1 percent to 23,580.78, while the Nasdaq composite fell 0.2 percent to 6,878.52. The Russell 2000 index of smaller-company stocks lost 0.4 percent to 1,513.31. More stocks fell than rose on the New York Stock Exchange.
NORTH KOREA WORRIES: Reports that Pyongyang may be readying another missile launch also weighed on investor sentiments in the region. The Japanese wire service Kyodo reported, citing a government source, that Japan was on alert after catching radio signals suggesting North Korea might be preparing for a ballistic missile launch.
FEDERAL RESERVE: Investors also will have their eye on departing U.S. Federal Reserve Chair Janet Yellen's remarks before Congress and a possible vote in the Senate on its version of a U.S. tax overhaul bill.
THE QUOTE: "A combination of a lift in risk-sentiment and the lack of prominent leads in the day ahead may provide little impetus for Asian markets to exhibit a strong recovery, though moves certainly remain to be seen," says Jingyi Pan, market strategist at IG in Singapore.
ENERGY: Benchmark U.S. crude dropped 36 cents to $57.75 a barrel in electronic trading on the New York Mercantile Exchange. It fell 84 cents to settle at $58.11 per barrel on Monday. Brent crude, used to price international oils, declined 21 cents to $63.17.
CURRENCIES: The dollar rose to 111.17 Japanese yen from 111.11 yen. The euro strengthened to $1.1902 from $1.1897.
___
AP Business Writer Alex Veiga contributed to this report.
AP Business Writer Yuri Kageyama on Twitter https://twitter.com/yurikageyama
Her work can be found at https://www.apnews.com/search/yuri%20kageyama