Asian shares mostly higher on cheer over US jobs report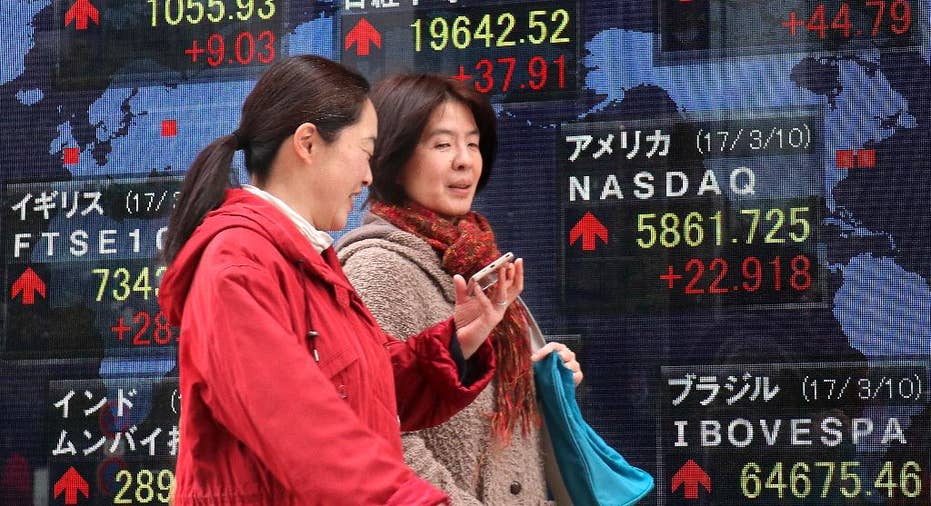 Shares started the week on a high note in Asia on Monday after a strong U.S. jobs report helped drive benchmarks higher on Wall Street. A report of weakness in machinery orders in January cast a pall over trading in Tokyo.
KEEPING SCORE: Japan's Nikkei 225 stock index rose 0.2 percent to 19,634.37 and Hong Kong's Hang Seng gained 0.6 percent to 23,711.48. South Korea's Kospi jumped 1.1 percent to 2,119.48. The Shanghai Composite index lost 0.1 percent to 3,210.32 and Australia's S&P ASX 200 was 0.2 percent lower at 5,765.80. Shares rose in Taiwan and were mixed in Southeast Asia.
WALL STREET: U.S. stocks rose Friday after the strong February jobs report, though investors are waiting for the Federal Reserve's meeting later in the week. The central bank is almost universally expected to raise interest rates. The Standard & Poor's 500 index rose or 0.3 percent to 2,372.60 and the Dow Jones industrial average gained 0.2 percent to 20,902.98. The Nasdaq composite added 0.4 percent to 5,861.73.
JAPAN MACHINERY: The government reported that machinery orders fell 10 percent in January from the month before and "core" orders excluding ships and orders from utilities fell 3.2 percent. The data were weaker than forecast, suggesting persisting slow corporate investment in factories inside Japan. "Admittedly, capital goods shipments have rebounded lately and suggest that business investment will continue to recover this quarter. However, a rapid recovery in capital spending looks unlikely," Marcel Thieliant of Capital Economics said in a commentary.
KOREAN REBOUND: Friday's ruling by the Constitutional Court upholding the impeachment of ousted South Korean President Park Geun-hye helped clear some of the uncertainty that has overhung the market in recent months. The ruling ended a power struggle that had consumed the nation for months.
ENERGY: Benchmark U.S. crude oil fell 40 cents to $48.09 a barrel in electronic trading on the New York Mercantile Exchange. It lost 79 cents to $48.49 on Friday. Brent crude, which is used to price international oils, lost 35 cents to $51.02.
CURRENCIES: The dollar rose to 114.83 yen from 114.77 and the euro edged higher to $1.0693 from $1.0674.