Asian shares mostly higher cheered by Wall Street rise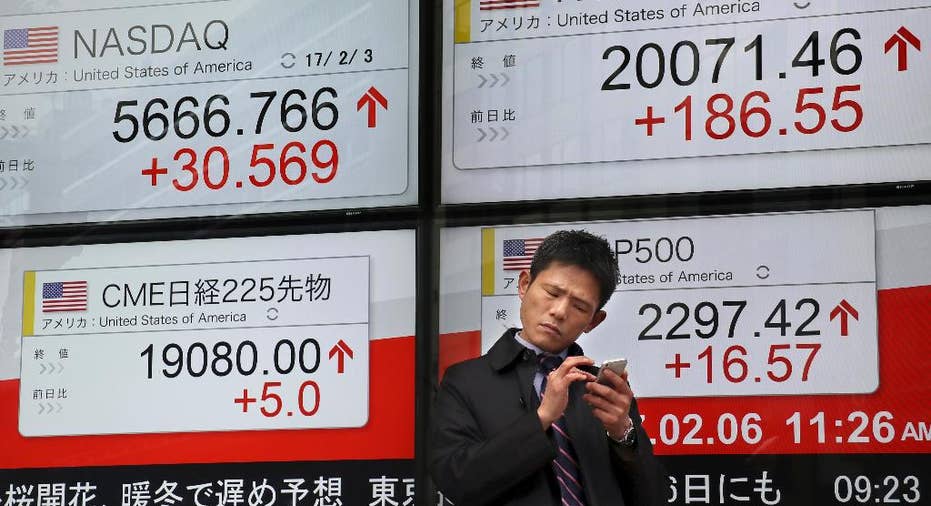 Asian shares were mostly higher Monday, cheered by the rise on Wall Street after President Donald Trump moved to scale back regulations on the financial industry last week.
KEEPING SCORE: Japan's benchmark Nikkei 225 added 0.3 percent to 18,980.87. Australia's S&P/ASX 200 rose 0.2 percent to 5,630.30. South Korea's Kospi gained 0.3 percent to 2,079.20. Hong Kong's Hang Seng was up 0.7 percent at 23,297.97, while the Shanghai Composite edged up 0.5 percent to 3,156.05. Benchmarks were also higher in Taiwan and Singapore.
WALL STREET: The Dow Jones industrial average jumped 186.55 points, or 0.9 percent, to finish the week at 20,071.46. The Standard & Poor's 500 index advanced 16.57 points, or 0.7 percent, to 2,297.42. The Nasdaq composite picked up 30.57 points, or 0.5 percent, to close at a record high of 5,666.77.
TRUMP WATCH: On Friday, Trump directed the treasury secretary to look for potential changes to the Dodd-Frank law, which reshaped financial regulations after the 2008-09 financial crisis. Investors lauded that move but remain uncertain about the future impact of his policies, including his remarks on the yen. Over the weekend, his immigration ban on travelers from seven Muslim-majority countries was blocked by a federal judge, although the Justice Department appealed the judge's order late Saturday.
THE QUOTE: "The summit between Japanese Prime Minister Shinzo Abe and U.S. President Donald Trump on 10-11 Feb. will be a focus this week. This is against the backdrop that concerns about U.S.-Japan trade tensions have been on the rise since Trump's inauguration last month. Trump has openly criticized Japan (together with China) for having trade gaps with the U.S., and most recently, also accused Japan of currency devaluation," according to DBS Group Research in Hong Kong.
ENERGY: Benchmark U.S. crude added 10 cents to $53.93 a barrel in New York. It added 29 cents to $53.83 a barrel Friday. Brent crude, used to price international oils, added 11 cents to $56.92 a barrel in London.
CURRENCIES: The dollar slipped to 112.40 yen from 112.89 yen Friday. The euro rose to $1.0780 from $ $1.0749.
___
AP Markets Writer Marley Jay, who contributed to this report, can be reached at http://twitter.com/MarleyJayAP
His work can be found at http://bigstory.ap.org/journalist/marley-jay
Follow Yuri Kageyama on Twitter at https://twitter.com/yurikageyama
Her work can be found at http://bigstory.ap.org/content/yuri-kageyama