Asian shares mixed, Australia surges ahead of rate decision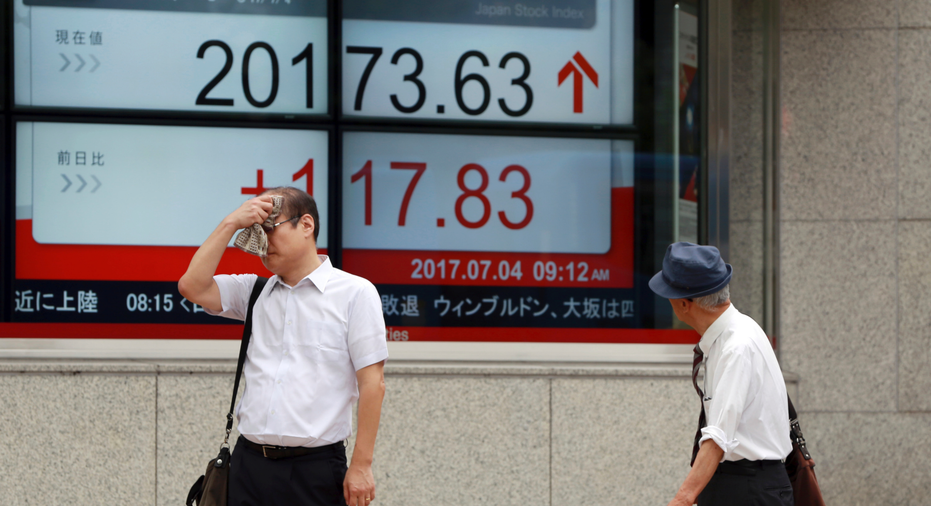 Australian shares jumped Tuesday as investors awaited an interest rate decision by the central bank, while other Asian shares were mixed Tuesday ahead of a U.S. trading holiday.
KEEPING SCORE: Australia's S&P/ASX surged 1.8 percent to 5,785.10 while Japan's benchmark Nikkei 225 index added 0.4 percent to 20,141.21. South Korea's Kospi slipped 0.2 percent to 2,390.77 and Hong Kong's Hang Seng slipped 0.2 percent to 25,730.80. The Shanghai Composite Index lost 0.4 percent to 3,184.29. Taiwan's benchmark fell and indexes in Southeast Asia were mixed.
DECISION DOWN UNDER: Investors are positioning themselves ahead of the release of the latest interest rate decisions by the Reserve Bank of Australia following a monthly policy board meeting. Market watchers expect the central bank to keep rates unchanged to maintain stimulus and boost the economy. However, they'll also be watching for signs officials may plan to join their counterparts in the U.S., Britain, Europe and Canada in raising rates.
MARKET VIEW: "Against the backdrop of shifting rhetoric from advanced economies' central bankers, there has been some chatter on whether we could see the RBA jump on the bandwagon," said Jingyi Pan, a market strategist at IG.
ROCKET LAUNCH: South Korean shares faltered after Pyongyang fired yet another ballistic missile toward Japan. The launch was the first since June 8. The missile was launched from North Phyongan province and is believed to have landed in the Sea of Japan, but no ships or aircraft in the area were reported damaged, according to statements by the South Korean and Japanese governments.
WALL STREET: Major U.S. benchmarks had a mixed finish in a shortened trading session ahead of the July 4 Independence Day holiday. The Standard & Poor's 500 index added 0.2 percent to 2,429.02. The Dow Jones industrial average rose 0.6 percent to 21,479.27. The Nasdaq composite lost 0.5 percent to a six-week low of 6,110.06.
ENERGY: Oil's rally fizzled. Benchmark U.S. crude lost 25 cents to $46.82 a barrel in electronic trading on the New York Mercantile Exchange. The contract gained $1.03 to settle at $47.07 a barrel in New York on Monday. Brent crude, used to price international oils, fell 25 cents to $49.43 a barrel in London.
CURRENCIES: The dollar eased to 113.24 yen from 113.42 yen in late trading Monday. The euro climbed to $1.1368 from $1.1361.