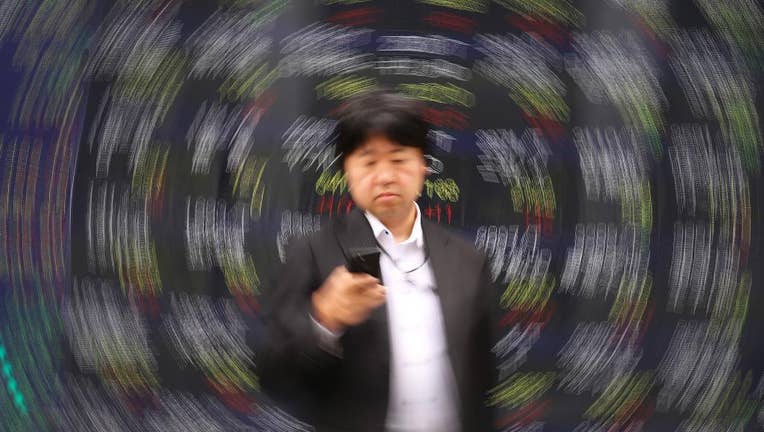 Asian shares are mixed Monday as worries over tensions on the Korean Peninsula persist following a failed missile launch by North Korea over the weekend. The Hong Kong and Australian markets were closed for Easter holidays.
KEEPING SCORE: Tokyo's Nikkei 225 gained 0.1 percent to 18,354.27, and South Korea's Kospi added 0.5 percent to 2,144.48. The Shanghai Composite index slipped 1.3 percent to 3,213.21 and markets in Southeast Asia were mostly lower.
NORTH KOREA: The region remained jittery amid worries about North Korea's nuclear weapons program and the failed missile launch. U.S. Vice President Mike Pence visited a military base near the Demilitarized Zone separating the Koreas on Monday.
UPBEAT CHINA: Official data showed that China's economic growth ticked higher to 6.9 percent in January-March, compared with the previous quarter's 6.8 percent expansion. It's the second straight quarter that the world's second-biggest economy China's economy has accelerated, in a sign that a rebound is gaining momentum after last year's economic growth was its slowest pace in nearly three decades.
ANALYST'S TAKE: "The upshot is that China's economy continued to experience strong growth last quarter and the upbeat data for March suggests that some of this strength will likely extend into Q2," Julian Evans-Pritchard of Capital Economics wrote in a commentary. "Nonetheless, with the acceleration in credit growth that helped drive the recent recovery now being reversed, we still expect the economy to begin slowing before long."
WALL STREET: U.S. stocks were closed on Friday for Good Friday. On Thursday, they finished lower for the third straight day, with energy stocks leading the decline. The Standard & Poor's 500 index slid 0.7 percent to 2,328.95. The Dow Jones industrial average fell 0.7 percent to 20,453.25. The Nasdaq composite index lost 0.5 percent to 5,805.15.
OIL: Benchmark U.S. crude lost 43 cents to $52.75 a barrel in New York. On Friday, the New York Mercantile Exchange and the London Metal Exchange were closed. Brent crude, used to price international oils, fell 43 cents to $55.46 per barrel in London.
CURRENCIES: The dollar was trading at 108.33 yen, down from 108.89 yen late Friday in Asia. The euro fell to $1.0620 from $1.0626.
___
Yuri Kageyama can be reached at https://twitter.com/yurikageyama
Her work can be found at http://bigstory.ap.org/content/yuri-kageyama