Asian shares lower as NKorea cancellation adds uncertainty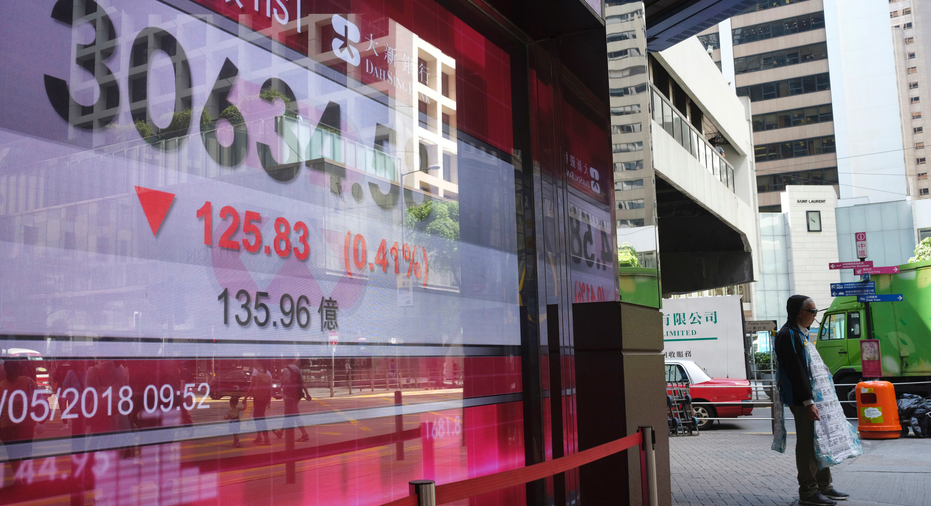 Asian stock indexes were mostly lower Friday as investors factored in fresh geopolitical uncertainty following the abrupt cancellation of a meeting between the U.S. and North Korean leaders.
KEEPING SCORE: Japan's benchmark Nikkei 225 index rose 0.1 percent to 22,457.20 but South Korea's Kospi lost 0.2 percent to 2,461.77. Hong Kong's Hang Seng shed 0.5 percent to 30,603.56 and the Shanghai Composite in mainland China slipped 0.2 percent to 3,147.62. Australia's S&P/ASX 200 dipped 0.1 percent to 6,031.30. Taiwan's benchmark rose but Southeast Asian indexes were mostly lower.
SUMMIT SCRUBBED: President Donald Trump cancelled a June meeting with North Korean leader Kim Jong Un, blaming it on "tremendous anger and open hostility" in a recent statement by a North Korean official. Trump later said the meeting could still happen. North Korea said it's still willing to sit down for talks with the U.S. "at any time, at any format" while South Korea's President Moon Jae-in said he was "very perplexed" that the meeting was off.
QUOTEWORTHY: "The reality of the situation is starting to dawn on markets that this is political theater engineered for domestic consumption. The reality is it doesn't change the economic outlook at all," said Michael McCarthy, chief strategist at CMC Markets in Sydney. He added that the more likely explanation is that investors are using it as an excuse to pull back after a strong run in the markets.
WEEK AHEAD: Investors are anticipating the latest batch of economic data for U.S. and China due out next week, including private payroll report and GDP numbers for the U.S. on Wednesday and China's official monthly manufacturing index for Thursday. The numbers will give fresh insight into the state of the world's two largest economies.
WALL STREET: Major U.S. benchmarks finished lower. The S&P 500 index dropped 0.2 percent to 2,727.76 and the Dow Jones industrial average lost 0.3 percent to 24,811.76. The Nasdaq composite dipped less than 0.1 percent to 7,424.43.
ENERGY: Oil futures extended losses after sliding the previous day on news reports that said member nations of the OPEC cartel might pump more oil in response to reduced exports from Venezuela and Iran. Benchmark U.S. crude fell 12 cents to $70.59 a barrel in electronic trading on the New York Mercantile Exchange. The contract lost 1.6 percent to settle at $70.71 per barrel on Thursday. Brent crude, used to price international oils, fell 13 cents to $78.66 in London.
CURRENCIES: The dollar rose to 109.56 yen from 109.25 yen in late trading Thursday. The euro weakened to $1.1711 from $1.1720.