Asian shares gain, shrug off cyberattack, NK missile launch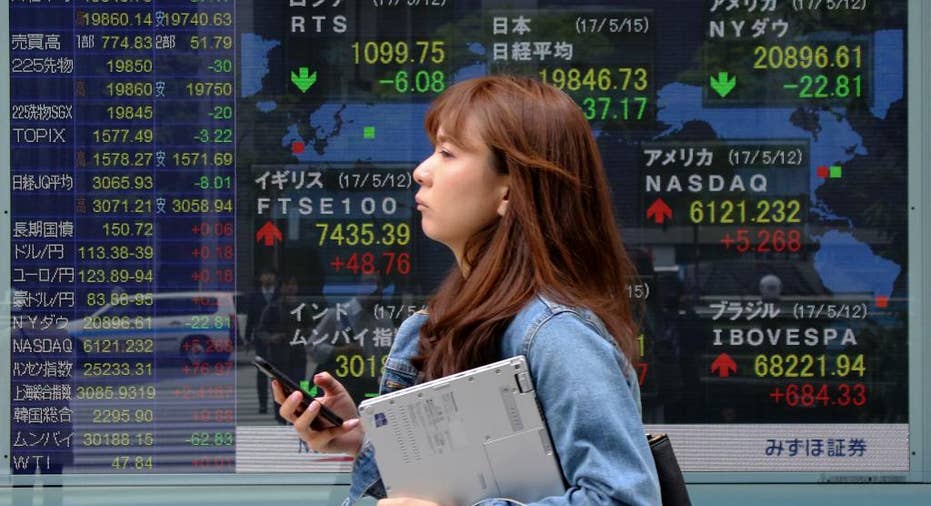 Shares were higher in early trading Monday in Asia, despite worries of disruptions from the "WannaCry" ransomware cyberattack over the weekend. Yet another missile launch by North Korea also appeared to have little impact, while upbeat talk on trade and infrastructure investment at a top-level conference in China brightened sentiment.
KEEPING SCORE: Japan's Nikkei 225 stock index slipped 0.2 percent to 19,842.15, falling back after early gains. Hong Kong's Hang Seng index added 25,282.12 and the Shanghai Composite index rose 0.2 percent to 3,090.49. Australia's S&P ASX 200 was nearly unchanged at 5,835.20. The Kospi of South Korea climbed 0.2 percent to 2,291.08. Shares in Taiwan and Southeast Asia were mostly higher.
CYBERATTACK: The global "ransomware" cyberattack, unprecedented in scale, ha technicians scrambling to secure the computers that run factories, banks, government agencies and transport systems in many other nations. Fresh troubles were reported in Asia as businesses reopened Monday, but the scale of the impact from the effort to extort cash from computer users was still unclear.
QUOTABLE: "The state of geo-politics and the global economy makes you 'WannaCry,'" said a commentary from Mizuho Bank in Singapore. "And North Korea's mid-to-long range missile test on Sunday is also regrettable, denting some of the optimism around South Korea's newly-minted President Moon, whose more conciliatory approach to the North was seen as a positive. Admittedly, risks of imminent confrontation are not elevated, but this is nevertheless a reminder that geo-political risks continue to linger in the background."
CHINA'S SILK ROAD: Chinese President Xi Jinping pledged more than $100 billion in financing and called for closer cooperation across Asia and Europe in areas from anti-terrorism to investment as leaders from 29 countries gathered to promote the "Belt and Road Initiative" of developing ports, railways and other facilities in a vast arc of 65 countries. "The announcement over the weekend by China's President Xi Jinping of details of its expansionary trade policy could overwhelm any influences from Friday night trading," Michael McCarthy of CMC Markets said in a commentary, adding that "the commitment of funds to specific trade platforms is a positive for the region and may lift investor sentiment."
WALL STREET LAST WEEK: Shares of department stores sank Friday, hurt by more evidence that shoppers are turning away from them. The S&P 500 dipped 0.1 percent to 2,390.90, part of a 0.3 percent loss for the week. The Dow Jones industrial average fell 0.1 percent to 20,896.61 and the Nasdaq composite rose 0.1 percent to 6,121.23.
ENERGY: Benchmark U.S. crude oil gained 83 cents to $48.67 a barrel in electronic trading on the New York Mercantile Exchange. It gained $1.01 on Friday. Brent crude, the international standard, jumped 81 cents to $51.65 a barrel.
CURRENCIES: The dollar was steady at 135.56 yen and the euro slipped to $1.0928 from $1.0932.