Asian shares gain as investors await US jobless data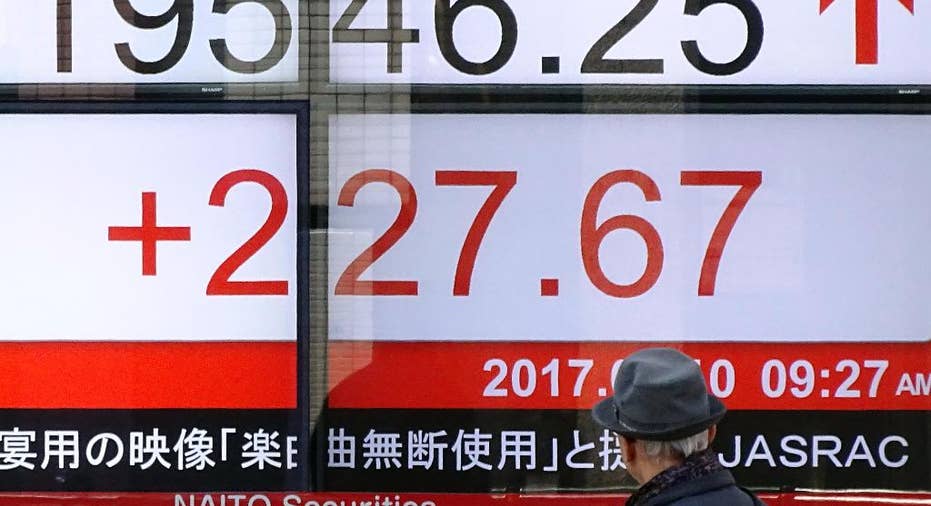 Shares were mostly higher in Asia on Friday as investors awaited the release later in the day of U.S. employment data. A weaker yen lifted Tokyo's benchmark and South Korea's Kospi rose after the Constitutional Court decided to remove the country's president for the first time in history.
KEEPING SCORE: Tokyo's Nikkei 225 jumped 1.4 percent to 19,595.30 as the dollar surged against the yen, favoring manufacturers. South Korea's Kospi added 0.3 percent to 2,095.64. Hong Kong's Hang Seng index added 0.1 percent to 23,533.53 and the Shanghai Composite Index was almost unchanged at 3,215.62. Australia's S&P/ASX 200 gained 0.6 percent to 5,775.60. Stocks in Taiwan and Southeast Asian benchmarks were mixed.
IMPEACHED KOREAN LEADER: The Constitutional Court in South Korea unanimously upheld the parliament's impeachment of President Park Geun-hye in a verdict that was broadcast live across Asia. The verdict sets the stage for a presidential election in two months. Shares rose overall but EG Corp., a company owned by Park's younger brother, fell as much as 20 percent after the verdict, while other shares thought to be related to opposition party presidential contenders jumped.
U.S. JOBS: The U.S. government is due to issue the February jobs report later Friday. Analysts have forecast that American employers added 186,000 jobs, and the unemployment rate slipped to 4.7 percent from 4.8 percent the month before. The Federal Reserve opt for faster rate hikes if it sees another month of strong labor data figures, said Jingyi Pan, a market strategist at IG in Singapore.
ANALYST'S VIEWPOINT: The U.S. non-farm payroll numbers are "the last piece of the puzzle which will determine the Fed's rate hike decision next week," said Margaret Yang Yan, a market analyst at CMC Markets in Singapore.
WALL STREET: U.S. stocks finished nearly flat Thursday. The Standard & Poor's 500 index picked up edged 0.1 percent higher to 2,364.87. The Dow Jones industrial average was flat at 20,858.19 and the Nasdaq composite also was steady, at 5,838.81.
OIL: Benchmark U.S. oil added 39 cents to $49.67 a barrel in electronic trading on the New York Mercantile Exchange. The contract fell $1, or 2 percent, to close at $49.28 on Thursday. Brent crude, the international standard, gained 31 cents to $52.50 in London.
CURRENCIES: The dollar rose to 115.35 yen from 114.96 yen. The euro rose to $1.0602 from $1.0577.