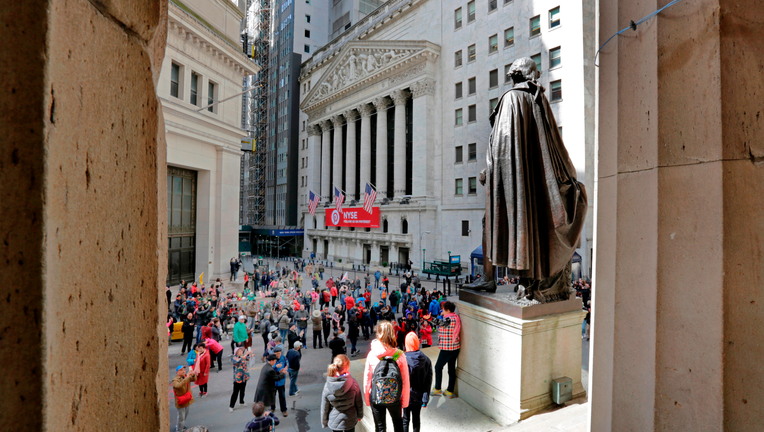 Asian shares are flat to slightly higher amid persisting worries over trade tensions between China. Overnight, investors registered relief that air strikes on Syria were contained and unlikely to escalate.
KEEPING SCORE: Japan's benchmark Nikkei 225 erased initial gains and was virtually unchanged at 21,837.88. Australia's S&P/ASX 200 added 0.4 percent to 5,861.50. South Korea's Kospi lost 0.2 percent to 2,452.35. Hong Kong's Hang Seng shed 0.1 percent at 30,300.30, while the Shanghai Composite dropped 0.4 percent to 3,099.90. Shares fell in Taiwan but rose in Singapore and Indonesia.
CHINA FACTOR: China's economic growth held steady in the quarter ending in March, buoyed by investment and rapid growth in e-commerce despite trade tensions with Washington. The world's second-largest economy expanded by 6.8 percent over a year earlier, in line with the quarter ending in December and down slightly from 2017's full-year expansion of 6.9 percent, data showed Tuesday.
GEOPOLITICAL FACTOR: Investors have begun putting aside concerns over Friday night's missile attack by the U.S., Britain and France on Syria's chemical weapons program. On Monday, the White House said it was considering imposing additional sanctions on Russia, a key ally of Syrian leader Bashar Assad.
WALL STREET: The S&P 500 index rose 0.8 percent to 2,677.84 and the Dow Jones industrial average gained 0.9 percent to 24,573.04. The Nasdaq added 0.7 percent to 7,156.28. The Russell 2000 index of smaller-company stocks picked up 0.9 percent to 1,563.03.
THE QUOTE: "Concerns on the situation in Syria have eased as markets saw U.S.-led air strikes largely as a one-off event rather than an ongoing crisis," Zhu Huani of Mizuho Bank in Singapore said in a commentary. "While there have been tentative evidences of de-escalation of trade tension, there are still lingering risks beneath the surface."
ENERGY: Benchmark U.S. crude added 29 cents to $66.51 a barrel in electronic trading on the New York Mercantile Exchange. It declined $1.17 to settle at $66.22 per barrel on Monday. Brent crude, which is used to price international oils, rose 23 cents to $71.65 per barrel.
CURRENCIES: The dollar fell to 107.07 yen from 107.12 yen late Monday. The euro strengthened to $1.2384 from $1.2380.
____
Follow Yuri Kageyama on Twitter at https://twitter.com/yurikageyama
Her work can be found at https://www.apnews.com/search/yuri%20kageyama