Asian shares fall back as investors await comments by Yellen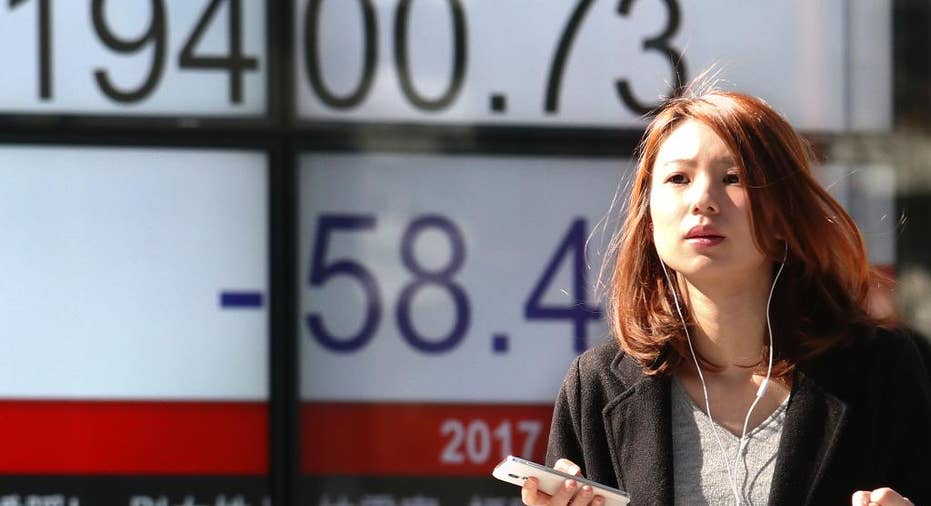 Shares in Asia fell back after an early rally on Tuesday, as investors awaited comments to Congress by Federal Reserve chair Janet Yellen. China's latest inflation data were equivocal, coming just after lunar new year holidays, and had little impact.
KEEPING SCORE: Japan's Nikkei 225 index fell 1.1 percent to 19,238.98 and the Shanghai Composite Index lost 0.1 percent to 3,213.73. Australia's S&P ASX 200 also edged 0.1 percent lower to 5,755.20 and Hong Kong's Hang Seng index was flat at 23,702.36. The Kospi in South Korea lost 0.2 percent to 2,074.57. Shares in Southeast Asia were mostly lower.
WALL STREET: World shares advanced and U.S. indexes again scored new highs on Monday. Strong gains for Citigroup and other financial stocks helped the Standard & Poor's 500 index rise 0.5 percent to a third straight record close, at 2,328.25. The Dow Jones industrial average gained 0.7 percent to 20,412.16 and the Nasdaq composite climbed 0.5 percent, to 5,763.96.
YELLEN WATCH: Strong corporate earnings and expectations for business-friendly policies from Washington have propelled markets higher. But that momentum wavered as worries over possible moves on trade and currency by the President Donald Trump's administration resurfaced. Investors also were awaiting testimony on Capitol Hill Tuesday and Wednesday by Yellen, who will update the Senate and House on monetary policy. Most investors expect the central bank to keep raising interest rates in 2017, though at a modest pace.
QUOTABLE: "A growing number of investors are worried that potential trade wars with Mexico and China could lead to tariffs and higher prices," David Woo of Bank of America Merrill Lynch said in a research note. "With many investors having loaded up on Trump trades after the elections, their willingness to continue to give the benefit of doubt to the new administration appears to be wearing thin."
CHINA PRICES: The consumer price index rose to a three-year high of 2.5 percent last month, pushed up by seasonal increases in demand for food and transport during the lunar new year holidays. Producer prices paid by manufacturers also rose, to 6.9 percent in January due to higher oil prices and a low base the year before. "However, we do not think the economy is solid enough to counter any broad tightening and policy makers should be careful in directing market expectations," Betty Wang of ANZ Research said in a commentary.
ENERGY: Benchmark U.S. crude oil rose 1 cent to $52.94 a barrel in electronic trading on the New York Mercantile Exchange. It fell 93 cents, or 1.7 percent, on Monday to settle at $52.93 a barrel. Brent crude, the international standard, climbed 3 cents to $55.62 a barrel.
CURRENCIES: The dollar slipped to 113.36 yen from 113.66 yen late Monday. The euro edged higher to $1.0607 from $1.0602. The British pound rose to $1.2535 from $1.2528.