Asian shares fall after US slide following Fed testimony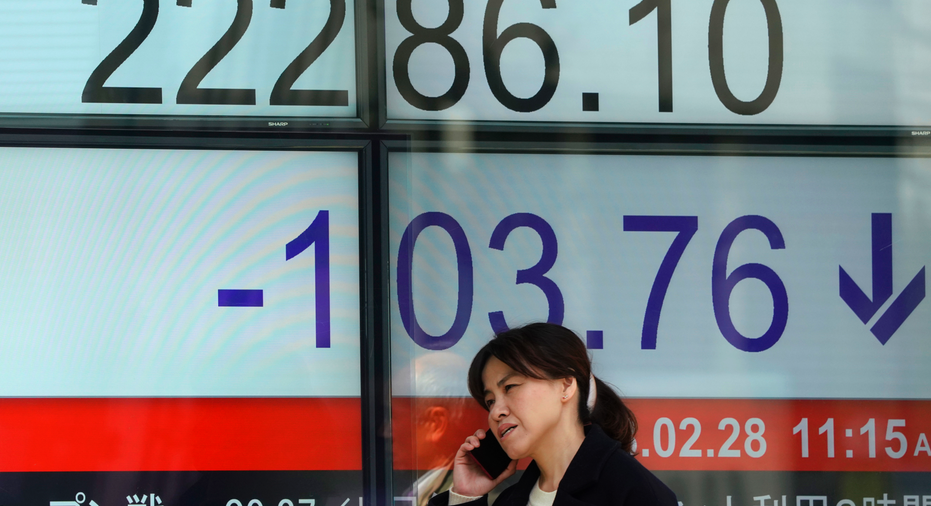 Asian shares slid in subdued trading Wednesday after the head of the U.S. Federal Reserve said that he's feeling more optimistic about the economy.
KEEPING SCORE: Japan's benchmark Nikkei 225 slipped 0.5 percent in morning trading to 22,287.97. Australia's S&P/ASX 200 was down 0.4 percent at 6,030.00. South Korea's Kospi lost 0.4 percent to 2,446.87. Hong Kong's Hang Seng was down nearly 1.0 percent at 30,970.23, while the Shanghai Composite index stood at 3,260.72, down nearly 1.0 percent.
THE FED: Testimony by Fed Chairman Jerome Powell before Congress was highly anticipated, and he gave encouraging words about the economic data that have arrived in recent weeks. But some investors speculated they could mean the central bank will get more aggressive in raising interest rates. The Fed raised its key policy interest rate three times last year and has signaled another three increases may be coming this year.
WALL STREET: The S&P 500 fell 35.32 points, or 1.3 percent, to 2,744.28. It had been bouncing between modest gains and losses, but the losses accelerated after Powell began answering questions on Capitol Hill. The Dow Jones industrial average lost 299.24, or 1.2 percent, to 25,410.03, and the Nasdaq composite fell 91.11, or 1.2 percent, to 7,330.35.
THE QUOTE: "While the majority of Fed chair Jerome Powell's testimony had been within the market's expectations, the strengthened 'personal outlook' from the Fed chair had certainly inspired bets for further hikes. U.S. markets responded in kind, providing weak leads for Asian equities into the end of the month," says Jingyi Pan, market strategist at IG in Singapore.
ENERGY: Benchmark U.S. crude slid 35 cents to $62.66 a barrel. It fell 90 cents to $63.01 per barrel Tuesday. Brent crude, the international standard, dropped 29 cents to $66.23 per barrel.
CURRENCIES: The dollar rose to 107.16 yen from 106.99 yen late Tuesday. The euro dipped to $1.2227 from $1.2331.
____
Follow Yuri Kageyama on Twitter at https://twitter.com/yurikageyama
Her work can be found at https://www.apnews.com/search/yuri%20kageyama