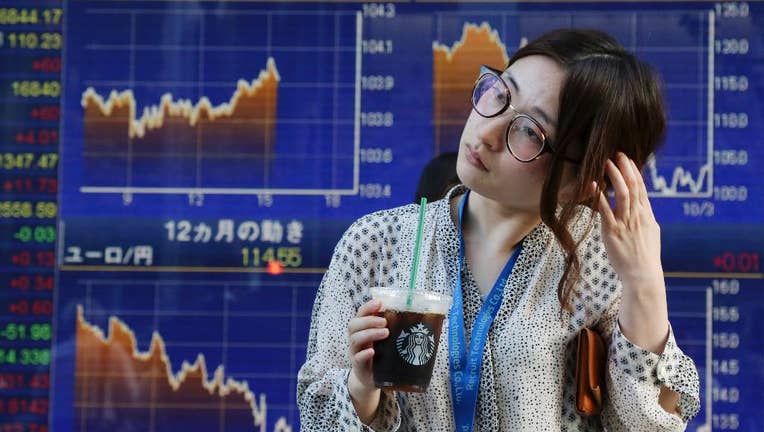 Asian shares were mostly higher Wednesday after China reported its economy expanded at a steady 6.7 percent pace in the July-September quarter, better than some forecasters had expected. Sentiment was also lifted by a strong day on Wall Street, fueled by upbeat earnings reports.
KEEPING SCORE: Japan's Nikkei 225 index rose 0.2 percent to 16,993.32 and Australia's S&P ASX/200 added 0.5 percent to 5,435.40. The Kospi in South Korea jumped was flat at 2,040.35 and Shanghai's Composite index advanced 0.1 percent to 3,088.49. Hong Kong's Hang Seng index lost 0.3 percent to 23,339.67 and India's Sensex fell 0.2 percent to 27,992.71. Shares in Southeast Asia were mixed, while Thailand's SET rose 0.4 percent.
CHINA STEADY: The 6.7 percent annual pace of growth was supported by strong consumer spending that helped offset weakness in trade. That was in line with the two previous quarters and better than some forecasters expected. "We won't get the full breakdown until tomorrow but we suspect that the key driver was stronger growth in real estate services, on the back of buoyant property sales. Financial sector growth is also likely to have recovered as last year's equity bubble dropped out of the base for comparison," Julian Evans-Pritchard of Capital Economics said in a commentary.
WALL STREET GAINS: Surprisingly strong earnings from Netflix, UnitedHealth Group and other companies put investors in a buying mood Tuesday, driving U.S. stocks solidly higher. Health care stocks led the gainers. Materials, utilities, energy and a broad swath of other companies also posted gains. The Dow Jones industrial average rose 0.4 percent, to 18,161.94, while the Standard & Poor's 500 index climbed 0.6 percent to 2,139.60. The Nasdaq composite index surged 0.8 percent to 5,243.84.
ANALYST VIEWPOINT: "U.S. markets have provided Asia with a healthy platform from which to progress," Chris Weston of IG said in a report. "We've also seen a slew of earnings reports (including Goldman Sachs) and once again whether one is looking at the underlying earnings or the sales lines, companies are beating the analysts' estimates."
OIL: U.S. benchmark crude oil gained 47 cents to $50.76 a barrel after a report of a drawdown in inventories. It rose 35 cents to $50.29 a barrel in New York. Brent crude, the international standard, was up 42 cents at $52.10 a barrel in London.
CURRENCIES: The dollar rose to 103.83 yen from 103.81 and the euro slipped to $1.0977 from $1.0980.