Asian markets tumble as China-US trade tensions rise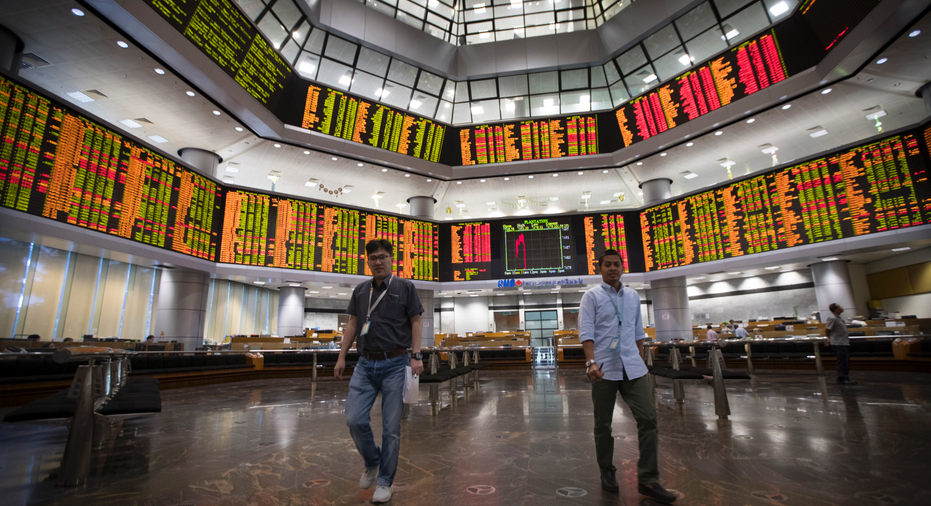 Asian markets tumbled on Tuesday as back-and-forth exchanges over possible higher U.S. tariffs for the auto sector deepened concerns that a trade war is brewing. The U.S. and China, the world's two largest economies, are set to impose tariffs on billions of dollars of each other's products starting Friday.
KEEPING SCORE: Hong Kong's Hang Seng, reopening after a market holiday on Monday, plunged 3.0 percent to 28,091.91 as investors reacted to weaker than expected economic data. Japan's benchmark Nikkei 225 index lost 0.8 percent to 21,631.27 and South Korea's Kospi fell 0.3 percent to 2,264.86. The Shanghai Composite index sank 1.3 percent to 2,740.26. Australia's S&P/ASX 200 bucked the regional trend, adding 0.4 percent to 6,205.10, ahead of an interest rate decision by the Reserve Bank of Australia later Tuesday. The rate is expected to remain unchanged at 1.5 percent. Taiwan's benchmark fell and Southeast Asian indexes were mixed.
WALL STREET: Major U.S. benchmarks closed higher Monday, buoyed by a last-minute rally from technology companies. The S&P 500 index rose 0.3 percent to 2,726.71 and the Dow Jones Industrial Average gained 0.2 percent to 24,307.18. The Nasdaq composite jumped 0.8 percent to 7,567.69. The Russell 2000 index of smaller-company stocks rose 0.7 percent to 1,655.09.
TRADE TENSIONS: The European Union on Monday slammed the Trump administration for considering higher tariffs on auto imports, saying they could lead to global retaliation against some $300 billion in U.S. goods. European Commission spokesman Margaritis Schinas said the U.S. investigation into the possibility of auto tariffs "lacks legitimacy, factual basis and violates international trade rules," like last month's U.S. tariffs on steel and aluminum imports. The EU has retaliated against those tariffs with measures of its own, which hit around 2.8 billion euros ($3.26 billion) worth of American-made products. President Donald Trump cited national security concerns for the previous tariffs. On Monday, Trump said the World Trade Organization has treated the U.S. "very badly" and the country will be "doing something" if the organization doesn't change its ways. But he denied reports he plans to pull out of the WTO.
TARIFFS LOOM: The U.S. will start imposing a 25 percent tariff on $34 billion in Chinese imports this Friday. It won't target 284 additions, worth $16 billion, until it gathers further public comments. China is expected to strike back with tariffs on a like amount of U.S. exports. The Trump administration is also identifying an additional $200 billion in Chinese goods for 10 percent tariffs, which could take effect if Beijing retaliates.
ANALYST'S TAKE: "In the lead up to the July 6 tariffs implementation date, uncertainties continue to loom and with that, Asian equity markets look set to be braced for another day of lackluster trading," said Jingyi Pan of IG. She added that investors, bracing themselves for U.S-China tariffs, may turn to defensive stocks in industries like utilities, telecommunications and real estate.
ENERGY: Oil futures recovered from the previous day's downtick, after Trump claimed that Saudi Arabia could produce up to double of the 1 million barrels-a-day increase agreed by OPEC countries. Benchmark U.S. crude added 65 cents to $74.58 a barrel in electronic trading on the New York Mercantile Exchange. It fell 21 cents to settle at $73.94 a barrel on Monday. Brent crude, used to price international oils, gained 52 cents to $77.82. The contract lost $1.93 to close at $77.30 in London.
CURRENCIES: The dollar eased to 110.84 yen from 110.87 yen in late trading Monday. The euro slipped to $1.1631 from $1.1639.