Asian markets mixed as data shows China growth slowed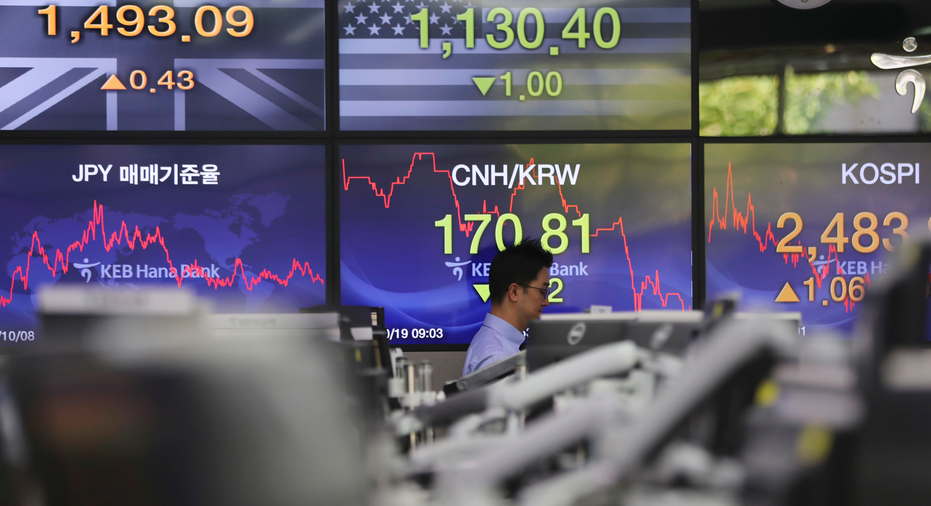 Asian markets were mixed on Thursday after Wall Street closed at record highs. Data showed that China's quarterly growth slowed slightly but was in line with expectations.
KEEPING SCORE: Japan's Nikkei 225 gained 0.5 percent to 21,474.80, while South Korea's Kospi slipped 0.3 percent to 2,474.79. Hong Kong's Hang Seng index fell 0.1 percent to 28,698.05 while the Shanghai Composite Index dropped 0.4 percent to 3,368.62. Australia's S&P/ASX 200 added 0.1 percent to 5,895.90. Stocks in Taiwan and Singapore were higher but elsewhere in Southeast Asia, they were lower.
CHINA: China's economy expanded at a 6.8 percent annual pace during the July-September quarter, relatively stable growth but slightly below the previous quarter's 6.9 percent, government data showed. The latest result gives a boost to the ruling Communist Party that has been trying to steer the world's second-largest economy to slower, more sustainable growth based on consumer spending rather than exports and investment.
JAPAN TRADE: Customs data show Japan's trade surplus leaped nearly 38 percent in September from a year earlier, on strong shipments of cars, car parts and machinery to China and the U.S. The upbeat report boosted share prices for manufacturers like Toyota Motor Corp. and Panasonic. However, analysts are forecasting that growth will slow in coming months.
BANK OF KOREA: The Bank of Korea's policymakers kept its key policy rate at a record low 1.25 percent but for the first time in a year the decision Thursday was not unanimous: one policymaker recommended a rate hike. The result reinforces suspicions that a rate increase may be in the offing, making South Korea among the first Asian countries to begin monetary tightening. The central bank slightly revised upward its forecast for growth in Asia's fourth-largest economy, to 3 percent this year.
WALL STREET: U.S. stocks finished with modest gains on Wednesday recording more milestones for Wall Street. The Standard & Poor's 500 index rose 0.1 percent to 2,561.26, a record high, while the Dow Jones industrial average closed at 23,157.60, up 0.7 percent. The Nasdaq composite index was flat at 6,624.22. The Russell 2000 index of smaller-company stocks gained 0.5 percent to 1,505.14.
OIL: Benchmark U.S. crude lost 9 cents to $52.17 per barrel in electronic trading on the New York Mercantile Exchange. The contract rose 15 cents to settle at $52.26 a barrel on Wednesday. Brent crude, used to price international oils, fell 11 cents to $58.04 per barrel in London. It gained 27 cents to close at $58.15 a barrel on Wednesday.
CURRENCIES: The dollar rose to 112.98 yen from 112.93 yen. The euro strengthened to $1.1801 from $1.1788.