Asian markets lower on economic worries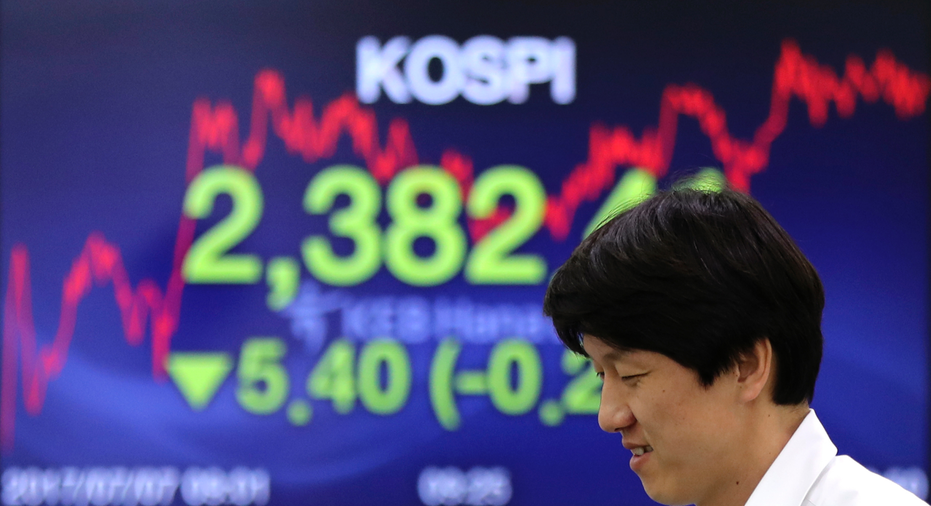 Asian shares fell Friday as investors fretted over the European Central Bank plan to unwind stimulus programs and a disappointing U.S. jobs report.
KEEPING SCORE: Japan's Nikkei 225 lost 0.5 percent to 19,899.41 and South Korea's Kospi fell 0.2 percent to 2,382.16. Hong Kong's Hang Seng index dropped 0.4 percent to 25,373.80 while the Shanghai Composite Index fell 0.2 percent to 3,205.25. Australia's S&P/ASX 200 sank 1.1 percent to 5,697.50. Most benchmarks in Taiwan, Singapore and Southeast Asia were in the red.
EUROPE: Investors read the meeting minutes from the European Central Bank's June meeting as a sign the bank will take further steps toward exiting its stimulus program. The revelation, which follows the latest meeting minutes release by the Federal Reserve, dragged stock markets in Europe lower overnight.
ANALYST'S VIEW: "Investors sold assets across the risk spectrum in overnight trading as ECB meeting minutes focused attention on the coming withdrawal of stimulus," Michael McCarthy, chief market strategist at CMC Markets, said in a daily commentary. "Investor nerves are fraying ahead of this potentially high market-impact event."
US ECONOMY: U.S. businesses added a modest 158,000 jobs last month according to a survey by payroll processing company ADP. The figure was much lower than expected and it was the latest piece of evidence that hiring has slowed down in recent months. It was also a sign that an ongoing increase in factory activity is not giving a strong push to lift employment, analysts said.
WALL STREET: U.S. stocks suffered their biggest loss in more than six weeks on Thursday. The Standard & Poor's 500 index dropped 0.9 percent to 2,409.75. The Dow Jones industrial average fell 0.7 percent to 21,320.04. The Nasdaq composite sank 1 percent to 6,089.46.
OIL: Benchmark U.S. crude oil lost 57 cents to $44.95 per barrel in electronic trading on the New York Mercantile Exchange. The contract rose 39 cents to finish at $45.52 a barrel on Thursday. Brent crude, used to price international oils, fell 57 cents to $47.54 per barrel in London. It closed at $48.11 a barrel on Thursday, down 32 cents.
CURRENCIES: The dollar rose to 113.60 yen from 113.19 yen. The euro slipped to $1.1417 from $1.1424.