Asian and European shares rise on promising Chinese data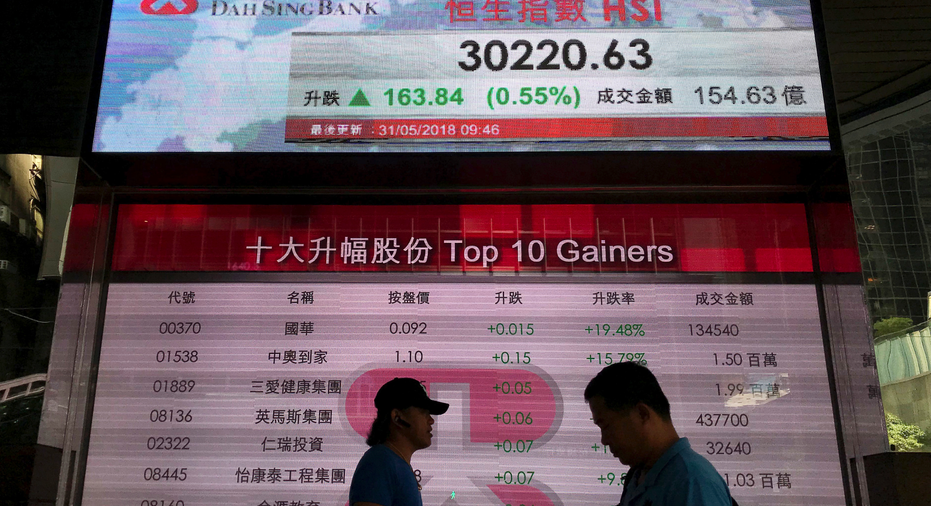 Global shares rose Thursday on the back of promising Chinese data and fresh signs that Italy may avoid imminent elections after all.
KEEPING SCORE: In Europe, France's CAC 40 climbed 0.4 percent to 5,446.54 while the FTSE 100 index gained 0.2 percent to 7,708.06. The DAX in Germany dropped 0.2 percent to 12,754. Italy's FTSE MIB jumped 1.2 percent to 22,050.37. U.S stocks are set for an optimistic start, with Dow futures up by 0.1 percent and the broader S&P 500 futures almost flat.
CHINA MANUFACTURING: Chinese factory activity grew at its fastest rate in eight months on stronger demand, a survey showed Thursday, in a positive sign for the world's No. 2 economy despite trade tensions with the U.S. The official purchasing managers' index, or PMI, rose to 51.9 in May from 51.4 the previous month. Readings above 50 indicate expansion, while lower numbers indicate contraction on the index's 100-point scale.
ANALYST'S VIEWPOINT: "Today's strong set of official PMIs tell a reassuring story about current growth momentum. However, we will have to wait for more reliable indicators to be published in order to get a clearer picture of the health of China's economy," Julian Evans-Pritchard of Capital Economics said in a commentary.
ITALY: Italy's president gave populist politicians another chance Wednesday to try to form a coalition government AND Carlo Cottarelli, the former International Monetary Fund official tapped Monday to be a neutral, temporary premier, said "new possibilities" had emerged for a government based on the results of the March election. That alleviated worries that another election might be required that would amount to a referendum on the euro.
CHINA TRADE: Beijing criticized the U.S. for renewing a threat to raise duties on some imports from China. At the same time, officials from the U.S. and European Union held talks on tariffs the Trump administration has proposed on European steel and aluminum. European Union negotiators seemed pessimistic and said they expected the U.S. to announce a final decision Thursday. China and the EU have both said they will react to new tariffs imposed by the U.S. with duties of their own, which has raised the prospect of greater tensions and the possibility of trade wars.
ASIAN SCORECARD: Japan's Nikkei 225 index gained 0.8 percent to 22,201.82 and Hong Kong's Hang Seng index jumped 1.4 percent to 30,468.56. The Shanghai Composite index rebounded 1.8 percent to 3,095.47 and Australia's S&P ASX 200 climbed 0.5 percent to 6,011.90. South Korea's Kospi advanced 0.6 percent to 2,423.01. Shares rose in Taiwan and were mostly higher in Southeast Asia
CURRENCIES: The euro rose to $1.1708 from $1.1664. The dollar rose to 108.96 yen from 108.89 yen.
ENERGY: U.S. crude oil slipped 41 cents to $67.80 per barrel in electronic trading on the New York Mercantile Exchange. It jumped 2.2 percent on Wednesday to $68.21 per barrel in New York. Brent crude, used to price international oils, lost 38 cents to $77.34 per barrel. It added 2.8 percent to $77.50 a barrel in London.
___
Annabelle Liang in Singapore contributed to this report.