Asia tracks French election rally; weak yen lifts Tokyo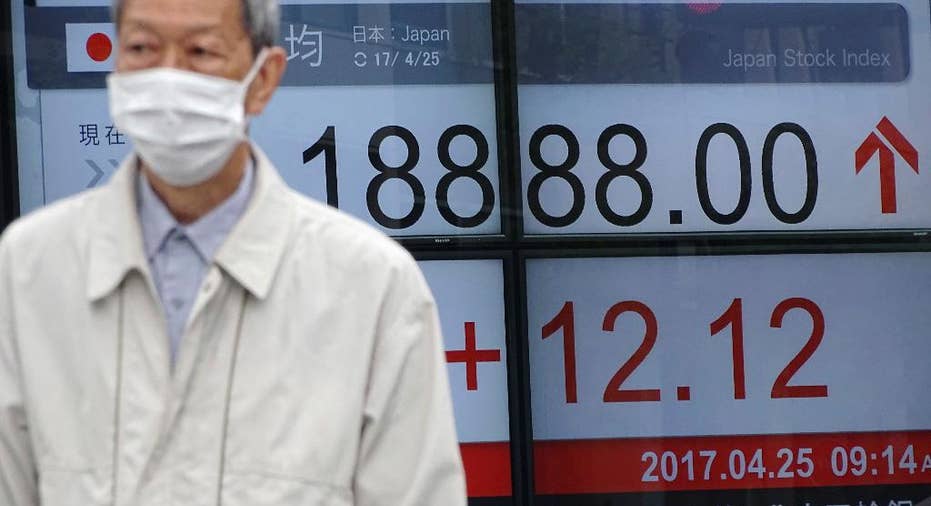 Shares are higher in Asia, tracking the rally sparked by the outcome of France's vote. Hopes for U.S. tax reform and a compromise on the U.S. budget deadline also lifted sentiment. Japan's benchmark gained as the dollar remained near the 110 yen level, helping shares of exporters.
KEEPING SCORE: Japan's Nikkei 225 index climbed 0.9 percent to 19,053.80 and the Hang Seng in Hong Kong jumped 1.1 percent to 24,400.22. South Korea's Kospi added 0.8 percent to 2,189.66 and the Shanghai Composite index was up 0.4 percent at 3,142.07. Shares were higher in Taiwan and mixed in Southeast Asia. The Australian and New Zealand markets were closed for Anzac Day.
FRENCH FACTOR: The lead taken by Emmanuel Macron, a candidate who investors see as pro-business, in the first round of France's presidential election raised expectations that the European Union will hold together. Overnight, a wave of relief boosted France's CAC 40 index by 4.1 percent, taking it briefly to its highest level since 2008. Germany's DAX gained 3.4 percent and the FTSE 100 in London rose 2.1 percent.
ANALYST VIEWPOINT: "The rosy sentiment in the market could however be a short-term phenomenon. Certainly Europe is starting to look more attractive, but the fundamentals have not been altered with this political event," Jingyi Pan of IG said in a commentary.
WALL STREET: U.S. shares were buoyed by the news from France and also strong earnings reports. The Standard & Poor's 500 index jumped 1.1 percent to 2,374.15. The Dow Jones industrial average also rose 1.1 percent, to 20,763.89. The Nasdaq composite gained 1.2 percent to 5,983.82. The VIX index that many investors see as a measure of the market's fear level plunged 25 percent.
ENERGY: Benchmark U.S. crude oil gained 23 cents to $49.46 a barrel in electronic trading on the New York Mercantile Exchange. On Monday the contract fell 39 cents to settle at $49.23 per barrel. Brent crude, which is used to price international oils, added 24 cents to $51.84 a barrel. It fell 36 cents to $51.60 per barrel in London.
CURRENCIES: With expectations strengthening that the shared European economy will remain intact, the foreign-exchange market saw the value of the euro rise on Monday. By Tuesday afternoon in Asia it was steady at $1.0868. The dollar rose to 110.09 yen from 109.76 yen and the British pound edged higher to $1.2797 from $1.2795.