Asia shares fall after North Korea's latest missile launch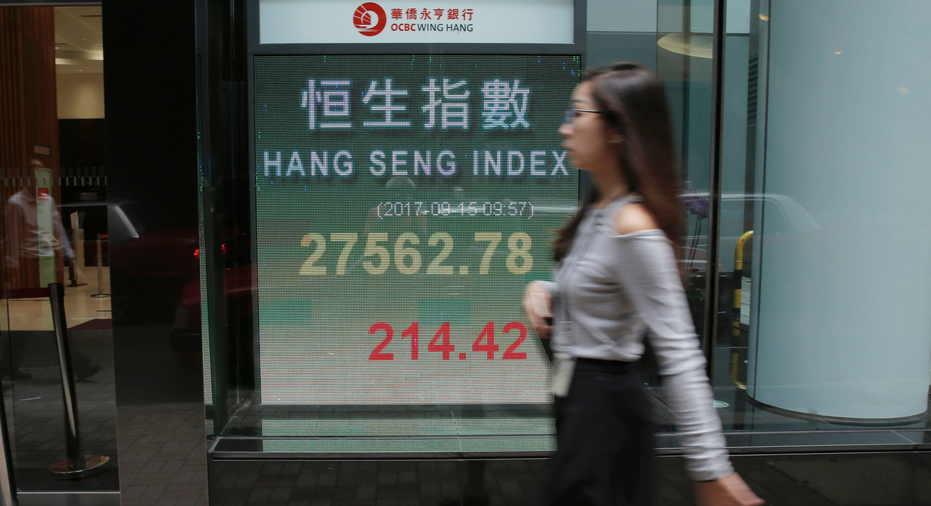 Asian stocks were mostly lower Friday after North Korea fired off another missile over Japan, ratcheting up geopolitical tensions and denting investor sentiment.
KEEPING SCORE: Japan's benchmark Nikkei 225 index edged up 0.1 percent to 19,835.30 but South Korea's Kospi lost 0.4 percent to 2,369.32. Hong Kong's Hang Seng fell 0.7 percent to 27,571.42 and the Shanghai Composite in mainland China shed 0.6 percent to 3,353.11. Australia's S&P/ASX 200 sank 0.6 percent to 5,704.90.
MISSILE TENSIONS: North Korea launched an intermediate-range missile that flew 3,700 kilometers (2,300 miles), setting off alarms as it flew over Japan to land in the Pacific Ocean. The launch was the latest sign of Pyongyang's willingness to defy international opinion as it moves closer to building up a military arsenal targeting U.S. forces.
TRADER TALK: "Risk-off sentiment is at the front and center of markets once again with North Korea's latest missile firing," said Jingyi Pan, market strategist at IG in Singapore. "Asian shares are expected to be weighed with the heightening of tensions as investors digest reactions from world leaders."
FED WATCH: Investors were also digesting the first of a batch of U.S. economic data as they await the Fed's next move on interest rates. Data released Thursday showed U.S. consumer prices rose in August at their fastest pace in seven months, a possible sign inflation is picking up pace. Industrial production and retail sales figures are due Friday, which could provide more hints on whether the Fed, which meets next week, will remain on track to raise rates by the end of the year.
WALL STREET: Major U.S. benchmarks ended mostly lower. The Standard & Poor's 500 index slid 0.1 percent to 2,495.62. The Dow Jones industrial average rose 0.2 percent to 22,203.48. The Nasdaq composite slumped 0.5 percent to 6,429.08.
ENERGY: Oil was hovering near its seven-week high. Benchmark U.S. crude futures slipped 23 cents to $49.67 a barrel in electronic trading on the New York Mercantile Exchange. The contract rose 59 cents, or 1.2 percent, to settle at $49.89 a barrel Thursday, the highest closing price since the end of July. Brent crude, used to price international oils, shed 35 cents to $55.12 barrel in London.
CURRENCIES: The dollar slid to 110.19 yen from 110.26 yen. The euro weakened to $1.1906 from $1.1919.