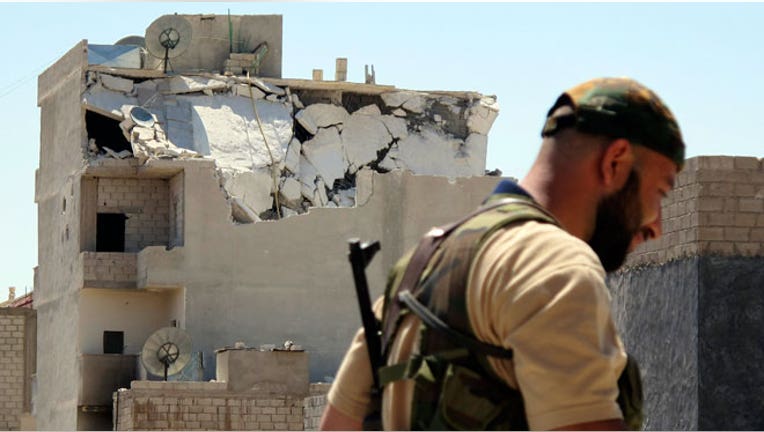 For the better part of 2012, the growing violence in Syria has avoided investors' long list of headaches.
After all, the civil unrest has largely been contained to within the borders of Syria, a country that has little economic influence and no real footprint in the critical oil industry.
But the escalation of violence in Syria this week adds to an already-volatile situation in the region, heightening the threat of a wider conflict that could ultimately impact global markets.
"I think the Syria situation is contained in the short term, but investors should be alert to the fact there are definitely wild cards in the deck," said Jim Rickards, a partner at New York-based hedge fund JAC Capital Advisors. "Investors should understand this is a very complicated chess board."
With much bigger issues on their plate, global equity markets have been largely unfazed by the situation in Syria, focusing instead on reading the tea leaves at the Federal Reserve and keeping a wary eye on Europe.
That's with good reason. U.S. sanctions on Syria have prohibited trade for many years. Unlike Libya, Syria is not a major energy producer that could disrupt global oil supplies. And unlike its neighbor Iran, Syria has not threatened to shut the crucial Strait of Hormuz, where 16 to 18 million barrels of oil transit each day.
"Economically, it is an unimportant country," said Elliott Abrams, senior fellow for Middle Eastern studies at the Council on Foreign Relations.
'Spinning Out of Control'
The economic threat clearly lies in the potential for the violence to spill over Syria's borders and further destabilize the broader region, which quenches much of the world's insatiable thirst for oil.
The violence intensified significantly this week as rebels delivered a serious blow to Syrian President Bashar al-Assad's repressive regime by killing three high-level officials in an apparent suicide bomb.
"The regime is now clearly on the verge of collapse," said Abrams, who served as deputy national security adviser to President George W. Bush.
Investors on InTrade, the online exchange that lets people bet on political outcomes, see a 63% chance Assad will lose power by the end of the year, up from just 40% a month ago.
The latest developments prompted President Obama to hold a phone conference with Vladimir Putin, the president of Russia, which is still Syria's biggest backer. Defense Secretary Leon Panetta warned the situation in Syria appears to be "spinning out of control."
'Wild Cards' Eyed
Against this backdrop, Rickards said investors should be watching out for a few "wild cards" that could morph the Syrian situation into something more serious for the region.
The biggest concern is that Assad, realizing his regime is nearing its final hours, could unleash chemical weapons against the rebels or even hand them to terrorists.
"Assad has to look at this moment and say, 'Either I respond with crushing force or this whole thing comes apart,'" John Bolton, former U.S. ambassador to the United Nations, told FOX Business. "If the regime is going to use chemical weapons, they're going to use them soon."
Syria is said to have one of the largest stockpiles of chemical weapons in the Middle East and the Assad family has a long history of using extreme violence.
Deploying chemical weapons is "a suicidal move, it seems to me, because that is the kind of thing that could bring direct international involvement," said Abrams.
The other wild card is that the violence spills over Syria's borders due to the complicated ethnic and tribal characteristics of the region.
Rickards pointed to the large populations of Kurds in Iraq, Turkey and Syria, where the group reportedly took over a northern city this week. Rickards also cited the suicide bombing in Bulgaria on Wednesday that killed at least seven Israeli tourists, an attack he said has "Iranian fingerprints."
"From a market perspective, right now it's contained," said Rickards. "But if any one of these wild cards takes place, you'll see this risk-off flight to quality."
Energy Market Impact?
While acknowledging the looming question marks, Abrams is less concerned about the threat of a broader conflict in the region.
"I don't think the conflict in Syria is likely to spread," said Abrams. "I just don't see that happening."
Still, the energy markets do appear to be paying at least some attention to the threat of a destabilizing event in the region.
Crude oil rallied on Thursday for the seventh day in a row, the longest stretch since late February. Taking into account session highs of $93.22 a barrel on Thursday, crude has surged as much as 11.1% during the current hot streak.
The concern is that of contagion: more economically-important countries, especially Saudi Arabia, could become engulfed in unrest that disrupts global oil supplies.
"The smell is in the air. There is anxiousness in the market that this thing can really spread if some of these governments don't get their act together very quickly," said Schehrazade Rehman, a professor at George Washington University.