As US gets tough with China, Wall Street gets weak-kneed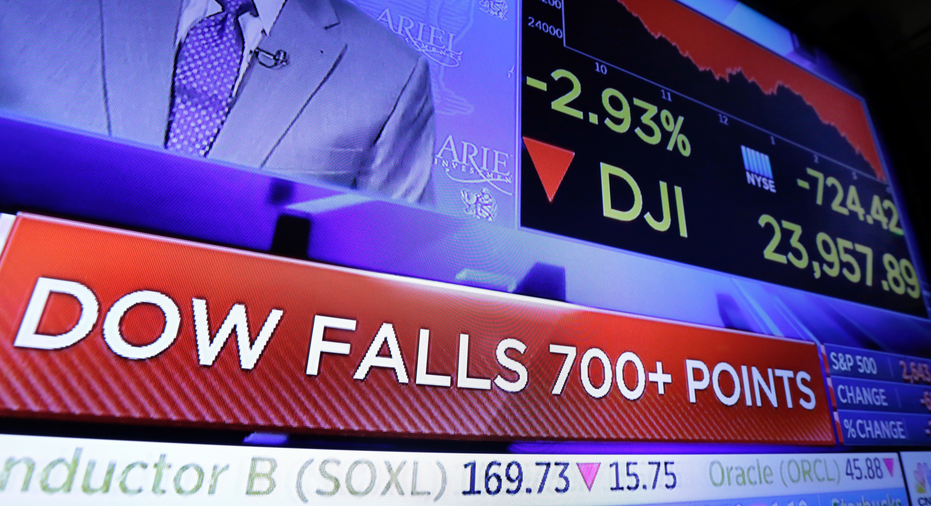 The prospect of a full-blown trade war between the world's two biggest economies rattled investors Thursday, sending stocks to their biggest loss in six weeks.
The Dow Jones industrial average plunged more than 700 points, as President Donald Trump announced plans to slap tariffs on Chinese imports. The Chinese government vowed to defend itself.
Investors worried that if the dispute escalated, China will counterpunch with restrictions of its own, hurting American exports of airplanes, construction equipment and other goods.
It didn't take long for China to threaten to hit back. The Commerce Ministry announced a list of U.S. goods, including pork and aluminum pipe, that could be slapped with higher tariffs in response to the U.S. move. It called for a negotiated settlement to the dispute.
Many big U.S. companies have built complicated supply chains that stretch across the Pacific Ocean. A trade war could disrupt the back-and-forth flow of parts, forcing factories to slow or halt production.
U.S. companies with substantial sales to China were clobbered in the crossfire Thursday.
Construction equipment maker Caterpillar lost 5.7 percent of its value — its worst loss since mid-2016. Aerospace company Boeing slid 5.2 percent. Chipmaker Micron Technology fell 3.5 percent.
Caterpillar gets about 5 percent of its revenue from China, Boeing 12 percent and Micron nearly 50 percent, according to the research firm FactSet.
The broader S&P 500 index lost 2.5 percent and is now down slightly for the year.
"We don't want a trade war ... but we are not afraid of it," said China's ambassador to the U.S., Cui Tiankai. "If somebody tries to impose a trade war on us ... we will certainly fight back and retaliate. If people want to play tough, we will play tough with them and see who will last longer."
Trump said the U.S. would impose the tariffs, as well as restrict Chinese investment, to punish Beijing for stealing American technology. The action came two weeks after the president announced major tariffs on steel and aluminum imports, a move that unsettled markets already nervous about rising interest rates and the prospect of inflation.
Administration officials said Thursday they were targeting 1,300 Chinese product lines worth about $50 billion a year in imports. Trump put the figure at $60 billion, causing some confusion over the actual extent of the sanctions. The Office of the U.S. Trade Representative has 15 days to publish a list of products subject to the tariffs. The administration said it would target imports from Chinese makers of machinery and aerospace and communications equipment.
The tariffs themselves are only equal to about 10 percent of China's annual goods imports to the United States.
But Trump's move raises longer-term uncertainty about the world's most important economic relationship.
"This is throwing down the gauntlet to the Chinese," Scott Kennedy, a China specialist at the Center for Strategic and International Studies. "The relationship on the commercial front has moved into new territory today from where it has been for the last 40 years ... We really don't know where this is going to go."