As Minimum Wages Go Up, Amazon.com Looks Like the Big Winner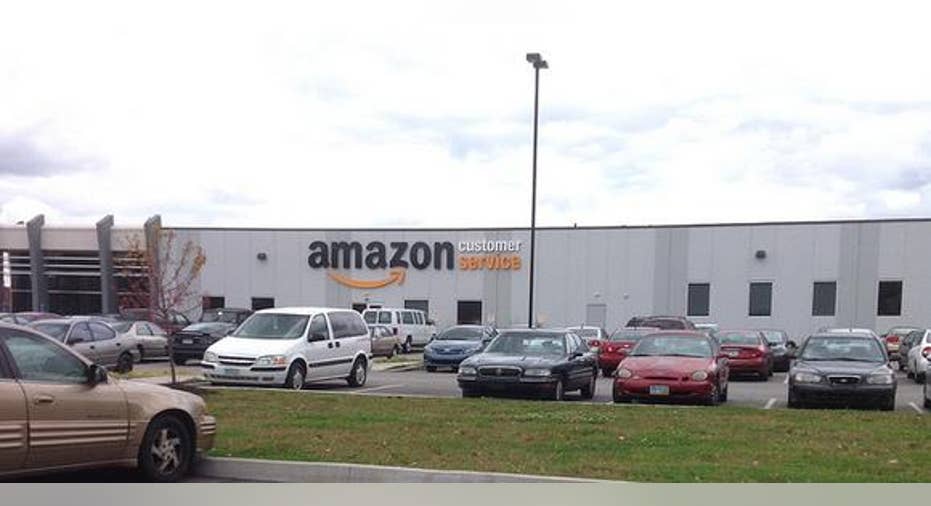 Minimum wages are going up around the country. As the Fight for $15 spreads, several major retailers have lifted their base pay, and states and cities have enacted gradual wage hikes to $15/hour.
California, the state that more than one out of 10 Americans calls home, passed a bill last week enacting incremental hikes in the minimum wage from $10/hour today to $15/hour in 2022, or a compound annual rate of nearly 9%, for businesses with at least 25 employees. Next year, the wage will rise to $10.50/hour.
New York followed suit with a similar law, mandating an increase to $15/hour by 2019 in New York City and 2022 in the suburbs, and to $12.50 by 2021 in upstate New York. Several other cites, including Seattle, San Francisco, Los Angeles, Portland, Ore., and Washington, D.C., have also passed aggressive minimum wage hikes recently.
Economists and others will debate the consequences of such minimum wage increases, but in the retail sector it's clear who the winner is:Amazon.com. While its brick-and-mortar competitors scramble to raise their base pay to remain competitive, Amazon's e-commerce business model makes it much less dependent on low-wage employees. Its warehouse workers earn an average of $12.50/hour, according to rating site Glassdoor.com, better than their counterparts in brick-and-mortar,and Amazon uses its labor much more efficiently than its competitors.
Based on revenue/employee, perhaps the best way to measure use of labor, Amazon generates $463,000 in sales for each employee.Wal-Mart Stores, its biggest competitor, has nearly ten times the headcount of Amazon, but less than five times the sales. The world's largest retailer makes about $218,000 in sales per employee.Target's sales/employee ratio was nearly identical at $210,000, and department store competitors likeMacy'sare even worse at using their labor efficiently, deriving about $160,000 in sales per individual worker.
One notable exception isCostco Wholesale, which makes nearly $1 million in revenue per employee. That retailer's warehouse model allows it to make better use of its workforce than traditional competitors. With its bare-bones stores, it avoids much of the labor needed to stock merchandise as it leaves items on pallets, and the buy-in-bulk nature of the business makes the average transaction much higher. Costco's better use of labor may be one reason why its stock, like Amazon's, has outperformed the competition.
What the wage hikes meanWal-Mart and other retailers have taken pains in the last year to raise their own minimum wages in an attempt to stay ahead of the curve of states and cities raising wage requirements and to gain an advantage in the labor market.
Wal-Mart raised its base pay to $10/hour this year after lifting it to $9/hour last year, decisions that will cost $3 billion this year and that have contributed to two consecutive years of declining profits.
But California's decision to raise its minimum wage to $10.50/hour next year en route to $15/hour ensures that Wal-Mart will have to continue to play catch-up. About 6% of Wal-Marts in the U.S. are located in California,and the company would like to set up shop in other growing markets like New York City, but the higher minimum wages make it unlikely that it will do so. Already, the company has pulled the plug on two new store in Washington, D.C., due in part to that city's wage increases.
Target, which is also raising its base pay to $10/hour this year, has plans to expand with smaller-format stores in cities, but those hopes could be stymied by the minimum wage hikes afoot.
Amazon, on the other hand, can ring up billions in sales in cities like New York and Washington, D.C., without having to abide by local minimum wage laws. Though the company has a small warehouse in New York to fulfill Prime Now orders, making one-hour deliveries possible, it relies primarily on New Jersey-based warehouse to service those customers.
The company's use of technology also makes it less reliant on human hands. For instance, Amazon acquired Kiva Technologies in 2012, a company that makes robots that assist with picking and packing in warehouses. Since taking over the company, it's doubled the number of robots in use to 30,000, yet it only has them in 13 of its about 100 warehouses.
The company plans to expand the Kiva program, which could increase its labor efficiency and advantage over its competitors. As minimum wages go up, brick-and-mortar retailers have yet another reason to worry about Amazon.
The article As Minimum Wages Go Up, Amazon.com Looks Like the Big Winner originally appeared on Fool.com.
Jeremy Bowman has no position in any stocks mentioned. The Motley Fool owns shares of and recommends Amazon.com and Costco Wholesale. Try any of our Foolish newsletter services free for 30 days. We Fools may not all hold the same opinions, but we all believe that considering a diverse range of insights makes us better investors. The Motley Fool has a disclosure policy.
Copyright 1995 - 2016 The Motley Fool, LLC. All rights reserved. The Motley Fool has a disclosure policy.