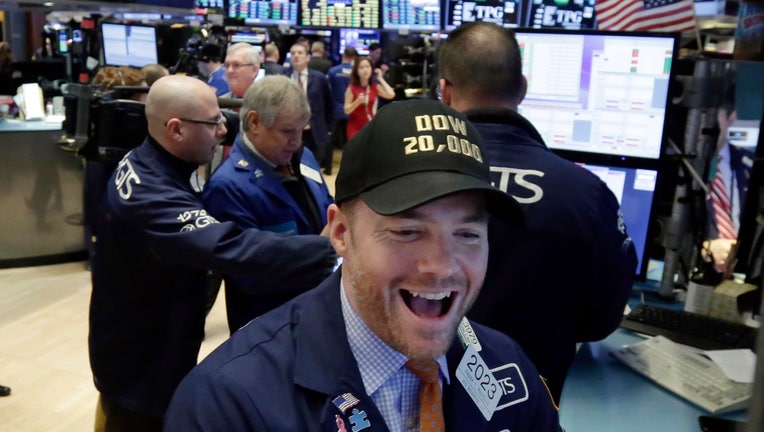 As investors pushed the Dow Jones Industrial Average up above the psychologically-significant 20000 milestone on Wednesday, Wall Street's so-called fear gauge dropped to its lowest level in two-and-a-half years.
The CBOE's volatility index, or the VIX, which measures expected market volatility over the next 30 days, touched 10.61 on Wednesday, lower than its normal level of around 12. A move higher in the VIX implies investors are expecting a higher level of risk in the market, while a move lower indicates lower anticipated risk.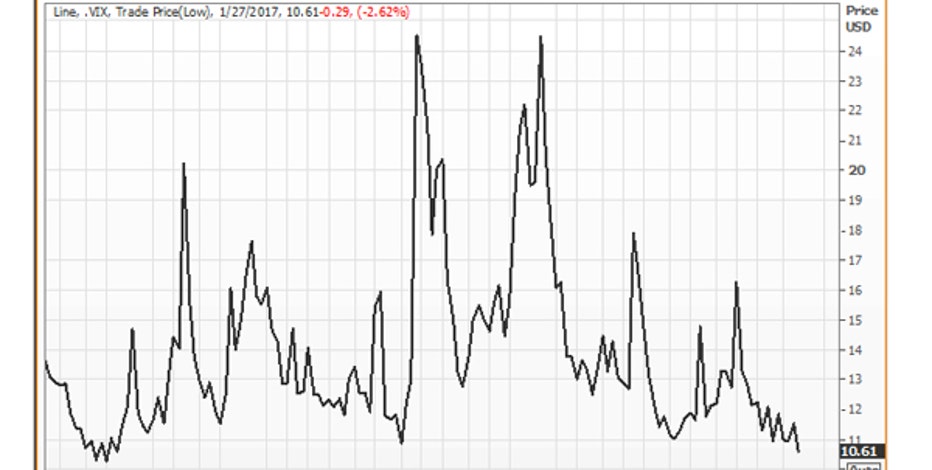 Driving sentiment higher on Wall Street Wednesday was early follow through from President Trump during his first official week in office on some of his campaign-trail promises. On Tuesday, the president signed two executive orders paving the way for construction of the Keystone XL and Dakota Access pipelines, projects that stalled under President Barack Obama's tenure. He also met with the chief executives of the Big Three U.S. automakers to encourage them to build their products domestically.
Trump's moves are seen as beneficial to blue-collar workers who were at the center of the president's campaign initiatives. U.S. stocks have also benefitted from the promise of lower taxes, less regulation and more fiscal spending. The Dow has raced nearly 1700 points higher since Election Day on that optimism, but any disappointment on the president's policy proposals could cause a leveling off in the market and run the risk of heightened volatility.
"Possible events that could lead to jumps [in the VIX] might be disappointment on policy proposals, potential retaliation from other countries on trade issues, or a general slowdown in economic growth or corporate profitability," said Sameer Samana, Wells Fargo Investment Institute global quantitative strategist.  
Compared to his predecessor, Trump so far has adopted a much more protectionist stance on U.S. trade. This week, he signed an executive order removing the United States from the Trans Pacific Partnership agreement. The president had called the deal – a 12-nation pact that had yet to be ratified by Congress -- a "moral threat" to American manufacturing, and "the biggest betrayal" to American workers. Samana said aside from trade issues, geopolitical risk in 2017 could also come from Europe as the U.K. separates itself from the European Union.
Still, Dennis DeBusschere, senior managing director at Evercore ISI, said with the U.S. dollar range bound and Treasury yields below their mid-December highs amid improving global growth, risk assets are likely to see continued support in the near term.
"Investors seem to be assuming that a weaker U.S. dollar and accommodative Fed policy are in the new administration's best interests," he said. "It is unlikely that we will see a quick change in sentiment that would lead to a sharp rise in U.S. dollar/rates and derail the equity market."
More on the Dow's Race to 20K
DeBusschere said financial stocks are poised for another move higher as investors ratchet up expectations for as many as three rate rises from the Federal Reserve this year amid U.S. economic strength.
"From the Fed's point of view, that is an encouraging backdrop and supportive of further rate normalization, which is a support for financial stocks," he said.