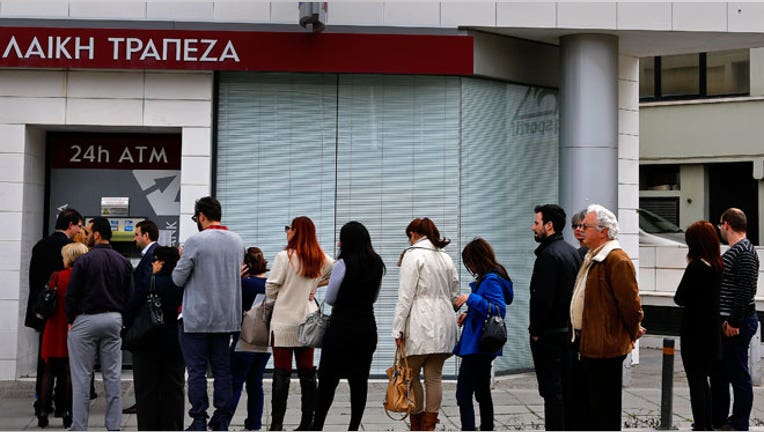 As policymakers in Europe threaten the sanctity of bank deposits in crumbling Cyprus, the faceless operators of decentralized electronic currency Bitcoin must be smiling somewhere.
The currency, a favorite among those worried about the safety of traditional banking and paper currency, is emerging as an apparent winner from the drama surrounding the bailout of tiny Cyprus.
Bitcoin "is clearly having a breakthrough moment here, and a deeply surprising one given its novelty and nascent infrastructure," said Nicholas Colas, chief market strategist at ConvergEx, in a note on Friday.
To be sure, Bitcoin is still a relatively new and small system that is subject to technical glitches and regulators are only now scrambling to keep up. Still, led by surging interest in the embattled eurozone and Russia (a favorite client of Cypriot banks), that breakthrough is clear through a number of metrics, including the surging value of the currency itself.
One Bitcoin is now worth around $73.75, up 84% from just two weeks ago when it was worth around $40.
Not Your Father's Currency
The value of Bitcoins outstanding has now exploded beyond $800 million. Colas notes that if Bitcoin were a country, its outstanding currency would rival the annual gross domestic product of a dozen World Bank-recognized nations.
People "are looking for alternatives" because of a "loss of confidence in paper money and traditional banking systems," said Jim Rickards, author of Currency Wars.
Click image to enlarge
So what are Bitcoins and why are they enjoying a moment in the spotlight now?
Founded in 2009 as an open-source software code, Bitcoin is a complex and anonymous type of electronic currency that can be swapped for local currencies like dollars, yen and euros.
Users can create accounts, deposit local currency and then use that cash to buy Bitcoins at a rate that fluctuates with the market. The Bitcoins can be stored in an online wallet, used to make purchases and converted back into local currencies.
However, unlike most currencies that are controlled by central bankers, Bitcoin is highly decentralized and the number of Bitcoins in circulation expands at a predictable and limited rate. Bitcoin also notes that its accounts cannot be seized by local authorities.
Crisis in Cyprus Buoys Bitcoin
For all of these reasons, Bitcoins stand in stark contrast with the value of euros sitting in Cypriot banks.
The controversial push to impose a levy on bank deposits in Cyprus, a tax haven and money laundering epicenter favored by Russians, has fueled ATM cash shortages and forced the tiny island country to shut its banks for a week.
The decision to go after bank deposits reflects the lack of options to raise money for a bailout of Cyprus and its outsized banking system. However, that move also appears to have broken a cardinal rule in financial crises: don't give people a reason to fear for the safety of their bank accounts.
"The rampant success of Bitcoin is a profoundly cautionary tale for global monetary systems."
"Cyprus, if it's not Lehman Brothers, it's certainly causing a certain amount of nervousness," said Rickards, a partner at New York hedge fund JAC Capital Advisors.
Colas said he's been seeing "explosive growth" in the Russian ruble/Bitcoin exchange in recent days. He said average daily transactions have soared from around 500,000 to 1 million rubles per day to 3 million to 3.5 million rubles a day on Wednesday and Thursday.
"It may not seem fair, but the deposits of oligarchs, drug dealers and tax cheats need to have the same protection as widows and orphans," said Colas. "The people themselves, no. But if you can't convict them for their crimes, attacking everyone's deposits in retribution is bad policy."
Rickards said the recent popularity of Bitcoins is part of a broader trend around the world in favor of alternative currencies.
U.S. Treasury Takes Note
This includes in the U.S., as some fear the Federal Reserve's unprecedented quantitative easing program, which has swelled the central bank's balance sheet to $3 trillion, may eventually cause rampant inflation.
"Gold is a great way to preserve wealth, but it is hard to move around," said Rickards. "You do need some kind of alternative and Bitcoin fits the bill. I'm not surprised to see that happening."
Regulators seem to be taking notice as earlier this week the Treasury Department said it is applying money-laundering rules to so-called virtual currencies.
"It's almost a badge of respect when the Treasury starts regulating you," said Rickards. "You must be doing something right."
The attention from the U.S. comes amid some concern that Bitcoins and similar virtual currencies could become a haven for criminal activity. An FBI report last year revealed that at least one online service accepts Bitcoins in exchange for illegal drugs.
"It's not a knock on Bitcoin," said Rickards. "I'm sure there are criminals using the Bitcoin world, but there are criminals and bad actors in the dollar world as well. The sight of a drug smuggler opening a suitcase full of $100 bills is not unusual."
'Cautionary Tale'
It's also worth pointing out that while Bitcoin may not be subject to policy missteps like the Cyprus deposit proposal, the electronic exchange isn't immune to technical issues.
An apparent glitch in the Bitcoin network fueled a steep selloff earlier on March 12 that caused the currency's value to briefly plummet 23% to $37 before recovering. Interestingly, the snafu doesn't appear to have dented demand for Bitcoins as the currency's value has rebounded well beyond $70 since then.
So what does the rise of virtual currency say about the state of confidence in the traditional banking structure?
"The rampant success of Bitcoin is a profoundly cautionary tale for global monetary systems. And we seem to be more in the introduction rather than the epilogue of the story," said Colas. "If central banks and regulators actually ran their monetary policies to maintain public confidence in the value of their currency, Bitcoin wouldn't have a chance. "