As 2016 Kicks Off, China Sets an (Ugly) Tone for U.S. Stocks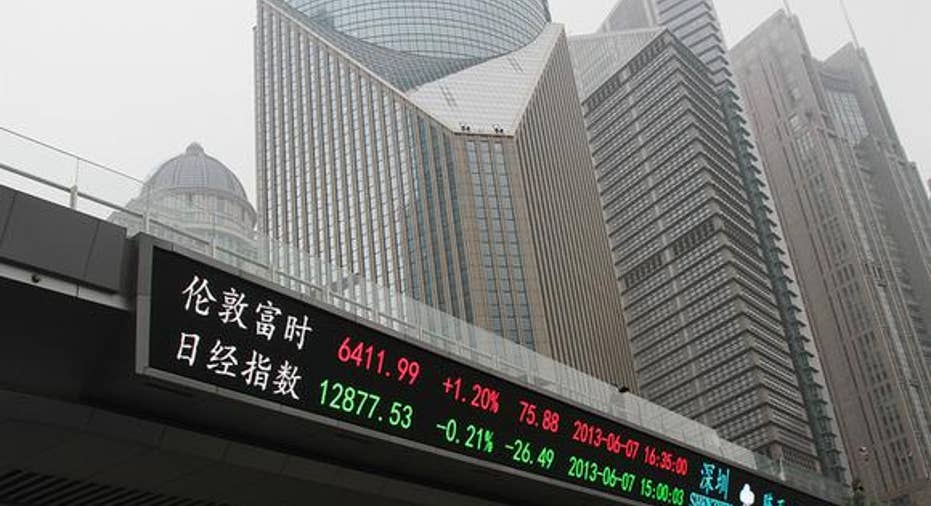 It used to be said that "when the U.S. [economy] sneezes, the rest of the world catches a cold," and the same can now be said of China. With China's stock market down 7% on Monday, forcing a trading halt, U.S. stocks are starting 2016 off on a rough note. The Dow Jones Industrial Average and the S&P 500 were down 2.43% and 2.36%, respectively, at 12:30 p.m. ET.
The rout in Chinese stocks has rippled through markets worldwide. London's Daily Telegraph captured the sobering start to the new year with the headline "FTSE [Index] poised for worst stock market start this century as China-led malaise wipes 36bn off index."
The proximate causes of the market slump are twofold: First, China lowered the reference rate on its currency, the renminbi, to below Rmb6.5 per dollar for the first time in four years. Second, the Caixin/Markit China Manufacturing Purchasing Managers' Index (PMI) for December came in below expectations, at 48.2 (a reading below 50 indicates a contraction in activity). Today's reading marks 10 consecutive months of declining activity.
Of course, that's not all bad news. The Financial Times' Robin Wigglesworth quotes Fidelity fund manager Matthew Sutherland:
Still, higher-quality (or rather, more balanced) growth or not, the slowdown is having global repercussions. The following graph shows China's contribution to global GDP, in percentage points, over the 50-year period spanning 1960 to 2010:
By this measure, China's weighting in the global economy grew nearly sixfold over the two decades ending in 2010, approaching a tenth. Despite slowing growth, that weighting has continued to increase in this decade.
UBS senior economic advisor George Magnus believes 2016 is the year in which politics will trump economics. In what looks like a prescient comment published on New Year's eve, he explains why the two are intertwined in China's case:
In the wake of the global financial crisis, every investor became a Fed watcher. Perhaps we'll all be following the Central Committee of the Chinese Communist Party next.
The article As 2016 Kicks Off, China Sets an (Ugly) Tone for U.S. Stocks originally appeared on Fool.com.
Alex Dumortier, CFA has no position in any stocks mentioned. The Motley Fool has no position in any of the stocks mentioned. Try any of our Foolish newsletter services free for 30 days. We Fools may not all hold the same opinions, but we all believe that considering a diverse range of insights makes us better investors. The Motley Fool has a disclosure policy.
Copyright 1995 - 2016 The Motley Fool, LLC. All rights reserved. The Motley Fool has a disclosure policy.