Armani, Versace add Italian glitz to London Fashion Week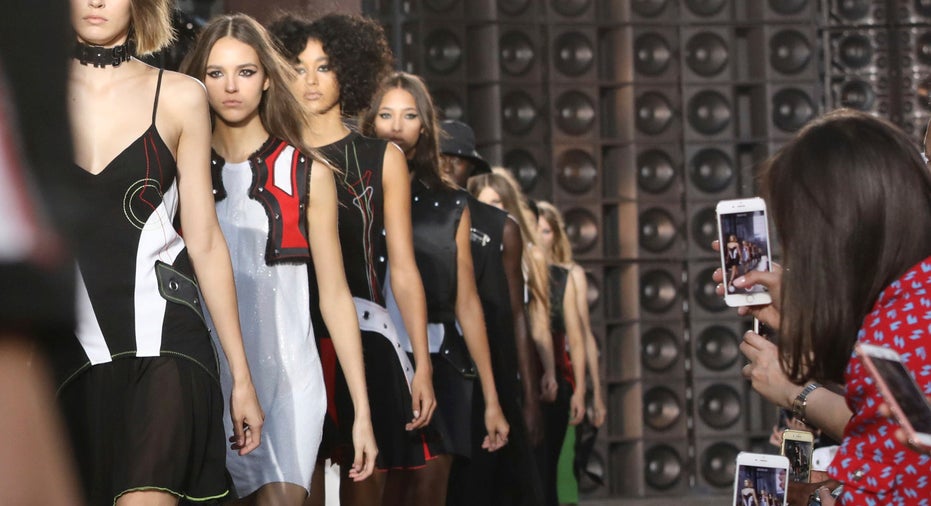 London Fashion Week is getting an injection of Italian glamour, with Donatella Versace's Versus and Emporio Armani joining Britain-based designers including Preen and Topshop on the show schedule Sunday.
Some highlights from Day 3 of the fashion week:
___
DELICATE ROMANCE AT PREEN
Wispy slip dresses, dreamy pastels, oriental florals: Preen's new collection was a master class in romantic femininity.
But designers Justin Thornton and Thea Bregazzi opened their show on a completely different note. Stark white, covered-up outfits accented with red knee socks, flat red shoes and little "hats" made with tied white or red handkerchiefs explained the references to Puritanism and "The Scarlet Letter" in the show notes.
Then came a series of deconstructed slip dresses and diaphanous one-shouldered sheer silk gowns in nude, black, and pretty shades of pink and lilac. Many were adorned with delicate lace and fine pleating, and some took inspiration from the drape and rich embroidery of the sari.
Ruffles were still big news, as were asymmetrical hemlines that emphasize femininity with every move.
Red looks like it will remain keeping reigning next season, with the designers closing their show with a series of strong all-scarlet dress ensembles.
___
BLACK, RED, SILVER AT VERSUS
Versace presented designs with all the staples of her trademark rock chick sexiness — tight bell bottom trousers, mesh mini dresses, studded and silver-fringed cowboy boots, and lots of black, white and red ensembles adorned with silver hardware.
Check prints featured heavily this season, appearing on men's and women's sleeveless long coats and trousers, as well as tiny bikini bottoms emblazoned with the brand name, worn with a matching cowboy jacket.
Brand name chokers, heavy black eyeliner and lots of attitude completed the looks.
Many of Versace's clothes seemed destined for the nightclub or looked like they would only suit the young and very fit. But there were a few softer looks: A buttoned-up dark denim shirt dress looked versatile, and a series of mint green printed numbers added a dose of freshness to an otherwise tough color palette.