Are These 3 Biotechs Destined to Be Bought Out?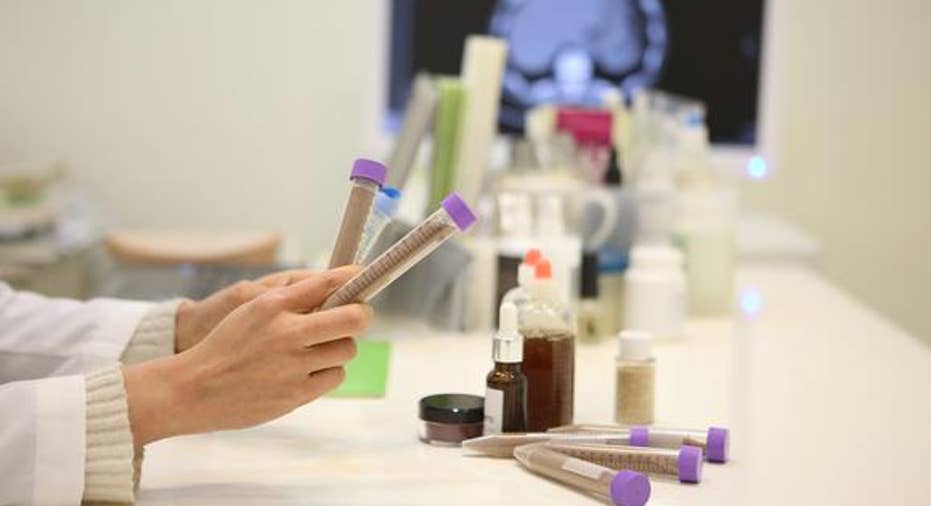 The merger and acquisition frenzy that's been spreading across the biotech landscape over the last few years might be about to hit fever pitch. After all, heavyweights like Allergan, Gilead Sciences , Celgene Corp. ,Johnson & Johnson , and Pfizerhave all signaled their intent to create value for shareholders through either bolt-on acquisitions or mergers with similarly sized peers.
Image source: Pixabay.
Perhaps stoking these M&A flames even further is the fact that biotech is presently a target-rich space, with valuations becoming more reasonable and several clinical-stage drugmakers reporting strong top-line data for their lead product candidates of late. In short, there is a clear demand for M&A among the top dogs in biopharma, and the supply of actionable buyout targets seems more than ample.
While there are probably over a dozen compelling buyout candidates floating around the industry right now, I personally think the clinical-stage cancer companies Celator Pharmaceuticals , Geron Corp. , and Juno Therapeutics are the cream of the crop. Here's why.
Celator is set to transform the standard of care for AMLCelator shocked many onlookers last month after its lead drug candidate,Vyxeos, hit the mark in a pivotal stage trial for secondaryacute myeloid leukemia, AML, causing its shares to more than quadruple in value. This stock wasn't even on the radar of most analysts prior to Vyxeos' breakthrough a few short weeks ago, and only now is anyone attempting to value the tiny drugmaker.
With little to go on besides the broad-strokes estimate that the entire AML market is expected to rise to around $900 million in sales by 2020, Celator still looks woefully undervalued with a potential new standard of care in tow and a market cap of less than $600 million at present. And such an intriguing value proposition could certainly drive interest from big pharma or big biotech from an acquisition standpoint. After all, novel cancer drugs are highly prized among major drugmakers because they can command premium pricing structures, and they frequently enjoy low levels of competition because of the sheer difficulty of developing rival therapies.
Image source: Pixabay.
Given that Vyxeos is indicated for a rare blood disorder with little to no competition at the moment and there have been no major advancements in the treatment of AML in the last three decades, I think this drug would make an excellent addition to either Celgene or Gilead's oncology portfolios and would dovetail nicely with their overarching focus on hematological malignancies. So, my gut feeling is that Celator will end up fetching a tender offer before Vyxeos' regulatory application is submitted to the FDA later this year -- with Celgene and Gilead being the two most likely suitors.
Geron's novel telomerase inhibitor is a blockbuster-in-waitingAs I've discussed before, Geron is a small-cap biotech that seems to be structured at this stage to be eventually folded into J&J, the company's development partner for imetelstat. The long and short of it is that Geron has put all of its eggs into the imetelstat basket, hoping this novel telomerase inhibitor can prove to be a game-changer for a variety of hard-to-treat blood disorders likemyelofibrosis and myelodysplastic syndrome. Most importantly, Geron has essentially handed over the bulk of clinical responsibilities to J&J's biotech subsidiary Janssen, and even slashed its workforce to a grand total of 19 employees to boot.
However, the main reason Geron seems destined, to me, to become part of J&J -- if most of imetelstat's ongoing clinical trials go as planned -- lies in J&J's recent past. Not long ago, J&J reportedly lost out on acquiring the remaining rights to blood cancer drug Imbruvica -- a drug it identified early on as a potential blockbuster, yet failed to acquire in whole in a timely manner. If imetelstat appears likely to live up to J&J's own estimates as a blockbuster-in-waiting, I doubt the drugmaker is going to make the same mistake twice. Rather, I expect J&J will decide to sally forth with a tender offer -- or not -- soon after imetelstat's wraps up its current bevy of clinical trials, thereby avoiding a bidding war that could drive Geron's price up to unreasonable levels.
Juno is basically engaged to Celgene at this point Last year, Juno and Celgene announced a 10-year deal to develop adoptive T cell therapiesfor patients afflicted with cancer or autoimmune diseases. Per the terms of this massive deal, Celene bought approximately9.1 million shares of Juno stock and some rights to its pipeline, with an option to buy up to a 30% stake in the biotech going forward. If this $1 billion-plus upfront investment wasn't enough, Celgene even agreed to certainlock-up provisions on its share ownership. Earlier this month, Celgene deepened this relationship by opting in on Juno'sCD19 CAR-T program indicated for a host blood cancers, handing over a$50 million payment to do so.
From an outsider's view, this hefty investment in Juno seems to boil down to Celgene wanting to protect its dominant position in the high-growth hematology market. While CAR-Ts still have a ways to go to prove they can overcome serious safety issues such as cytokine release syndrome, the early clinical results have indicated that these types of treatments could revolutionize the standard of care for several fatal blood disorders, perhaps displacing chemotherapy-based treatments altogether. By locking up a nice chunk of Juno early on, Celgene is securing itself a seat at the CAR-T table, if this novel cohort of immunotherapies does indeed hit pay dirt.
What's next?Buying any stock on the hope that a company will be bought out is never a good idea. Mergers and acquisitions, after all, tend to come out of left field and never seem to follow the path of least resistance. That's why investors need to consider the underlying business prospects of these -- or any other -- buyout candidates as stand-alone entities before jumping in headfirst.
Of these three biotechs in particular, I think Celator is a great pick-up regardless of whether a big biotech comes calling thanks to Vyxeos' value proposition. On the flip side, Geron and Juno are highly unlikely to even remain independent entities if their clinical pipelines perform as expected, as a result of their tight relationships with J&J and Celgene, respectively. So, I think it's buyout or bust for both Geron and Juno, which is an issue investors should probably factor into their buying or selling decisions moving forward.
The article Are These 3 Biotechs Destined to Be Bought Out? originally appeared on Fool.com.
George Budwell owns shares of Allergan PLC and Pfizer. The Motley Fool owns shares of and recommends Celgene, Gilead Sciences, and Johnson & Johnson. Try any of our Foolish newsletter services free for 30 days. We Fools may not all hold the same opinions, but we all believe that considering a diverse range of insights makes us better investors. The Motley Fool has a disclosure policy.
Copyright 1995 - 2016 The Motley Fool, LLC. All rights reserved. The Motley Fool has a disclosure policy.