Are There Too Many Macau Casino Rooms or Not Enough?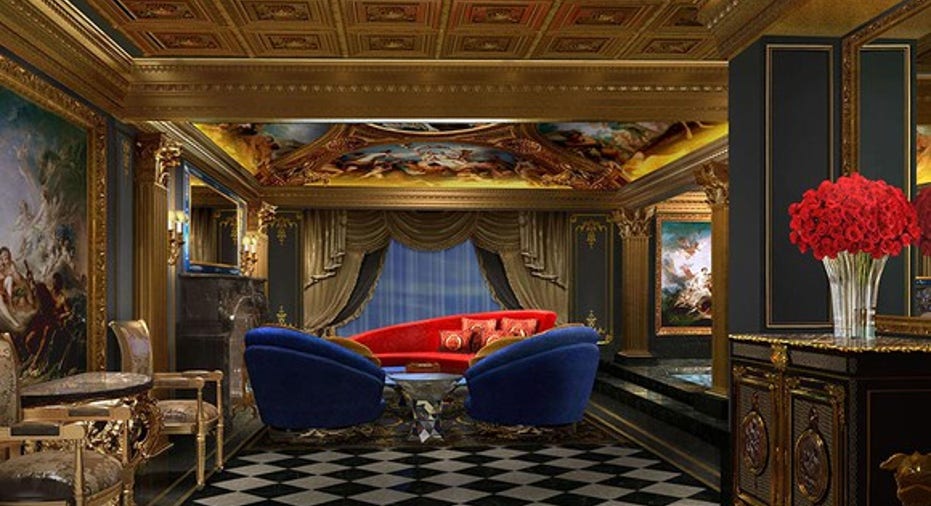 After a fifth straight month of rising gaming revenues, the Macau casino recovery appears to be back on track, but can the effort be sustained enough to support all the hotels that are coming online? Gambling revenues may rise, but the resort operators may not be able to fill all the rooms they're building.
Las Vegas Sands new Parisian resort boasts 3,000 guest rooms at its hotel, adding to the supply of 36,000 rooms in Macau. Image source: Parisian Macao.
A room at the inn
When Wynn Resorts (NASDAQ: WYNN) opened its new Palace in August, it not only came with a 500,000 square foot casino featuring almost 1,100 slot machines and 350 table games, it also added over 1,700 hotel rooms to the Macau market. That was followed in September by Las Vegas Sands (NYSE: LVS), which added 3,000 guest rooms at its new Parisian.
According to Macau's Statistics and Census Service (DSEC), at the end of November -- the latest data available -- there were 107 hotels and guesthouses in operation in the special administrative region of China featuring 36,000 guest rooms, a 14% increase from the same period in 2015. The number of guests visiting these facilities totaled more than 1.1 million, an 18% year-on-year increase, and suggestive that there is a need for all of these new rooms.
Indeed, some time in the early part of the new year, MGM Resorts (NYSE: MGM) will be opening its new casino featuring a hotel with 1,500 rooms and suites; a new luxury hotel called The 13 will also be opening its doors early on in the year, adding 200 "villas," or luxury suites, to the supply; and then later this year the Lisboa Palace will open with approximately 2,000 rooms. Finally, in early 2018, Melco Crown Entertainment (NASDAQ: MPEL) will open its fifth hotel tower at City of Dreams called Morpheus featuring approximately 780 guestrooms, suites, and sky villas.
Global asset management firm Sanford C. Bernstein says that's not too much as it will help overcome "bottlenecks" that will develop from Macau's new focus on the mass market audience.
The entry to the new super-luxury hotel The 13. Image source: The 13.
A place to put up the family
Previously the casinos relied on VIP gamblers for the bulk of their gaming revenues, but after Beijing clamped down on luxury, expensive gift giving, and corruption, the money from high rollers dried up sending Macau into a two-year long tailspin. On top of that, an edict was handed down that more family friendly, non-gambling entertainment was needed to make the Cotai district of Macau a Las Vegas-like destination. Where the Nevada gambling mecca generates around 60% of its revenues from non-gambling entertainment, Macau realizes just 10% or so, and Beijing would like it to be around 20% by 2020.
When Melco Crown opened Studio City in October 2015, it embraced the demand by erecting the world's highest figure-eight Ferris wheel, installing a 4-D Batman flight simulator, offering magic shows, and other forms of non-gaming entertainment. Galaxy Entertainment (NASDAQOTH: GXYEF) also ensured entertainment other than gambling was part of its Galaxy Macau resortexpansion, including amenities like its Broadway Theater.
As the Bernstein brokerage sees it, all the hotel rooms coming online will be necessary to accommodate this influx of mass market tourists, who will crowd the city on the weekends, unlike the VIPs who tended to fill the rooms midweek.
An influx of tourists
And certainly the district's tourism numbers would seem to validate that. November occupancy rates across all hotels and guest houses stands at 86.4%, up almost 2% from last year and better than the 83.5% rate notched in October. Year to date, the average occupancy rate is 82%, up 1.4 percentage points. Importantly, four-star hotels in November enjoyed 92.4% occupancy rates, while other hotel categories were above 80%.That's significant because the hotels Wynn, Sands, and MGM are building are world-class establishments, meaning they're getting their share of customers.
The figure-eight Ferris wheel at Melco Crown Entertainment's Studio City resort. Image source: Studio City.
Yet the numbers aren't a complete affirmation that Macau is on the right track. The resorts are actually heavily discounting their room rates, and according to Daiwa Capital Markets, hotel room rates recently fell to record lows, which it said was "not an encouraging sign as a proxy for gaming demand." With even more supply coming on line, the promotional environment may get even more intense and impact resort profitability.
What the resorts need is for the recovery to continue, stretching beyond the five-month run it's enjoyed so far. It looks hopeful at the moment, but the rate of gaming revenue growth dropped to 8% in December from over 14% in November so the industry needs to see whether this is sustained momentum or, with the excitement of the new venues opening nowdissipating, it returns to its former weakened state.
A hotel room glut amid a soft gaming market would be the worst of all possible scenarios for the casino operators.
10 stocks we like better than Wynn Resorts When investing geniuses David and Tom Gardner have a stock tip, it can pay to listen. After all, the newsletter they have run for over a decade, Motley Fool Stock Advisor, has tripled the market.*
David and Tom just revealed what they believe are the 10 best stocks for investors to buy right now... and Wynn Resorts wasn't one of them! That's right -- they think these 10 stocks are even better buys.
Click here to learn about these picks!
*Stock Advisor returns as of Nov. 7, 2016
Rich Duprey has no position in any stocks mentioned. The Motley Fool has no position in any of the stocks mentioned. The Motley Fool has a disclosure policy.