Are Salesforce.coms Growth Expectations Realistic?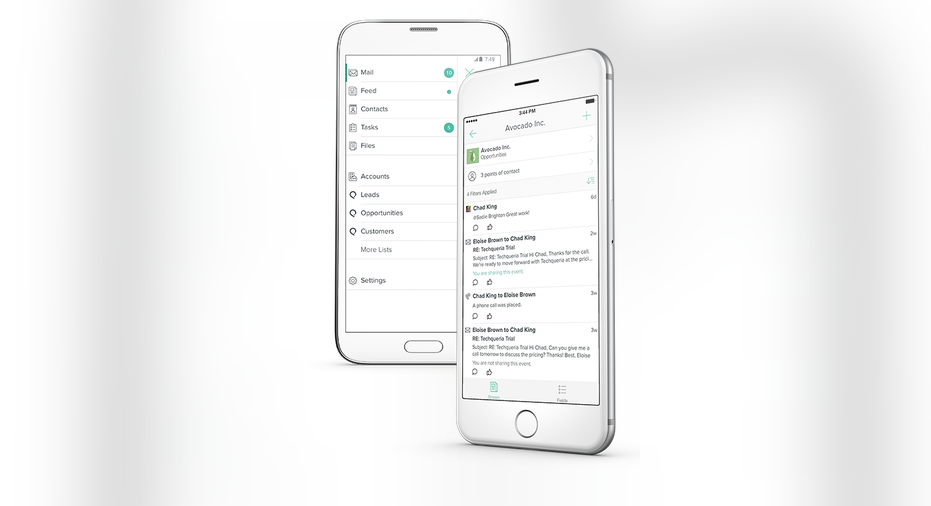 Image source: Salesforce.com.
Over the past five years, Salesforce.com has been killing it with annual double-digit growth in both revenue and profit. The leader in customer relationship management software has fueled its expansion over the years with its organically developed cloud-based technology, key partnerships with big tech names such as Microsoft , and acquisitions of other CRM companies that it has been able to incorporate into its own suite of services. With opportunities to expand marketing and analytics services, especially within the existing Salesforce.com client base, the company and analysts expect over 20% revenue growth and over 30% bottom line profit growth in each of the next two years. Are expectations realistic, and how could it all translate into stock performance?
Coming off of another record year, CEO Marc Russell Benioff emphasized that success was due to being able to offer a full range of services to both large enterprises and small businesses alike. Through in-house development and key takeovers of cloud-based software companies like SteelBrick, the cloud-based software company has the ability to provide all the service, sales, marketing, and analytics programs its customers need. As a result, not only are Salesforce.com's largest customers renewing contracts, they are expanding those contracts with the company and making Salesforce their primary software provider.
This customer loyalty is encouraging, but the real growth expectations come from the possibility of the company realizing a larger slice of many of the markets it operates in. While sales cloud applications from Salesforce gobble up over 40% of US market share, service cloud and marketing cloud applications are only at 16% and 11% of market share, respectively. Analytics applications, software that collects data and helps make business predictions, are at less than 1% of market share.
To increase that market share, Salesforce continues on its spending spree. The company's research and development expenses increased nearly 20% during 2015.Since 2013, the company has also purchased 13 smaller companies like ExactTarget, RelateIQ, and most recently predictive analytics company Implisit. These acquisition costs in the last three years totaled an undisclosed sum, but exceeded at least $3 billion.Management sees this as a key driver to building out its ecosystem of software applications, and it is certainly a doable proposition. With annual free cash flow exceeding $1.3 billion and cash and other liquid assets totaling over $2.7 billion, Salesforce is in a good position to continue making strategic purchases to drive growth.
International growth also presents a major opportunity. Nearly 75% of the company's revenue comes from North America, but Salesforce has implemented a nine-country strategy where the vast majority of software application service spending takes place. Outside of the US and Canada, countries of operation include Brazil, most of Northern and Western Europe, Australia, and New Zealand. Salesforce.com market share in these regions sit at 6%, less than half of its total market share in North America.In response, the company plans to continue its push into these areas with marketing and presentation events. So far, it has been working. Revenue in Europe was up 32% in 2015, and Australia and New Zealand saw revenue growth of 26% in 2015.
So are those growth numbers realistic? With a strong pipeline of new acquisitions and momentum pushing key relationships forward for the company, I think it is possible that those lofty revenue goals could be hit. What about bottom line profit expectations, and how will that impact owners of Salesforce.com?
While revenue growth looks to be on a great upward trajectory for the year, earnings could come in less than what is hoped. Heavy research and development as well as acquisition of smaller companies helps overall sales, but it is usually a drag on profitability in the short term. We can see this at work for Salesforce in their statement of operations for 2015. Operating expenses, which include research and development, admin expense, and marketing, ate up well over 60% of revenue for the year. Management plans on keeping up a similar pace of spending in the coming year on acquisitions and ongoing internal development.
With lumpy bottom-line profit results likely considering the high rate of investment, I would expect the stock to react in a similar fashion. Any "misses" in profit expectation could possibly cause some short-term drops in share price. However, expenses on research, admin, and marketing have been slowly dropping over the years. For example, total operating expense in 2015 is down 2% from 2014.The key takeaway for investors to remember is that top-line revenue is growing as a result of the spending spree. In time, profits will grow and catch up as key growth initiatives start to pay off.
As the Internet continues its transformation to a more mobile and more accessible format, the leader in cloud-based customer and business management applications is well-positioned for further growth. Though some short-term ups and downs should be expected, Salesforce.com will evolve into a strong andhighly profitablebusiness in the long-term.
The article Are Salesforce.coms Growth Expectations Realistic? originally appeared on Fool.com.
Nicholas Rossolillo has no position in any stocks mentioned. The Motley Fool owns shares of and recommends Salesforce.com. The Motley Fool owns shares of Microsoft. Try any of our Foolish newsletter services free for 30 days. We Fools may not all hold the same opinions, but we all believe that considering a diverse range of insights makes us better investors. The Motley Fool has a disclosure policy.
Copyright 1995 - 2016 The Motley Fool, LLC. All rights reserved. The Motley Fool has a disclosure policy.