Are MasterCard Earnings Really Shrinking?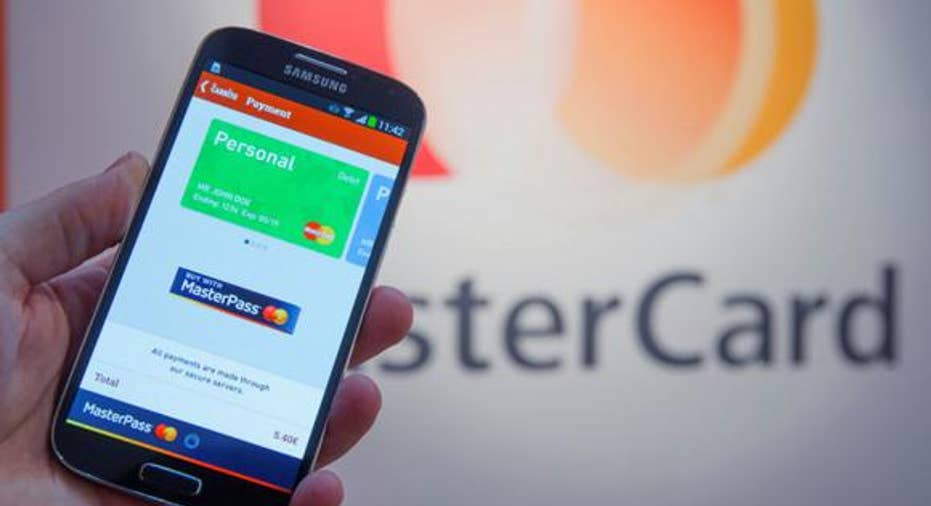 Image: MasterCard.
The payment processing market has grown by leaps and bounds over recent decades, and MasterCard has staked its claim to that growth by looking far and wide both domestically and internationally to take advantage of lucrative opportunities. Even though it lags behind Visa in terms of sheer size, MasterCard has still made a big splash in the global payments industry. Yet coming into its first-quarter financial report on Thursday, MasterCard investors fear that the card giant might see earnings decline from year-ago levels. Let's take an early look at MasterCard to see if those fears are justified and whether the company can do better going forward.
Stats on MasterCard
| | |
| --- | --- |
| Analyst EPS Estimate | $0.85 |
| Change From Year-Ago EPS | (4.5%) |
| Revenue Estimate | $2.38 billion |
| Change From Year-Ago Revenue | 6.8% |
| Earnings Beats in Past 4 Quarters | 3 |
Source: Yahoo! Finance.
What's ahead for MasterCard earnings?In recent months, investors have gotten increasingly nervous about MasterCard earnings, cutting their projections for the first quarter by $0.08 per share and making much larger adjustments approaching 10% to their full-year forecasts for 2016 and 2017. The stock, however, has moved higher, climbing 13% since mid-January.
MasterCard's fourth-quarter earnings report provided the initial impetus for the card company's rebound. Even though revenue growth fell short of what investors had expected from MasterCard, the company squeezed more profit out of its revenue and overcame currency-based headwinds to boost net income by 11% and beat earnings expectations by a dime per share. Double-digit percentage gains in key metrics like gross dollar volume and the number of processed transactions helped support share-price gains of almost 7% on the day of the release.
But MasterCard isn't just relying on its traditional business to keep performing well. Reports suggested that the company could be in talks with major social-media giants to establish partnerships aimed at developing new payment products. Commentators had to speculate about the potential ways in which social-media leaders and MasterCard could work together, including peer-to-peer transactions, connecting more efficiently to e-commerce, or simply fighting back against non-credit card rivals in the electronic payment space.
Even more encouragingly, MasterCard could soon see one of its major headwinds disappear or even start to work in its favor. For years, the strong U.S. dollar has hurt the value of MasterCard's international revenue and profits, but recently, the dollar appears to have topped out against key currencies like the euro and Japanese yen. Indeed, the dollar has even lost ground against some foreign currencies, and that could produce unexpected growth for MasterCard in 2016 and beyond.
Indeed, it's this last aspect of MasterCard's strength that arguably makes it a better pick than Visa right now. Visa has traditionally had more of a domestic focus to its business, and although moves like its planned acquisition of Visa Europe would unquestionably give the company a stronger presence overseas, MasterCard will still have a lead while the two Visa entities integrate their operations and figure out how to work effectively in the international markets. What will be important is for MasterCard not to squander that lead but rather find ways to move forward that will make it even more difficult for Visa to follow and come up with competitive strategies of its own with which to counter MasterCard's moves.
In the MasterCard earnings report, the nicest news would be an earnings beat that would avoid a year-over-year decline in the key metric. However, of more importance is how MasterCard positions itself to answer competitive threats both from Visa and from other electronic payments players outside the traditional card realm. With so much going for it, MasterCard should have the ability to build on its past success and maintain momentum for the foreseeable future.
The article Are MasterCard Earnings Really Shrinking? originally appeared on Fool.com.
Dan Caplinger has no position in any stocks mentioned. The Motley Fool owns shares of and recommends MasterCard and Visa. Try any of our Foolish newsletter services free for 30 days. We Fools may not all hold the same opinions, but we all believe that considering a diverse range of insights makes us better investors. The Motley Fool has a disclosure policy.
Copyright 1995 - 2016 The Motley Fool, LLC. All rights reserved. The Motley Fool has a disclosure policy.