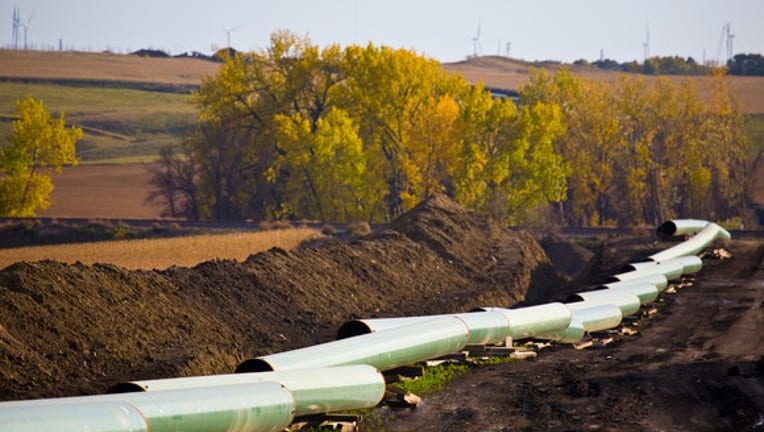 Image source: TransCanada Corporation.
Kinder Morgan thought it had an easy road ahead of it when it proposed to expand its Trans Mountain pipeline in 2012 to triple its capacity to move oil from the oil sands region to Canada's west coast. The project was said to be a "slam dunk" for approval and would enable the company to significantly grow its Canadian operations. Unfortunately for the company, that project has been a much tougher sell than initially thought. However, it did receive a big boost last week after the National Energy Board of Canada (NEB) recommended that the project be approved, as long as the company meets its 157 conditions. Suffice it to say, the company still has some work to do.
What's next?
Image source: TransCanada Corporation.
The recommendation from the NEB to approve the project is a crucial one for the company, but that doesn't mean it's ready to break ground. The project still needs federal government approval, with it expected to make a final decision on the project this December. Further, Kinder Morgan needs to agree to abide by all 157 of the project-specific conditions, up by 12 since the last review, which run the gamut of environmental, safety, and socio-economic conditions. That said, the president of Kinder Morgan Canada, Ian Anderson, has already said that these conditions "appear to be achievable." If granted final approval the pipeline is expected to be in-service by December of 2019.
That being said, the fight against the project is far from over. A Sierra Club spokesperson, for example, has already decried the recommendation saying that, "This is exactly what we expected from the National Energy Board, an industry-captured regulator that never met a pipeline it didn't like or environmental impact it couldn't ignore." Meanwhile, there's still a lot of opposition among First Nations, which have to consent to the project. While Kinder Morgan has already received nearly 40 letters of support from Aboriginal groups, there are others that aren't yet ready to support the project. Suffice it to say, the company needs to continue to work hard to gain support for the project, which it can only do by taking every precaution to build the safest pipeline that's backed up by robust contingency procedures.
Why this project is so important?
This project has really become a vitally important one for both Kinder Morgan and Canada's energy sector. For Kinder Morgan, the $5.4 billion project now represents 38% of the company's current five-year project backlog that now only totals $14.1 billion. It's a growth pipeline that has fallen significantly over the past year after the company high-graded its projects, which resulted in itpulling the plug on two other major pipeline projects that were also facing strong opposition.
The reason it hasn't given up on this project really speaks to its importance. At the moment Trans Mountain is over capacity, which is causing oil to be shipped by rail. Meanwhile, the project's expansion capacity is fully subscribed, which puts the company in the position to capture strong economics from day one.
It's also worth noting that this project, along with TransCanada's Energy East, have been dubbed as a top priority by Canada's Prime Minister Justin Trudeau. He views these projects as vital to Canada's energy future as well as cornerstones to enable the country to meet its ambitious economic growth targets. What's also worth noting is that Enbridge's competing west coast pipeline project, Northern Gateway, wasn't lumped into the priority group, which also bodes well for the economics of Kinder Morgan's expansion project. The bottom line is that Canada knows it needs to build new pipeline capacity to get its landlocked oil out to global markets after the U.S. rejected TransCanada's Keystone XL. Kinder Morgan's project is crucial to enabling it to do just that.
Investor takeaway
Kinder Morgan is edging closer to gaining approval for one of its most important growth projects. While the recent NEB decision doesn't mean the project is once again a slam dunk, there is growing optimism that the project will move forward. That would enable the company to be able to cash in on the continued growth of oil production in Canada, which is sitting on one of the largest recoverable oil deposits in the world.
The article Are Kinder Morgan's Canadian Growth Ambitions About to Be Realized? originally appeared on Fool.com.
Matt DiLallo owns shares of Kinder Morgan andhas the following options: short January 2018 $30 puts on Kinder Morgan and long January 2018 $30 calls on Kinder Morgan. The Motley Fool owns shares of and recommends Kinder Morgan. The Motley Fool has the following options: short June 2016 $12 puts on Kinder Morgan. Try any of our Foolish newsletter services free for 30 days. We Fools may not all hold the same opinions, but we all believe that considering a diverse range of insights makes us better investors. The Motley Fool has a disclosure policy.
Copyright 1995 - 2016 The Motley Fool, LLC. All rights reserved. The Motley Fool has a disclosure policy.