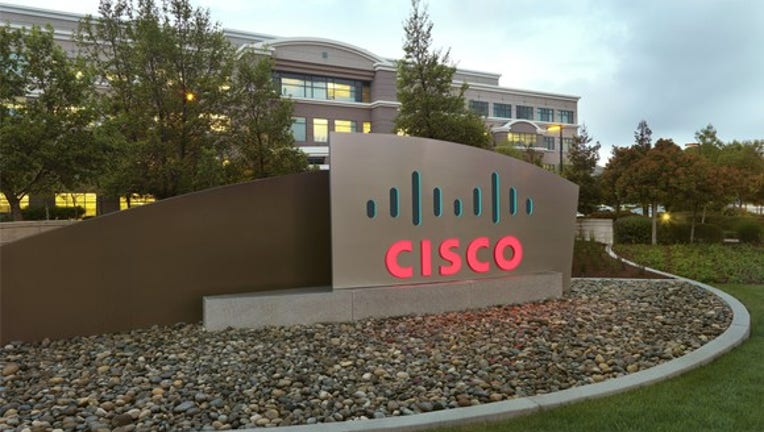 Shares of Cisco (NASDAQ: CSCO) recently rose to a 16-year high after it beat second quarter estimates on both the top and bottom lines. Despite that enthusiasm, the headline numbers looked anemic. Revenue fell 3% annually to $11.58 billion, narrowly beating expectations by $30 million. Non-GAAP net income stayed flatyear-over-year at $2.9 billion, or $0.57 per share, which still beat estimates by a penny.
As a Cisco shareholder, I was glad to see the stock climb. But it also made me wonder -- did Cisco deserve to rise to pre-dot com bust levels? Or was Cisco's rally merely fueled by demand for dependable dividend plays with low valuations in a low interest rate market? Let's take at a closer look at Cisco's earnings report to find out.
Image source: Cisco.
First, the good news...
Cisco's Security business has been its fastest-growing unit over the past few quarters. Revenue at the business rose 14% annually to$528 million, and deferred revenue -- a key indicator of future demand -- surged 45%. Cisco attributes that growth to robust demand for its advanced threat solutions products, next-gen firewall, and secure internet gateway.
Cisco's collaboration revenue also rose 4% to $1.06 billion, and deferred revenue grew 14%. That growth wasattributed to WebEx and Spark, the cloud-based enterprise collaboration platform it launched in late 2015. However, Spark currently faces tough competition in the collaboration space from rival platforms.
Cisco's Spark. Image source: Cisco.
Cisco's wireless revenues rose 3% to $632 million, fueled by the ongoing expansion of wireless infrastructure to satisfy data hungry customers, strong sales of its 11ac Wave 2 (a new Wi-Fi standard) portfolio of products, and growing demand for its Meraki cloud-based services.
Cisco's total deferred revenues rose 13% annually to $17.1 billion, thanks to higher demand for subscription-based and software offerings. That growth will gradually allow Cisco to pivot away from its slower-growth hardware businesses. Cisco also hiked its dividend by three cents to $0.29 per share, giving it a forward yield of 3.4% and marking its sixth consecutive dividend hike. Lastly, Cisco generated $12.3 billion in free cash flow over the past 12 months -- which gives it plenty of capital to buy up additional companies in higher-growth markets like security, analytics, and the Internet of Things.
Now, the bad news...
The big problem for Cisco is that its security, collaboration, and wireless businesses only generated less than a fifth of its total revenue. Nearly half of Cisco's revenues still come from its switches and routers units, which are both experiencing sluggish growth due to market saturation and commoditization.
Cisco's switching revenue fell 5% annually to $3.31 billion during the quarter, due to weaker demand from campus customers, which was partly offset by rising demand for its ACI (application-centric infrastructure) products. Routing revenue fell 10% to $1.82 billion, as growth in orders failed to offset pricing pressure.
Those declines indicate that cloud-based SDN (software-defined networking) rivals like Arista Networks (NYSE: ANET) -- which Cisco is trying to tackle withlawsuits -- are causing a disruptive paradigm shift across the market. Cloud-based networking solutions are more scalable and require less on-site hardware like routers and switches, which could turn Cisco's business upside down. Arista has even claimed that combining its Jericho switches with its FlexRoute software can completely replace routers withcheaper SDN solutions.
Cisco's data center revenue also fell 7% to $790 million due to the "blade to rack" shift in which enterprise consumers are favoring smaller, cheaper, and more scalable rack servers over pricier, higher-powered blade servers.
Lastly, Cisco's guidance was mediocre at best. For the current quarter, it expects -2% to break-even revenue growth with non-GAAP earnings of $0.57-$0.59, which would be nearly flat from prior year levels. Analysts expect its revenue tofall 2% and earnings to grow 1% for the full year.
But it's all about the valuations...
Based on those numbers, it seems odd that Cisco is hovering near a 16-year high. However, Cisco's P/E of 18 is actually much lower than its industry average of 25 and the S&P 500's P/E of 25. Moreover, the last time Cisco's P/E was at 18 (in early 2015), it traded in the upper $20s -- indicating the stock isn't as expensive as its long-term price chart makes it look.
When we combine that low valuation with Cisco's recent dividend hike, the stock has a good balance between a low valuation and a high yield -- which has become increasingly rare in today's frothy market. Therefore, investors shouldn't be thrilled by Cisco's lackluster top and bottom line growth, but they should realize that it's still a cheap and dependable income play.
10 stocks we like better than Cisco SystemsWhen investing geniuses David and Tom Gardner have a stock tip, it can pay to listen. After all, the newsletter they have run for over a decade, Motley Fool Stock Advisor, has tripled the market.*
David and Tom just revealed what they believe are the 10 best stocks for investors to buy right now... and Cisco Systems wasn't one of them! That's right -- they think these 10 stocks are even better buys.
Click here to learn about these picks!
*Stock Advisor returns as of February 6, 2017
Leo Sun owns shares of Cisco Systems. The Motley Fool owns shares of and recommends Arista Networks. The Motley Fool recommends Cisco Systems. The Motley Fool has a disclosure policy.