Are Intel Corporation's Gross Margins Above Data Center Chip Industry Average?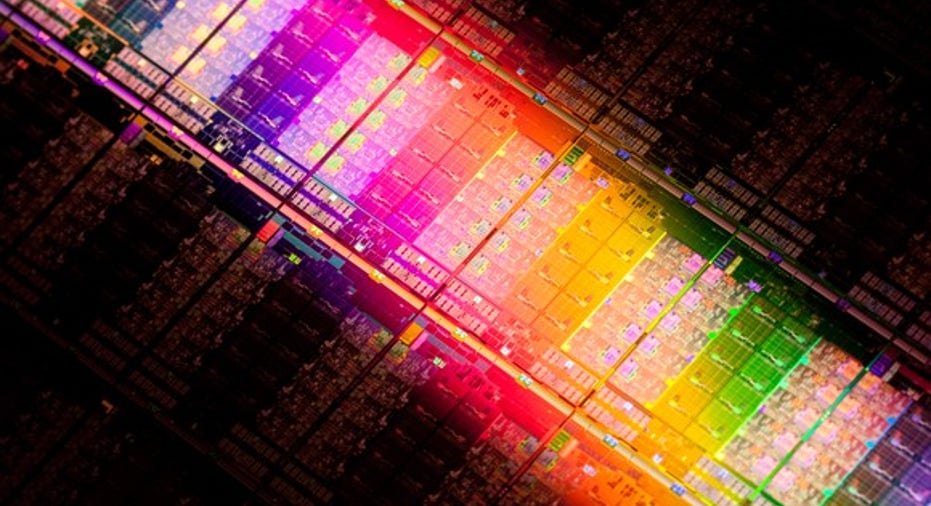 Today, Intel (NASDAQ: INTC) is the overwhelmingly dominant vendor of processors that power enterprise and cloud servers, with market share in both that's believed to be north of 90%. The company makes a lot of money from sales of such processors and related components and has been quite open about the fact that it's betting its future on its Data Center Group (DCG) business.
Unfortunately for the company, there is plenty of competition emerging, which is a clear risk to the future financial performance of the DCG business unit.
Image source: Intel.
In a recent post on website Radio Free Mobile, the author makes the following observation with respect to the threat that companies building data center chips using the ARM architecture poses to Intel:
The idea that Intel's DCG gross profit margins could come down in the face of robust competition is reasonable -- that's just common sense. However, I think the idea that Intel's consolidated gross profit margins, which came in at 63.2% on a non-GAAP basis, are higher than industry average (not the broader semiconductor industry, but the data center-oriented chip industry) isn't correct.
Some comparisons
There are many companies out there that sell components into the data center, though they may not necessarily sell server processors. Three companies that come to mind are Cavium (NASDAQ: CAVM), Mellanox (NASDAQ: MLNX), and Xilinx (NASDAQ: XLNX).
Let's see how their gross profit margin percentages stack up to Intel's.
Cavium develops processors for network applications and provides other components into the networking/data center market such as network switches. It's also one of the few major ARM-based server processor vendors left standing.
In 2016, Cavium's gross profit margin percentage -- excluding a one-time impact to its margins associated with its acquisition of QLogic -- was 63.3%. That's higher than Intel's.
Mellanox is a data center connectivity chip provider. It sells Ethernet silicon, InfiniBand silicon, interconnect cables, and following its acquisition EZChip, a vendor of network processors, too. Its gross profit margin percentage in 2016 was 64.8%, a figure that was down from 71.8% in the prior year due to what the company says was "an increase in intangible asset amortization costs of $39.7 million and inventory step-up amortization costs of $8.3 million, both related to the EZChip acquisition."
Even with those one-time whacks to gross profit margins due to the EZChip buy, its consolidated margins are still higher than Intel's.
And finally, there's Xilinx. Xilinx builds programmable logic chips that are used in a variety of applications, including data centers. Its main competitor used to be a company called Altera, but Intel bought Altera and renamed it to the Intel Programmable Solutions Group. Year to date, Xilinx's gross profit margin percentage is just shy of 70%, once again quite a bit higher than Intel's.
Intel's margins are good but nothing extraordinary
To be clear: Intel's gross profit margins are robust, but there are quite a few chip companies out there that can regularly turn in more than 60% gross profit margins.
Furthermore, to maintain those gross profit margins, Intel spends substantially on research and development as well as on marketing. These days, as analysts are increasingly pointing out to Intel on its investor calls, Intel's operating margins are quite a bit below those of some of its peers precisely due to this spending.
Back to the ARM threat
Now, turning to the risk posed by ARM-based server chip vendors (as well as vendors of competing chips using alternative architectures), I think said risk is a little more nuanced than simply "Intel's margins will go down."
The volumes in this business are relatively low and the investments required to build and market successful products are quite high, so any potential vendor is going to want to sell products at relatively high gross profit margins to have a chance of profitability.
So, while there is risk of gross profit erosion here due to potentially aggressive pricing on the part of new entrants, that might not be the biggest risk. Here are two serious ones that come to mind.
The first risk is that data center chip buyers don't want to be beholden to a single vendor if possible, which may make said buyers more willing to explore/encourage alternative suppliers to keep on trying. How does a major data center with a vested interest in bringing its long-term component costs down? Perhaps by committing to buying some small but meaningful quantity of chips from companies that it hopes will become serious long-term players in this market (resulting in some volume/revenue share loss for Intel).
The second risk is that data center workloads are becoming increasingly diverse, and so while a potential competitor to Intel might not be able to successfully gain share against Intel everywhere, it could identify niches where Intel's current products are less than optimal and build targeted products for those niches.
Intel's competitor in that case would still be able to sell its products at high prices and command high margins while still offering a total cost of ownership reduction relative to the Intel product to the potential buyer.
In that case, Intel's gross profit margins wouldn't necessarily go down, but it could lose revenue share.
10 stocks we like better than IntelWhen investing geniuses David and Tom Gardner have a stock tip, it can pay to listen. After all, the newsletter they have run for over a decade, Motley Fool Stock Advisor, has tripled the market.*
David and Tom just revealed what they believe are the 10 best stocks for investors to buy right now... and Intel wasn't one of them! That's right -- they think these 10 stocks are even better buys.
Click here to learn about these picks!
*Stock Advisor returns as of February 6, 2017
Ashraf Eassa owns shares of Intel and Mellanox Technologies. The Motley Fool recommends Intel. The Motley Fool has a disclosure policy.