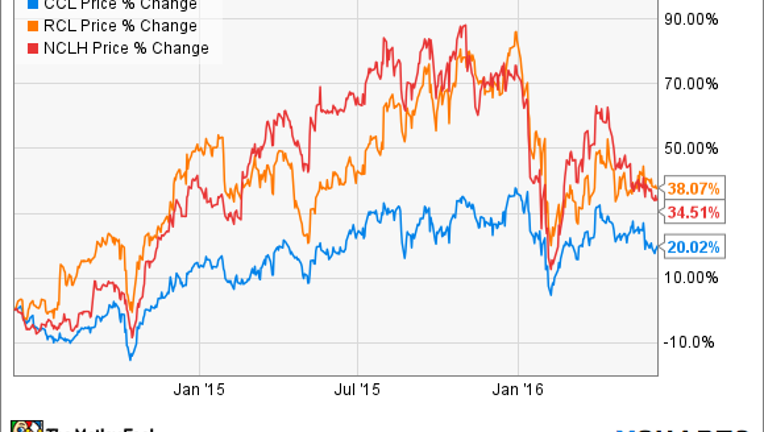 Cruise line stocks have enjoyed a bull run over the last two years. Though they have coughed up some of their gains recently, shares of Carnival Corp , Royal Caribbean , and Norwegian Cruise Lines are all sporting double digit advances since the summer of 2014.
Data by YCharts
What has helped these companies beat the broad market over the last two years? Will the upward trend resume? What should investors do with this information?
Vacationers taking to the high seas
The last few years have seen consumer spending swell to levels not seen since before 2008. A steadily improving economy has slowly started to put money back into families' pockets, which in turn has led to increased spending. Benefiting from the general loosening of the family budget has been the global cruise line industry. In 2015, the industry boarded over 20 million passengers with over half of those coming from the United States.
Chart datasource: Statista and US Census Bureau
While the industry overall has been steadily climbing, not all operators of leisure cruise ships have benefited the same. Norwegian Cruise Lines has more than doubled its revenue and profits over the last five years. Meanwhile, Carnival Corp and Royal Caribbean, the world's two largest cruise line operators, have had stagnant growth in revenueover the same time period.
With the overall industry recapturing vacationer interest, where have Carnival and Royal Caribbean failed where Norwegian has seen success? The big difference has had to do with increasing fleet size.
Over the last few years, the total number of passengers the cruising industry can accommodate has been going up about 3.5%. Carnival and Royal Caribbean have not meaningfully contributed to that uptick. Back in 2012, Carnival's fleet of ships totaled 100. Four years later, and the fleet now totals 101. Royal Caribbean had 41 ships in 2012 and today its fleet totals 40. By comparison, Norwegian had 11 ships in 2012 and has grown to 23 ships today.
While Norwegian has been growing its business, the much larger cruise lines have been focusing on replacing older vessels in its fleet and becoming more efficient. With only Norwegian notching business growth, why has there been a run up in share price for all three companies?
A boost from low energy costs
Cruise line businesses have gotten a boost from more vacationers filling up cabin space, especially Royal Caribbean who has seen bottom line profit nearly triple in the last three years. That is only part of the story, though, as lower energy prices have also helped.
Since their last peak in the summer of 2014 at about $105 a barrel, oil prices have been down as much as 75%. Energy prices make up a substantial part of cruise line operators' expenses. All three operators saw fuel cost as a percentage of total expenses decrease significantly in the last year, which trickles down to a sizable increase in profit margin. Here is how the companies have been helped in the last year by the collapse of oil prices since 2014.
| Metric | Carnival Corp | Royal Caribbean | Norwegian |
| --- | --- | --- | --- |
| 2015 Fuel Costs | $1.25 billion | $796 million | $359 million |
| % Difference From 2014 | (38.6%) | (15.9%) | 10.1% |
| 2014 Fuel % of Total Operating Expense | 14.4% | 11.7% | 10.4% |
| 2015 Fuel % of Total Operating Expense | 9.5% | 9.6% | 8.3% |
| 2015 Year-over-Year Profit Increase | 44.9% | 42.5% | 14.8% |
Chart data source: Carnival, Royal Caribbean, and Norwegian Cruise Line 2015 Annual Reports
Norwegian saw fuel costs increase year-over-year, but this is a result of total fleet size growth. As a percentage of expenses, the company saw a benefit from the drop in oil prices. Carnival especially saw fuel decrease substantially from 2014, which helped the company see a nearly 45% increase in the bottom line. Combined with the increase in cruise ship utilization mentioned earlier, fuel prices have provided a boost to profits in the short run.
Image source: Norwegian Cruise Lines
Action steps for investors
Is the trend sustainable? After the collapse in oil prices, cruise operators expect to see continued benefit to bottom line profit through the rest of the year. Longer term, though, lowered fuel prices are a one-time benefit to profits rather than a catalyst for future business growth.
Turning to the increase in fleet utilization, I believe that cruise lines have benefited from the general trend of increased consumer spending. While this has helped Carnival and Royal Caribbean increase profits, the overall businesses are stagnant. Norwegian, on the other hand, has not only benefited from the growing cruising industry but has also invested to expand its fleet and grow its total revenue.
Norwegian has added one new ship to its fleet so far in 2016 with another one on the way this fall. The company plans to continue expanding its fleet through the rest of the decade, whereas the larger operators are still stuck replacing older parts of the fleet. For those interested in an investment in the cruise industry, I like Norwegian Cruise Lines plan to grow both the top and bottom lines, versus Carnival and Royal Caribbean as they are stuck with increasing efficiency.
The article Are Cruise Line Stocks a Buy? originally appeared on Fool.com.
Nicholas Rossolillo has no position in any stocks mentioned. The Motley Fool has no position in any of the stocks mentioned. Try any of our Foolish newsletter services free for 30 days. We Fools may not all hold the same opinions, but we all believe that considering a diverse range of insights makes us better investors. The Motley Fool has a disclosure policy.
Copyright 1995 - 2016 The Motley Fool, LLC. All rights reserved. The Motley Fool has a disclosure policy.