Are Coal Mining Stocks Flying Too Close to the Sun after a great 2016?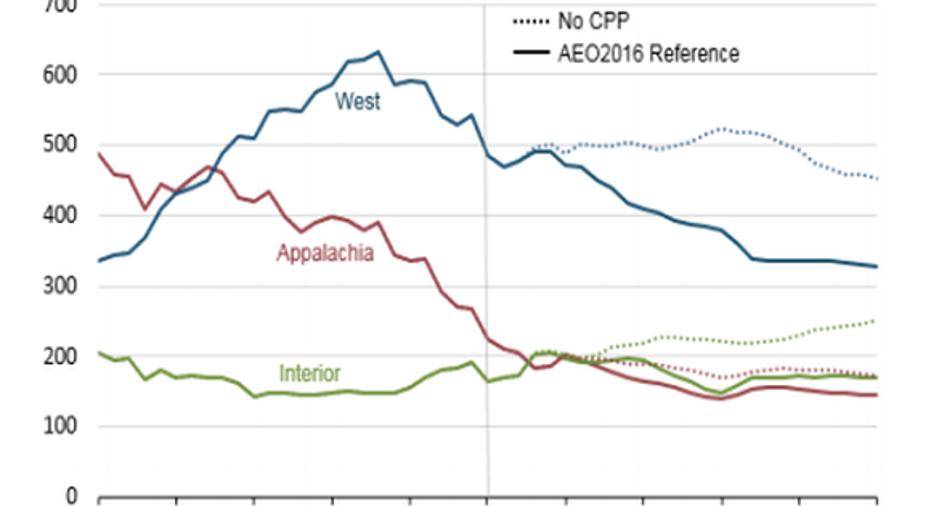 U.S. thermal coal markets started the year off on a sour note, but industry prices started to bounce off their lows around June or so. And all of the major coal basins were were following suit by October, which helps explain the impressive 2016 price gains for coal miners like Cloud Peak Energy (NYSE: CLD), Westmoreland Coal (NASDAQ: WLB), and Alliance Resource Partners, L.P. (NASDAQ: ARLP).
But after coal miner stocks rocketed by as much as 200%, can this coal rally keep going? The answer appears to be shaky at best -- here's why.
Image source: Cloud Peak Energy.
Energy issues
Thermal coal is used as a fuel in power plants. The headlines have been filled for years with the growth of solar and wind power, but the real issue for coal has been low natural gas prices. Utilities have increasingly opted to build cleaner burning gas plants as they retire older, less efficient coal facilities, and that's led to a long-term decline in demand for thermal coal. To put some numbers on that, Cloud Peak Energy's coal shipments have fallen from 95.6 million tons in 2011 to an expected 57 to 60 million tons in 2016.
Along with that hit, prices have dropped. Alliance Resource Partners, for example, saw its coal sales price fall nearly 9% year over year in the fourth quarter of 2016, and around 3% sequentially from the third quarter. (The price rebound for the Illinois Coal Basin coal it mines didn't start to pick up until October.) Although Alliance saw a volume boost in the fourth quarter, overall lower volumes and lower sales prices throughout the industry were so damaging during the downturn that the industry saw a slew of bankruptcies, including global coal giant Peabody Energy. But the first half of 2016 was really just a continuation of a years-long trend.
After so much pain, then, it isn't shocking that coal miner stocks rallied when coal prices started to stabilize. And the election of Donald Trump also helped, since he's been a vocal supporter of the coal industry. In fact, Westmoreland Coal's stock wildly outdistanced the others here following the elections.
Different animals
In contrast, Cloud Peak Energy's shares ended the year on a weak note.The fact of the matter is that these four coal miners offer vastly different ways to invest in the industry. Cloud Peak, for example, is focused exclusively on the Powder River basin, an area that's expected to see relatively weak demand going forward. The rally in that stock was based on improving export demand, as Chinese production cuts lifted seaborne coal prices.
A big part of Cloud Peak's story has been the opportunity to export coal. Only that market hasn't been nearly as robust as expected just a few years ago. It's no surprise that investors got excited when it looked like exports might pick up, and then flipped back to a negative view when seaborne coal prices started to decline again early in 2017. The shares have recovered from that early year pullback and are now up again, but of these four, Cloud Peak likely has the riskiest investment profile.
Alliance Resource Partners and its general partner,Alliance Holdings GP (NASDAQ: AHGP), sit on the other side of this equation. This miner is focused on the Illinois Basin coal region, where demand is expected to pick up over time as it gains market share from other domestic regions because of the nature of its coal. Fourth quarter shipments were actually near record levels in the fourth quarter.
EIA coal projections out to 2040. The Illinois Coal Basin is in the interior region. Image Source: U.S. Energy Information Administration.
These two limited partnerships have actually held up relatively well compared to peers. Alliance's bottom line, for example, has remained in the black throughout the coal industry's downturn. Moreover, it covered its distribution, which it trimmed in early 2016, by around two times last year. That's a huge amount of coverage in the LP space, and backs up the company's earlier comments that the distribution cut was really meant to appease worried lenders, and not a business necessity.
Then there's Westmoreland, which focuses on owning coal mines that are next to the power plants they serve. It benefits from long-term contracts with dedicated customers. The biggest driver of the company's stock has been from the expectation that, under the new president, coal power plants will face less stringent regulation.
In other words, the plants Westmoreland supplies are expected to remain running longer now that Trump is president than they might have had someone else been elected. It's little wonder that this stock's gain led the pack here, with most of the price advance taking place in the final months of 2016. The big unknown here is if Trump will live up to his political promises.
It's about more than surviving
The thermal coal miners that didn't go bankrupt because of low coal prices staged an impressive rally last year. The big push was an improvement in the price of the fuel during the second half of 2016. However, there's a lot of moving parts to this picture that suggest some miners are better positioned than others for the years ahead. On that score, Alliance Resource Partners and its general partner, Alliance Holdings GP, are the best positioned to do well in 2017 and beyond.
Westmoreland Coal, meanwhile, has a solid business, but there's notable political risk. And Cloud Peak Energy operates in a weakening coal region, and foreign demand -- which is often volatile -- is a notable factor in its future. It's got the worst outlook of these four coal miners at this point.
10 stocks we like better than Alliance Resource Partners When investing geniuses David and Tom Gardner have a stock tip, it can pay to listen. After all, the newsletter they have run for over a decade, Motley Fool Stock Advisor, has tripled the market.*
David and Tom just revealed what they believe are the 10 best stocks for investors to buy right now... and Alliance Resource Partners wasn't one of them! That's right -- they think these 10 stocks are even better buys.
Click here to learn about these picks!
*Stock Advisor returns as of January 4, 2017
Reuben Brewer has no position in any stocks mentioned. The Motley Fool recommends Alliance Resource Partners. The Motley Fool has a disclosure policy.