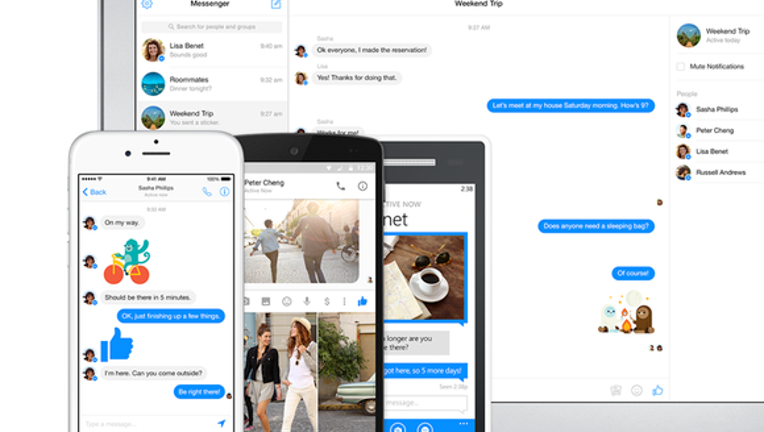 Advertisements in the form of messages are coming to Facebook's Messenger as early as next quarter, according to TechCrunch. The speculation follows Facebook's array of new features launched for Messenger and WhatsApp during the past 12 months, aimed at helping businesses and consumers interact within the Messenger.
Facebook CEO Mark Zuckerberg has been increasingly open with investors about the company's plan to eventually monetize Messenger. Could this be one of the company's first steps in generating revenue from the service?
Facebook Messenger. Image source: Facebook.
Promoted messages?"A leaked document Facebook sent to some of its biggest advertisers reveals that Facebook will launch ads within Messenger in Q2 2016," said TechCrunch authors Josh Constine and Jon Russell last week.
The document, according to TechCrunch, noted that its biggest advertisers will soon be able to "send ads as messages to people who previously initiated a chat thread with that company." Further, the document advises businesses to encourage customers to begin interacting with Messenger so they will be able to participate in these message-styled ads at scale when the product launches, TechCrunch explained. To help businesses begin to interact with consumers, Facebook reportedly detailed a new URL for every page purposed to directly open a message between the customer and the business.
Facebook didn't confirm the leaked document with TechCrunch, but didn't deny it either:
Notably, however, TechCrunch said Facebook confirmed the existence of the customized URL for each business page. As TechCrunch speculates, the social network's confirmation of the URL suggests there is some validity to the document.
What could ads on Messenger look like? As Facebook's statement to TechCrunch indicates, advertisements in Messenger will attempt to be organic and intuitive -- especially at first -- in order to ensure users "do not experience unwanted messages of any type." This is probably why the leaked document emphasizes these Messenger ads will only be able to be sent to users who are already having conversations with the company.
A recent press release from WhatsApp -- one of Facebook's messaging brands -- provides some insight into the company's emphasis on making these advertisements feel organic.
Facebook said in its most recent earnings call that it will want to build out consumer-to-business interactions organically at scale before it begins to monetize Messenger. This mirrors the way Facebook introduced Pages organically, and scaled this product before introducing promoted posts and paid advertisements on the platform. To encourage organic interactions, Facebook has made it possible for businesses to prominently feature ways for users to message them, and Facebook has also begun rolling out tools for transactional interactions, such as ordering an Uber ride, directly into Messenger.
Facebook Transportation within Messenger enables users to request an Uber ride. Image source: Facebook.
If Facebook's history of monetizing platforms is any indication of the success the social network will have with bringing ads to Messenger, the company will likely successfully balance ads with its emphasis to simultaneously boost engagement within the product.
For Facebook, 2016 could be the year Messenger and WhatsApp turn into legitimate revenue streams for the company.
The article Are Ads Coming to Facebook Inc Messenger? originally appeared on Fool.com.
Daniel Sparks has no position in any stocks mentioned. The Motley Fool owns shares of and recommends Facebook. Try any of our Foolish newsletter services free for 30 days. We Fools may not all hold the same opinions, but we all believe that considering a diverse range of insights makes us better investors. The Motley Fool has a disclosure policy.
Copyright 1995 - 2016 The Motley Fool, LLC. All rights reserved. The Motley Fool has a disclosure policy.