Are Additional Asset Sales in Vanguard Natural Resources, LLC's Future?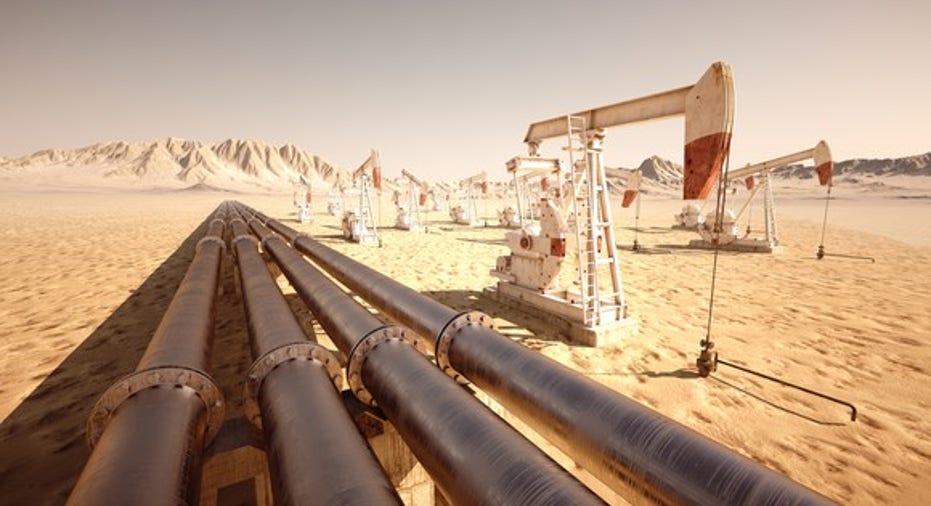 Image source: Getty Images.
Vanguard Natural Resources is in a tight spot right now after the company just barely made it through its spring borrowing base redetermination. While Vanguard's banks cut deeply into its available credit, resulting in a deficiency, it projects to be able to make the required payments. However, Vanguard's liquidity is next to nothing these days making it clear that the company needs to do something to bolster its financial situation.
Not a pleasant picture
When Vanguard Natural Resources' banks reduced the borrowing base under its credit facility from $1.8 billion to $1.35 billion, it put the company in quite a bind. That is because the company had borrowed $1.42 billion on that facility, leaving it short $103.5 million. It now must make six equal monthly installments of $17.3 million to repay the shortfall. While the company projects to generate enough cash flow to cover these payments, it still has other problems to address.
Topping that list is that its banks will once again redetermine its borrowing base this fall, which could result in another cut. While oil prices are starting to recover, and could continue to rise, there is no guarantee that prices will not collapse again, nor that Vanguard's banks will be lenient.
Further, even as its total debt is falling, the company's leverage metrics are going in the opposite direction because its cash flow is dropping as its hedges roll off. Given the company's current projections, its net debt-to-adjusted EBITDA ratio is expected to climb from 4.1 times in May to 5.0 times by the end of the year. Further, it is only projecting to have $47 million in liquidity at the end of the year, assuming its borrowing base is not cut again and commodity prices do not crash. That is a potential problem because it is required to carry at least $50 million of liquidity after mid-September or it would be in default under its credit facility.
Not many options
The company is walking a fine line right now. If it does not do something to address its liquidity woes it could be forced to file for bankruptcy before the year is out. That said, given the pressure on commodity prices and credit, it does not have too many options other than selling assets at the low point of the cycle.
The company has already unloaded its most promising asset, cashing in on its STACK/SCOOP acreage earlier this year. That $280 million deal provided the bulk of the money it used to repay its banks so that its borrowing base deficiency was not overwhelming. Further, it netted a pretty decent sales price of around $10,000 an acre, which lines up with recent STACK sales.
While Vanguard Natural Resources does have a vast portfolio of assets that it could sell, few are likely to fetch anywhere near that valuation due to the current market turmoil. To put things into perspective, over the past decade Vanguard Natural Resources spent more than $5 billion to close 25 strategic acquisitions and yet the company's total enterprise value is roughly half that amount these days.
Outside of the STACK, the Permian Basin is the only other play that has held its value relatively well during the downturn. That is a positive for Vanguard Natural Resources becauseabout 11% of the company reserves or roughly 38 million barrels of oil equivalent (BOE) are in the Permian. These are oil-rich reserves, which tend to be more valuable.
Just to put the potential value into perspective, Devon Energy recently announced three asset sales in the Permian Basin. In the first transaction, Devon Energy sold its overriding royalty interest across 11,000 acres for $139 million. In two later deals, Devon Energy sold 43 million BOE of primarily natural gas reserves for $423 million and 28,000 largely undeveloped oil-rich acres for $435 million. As these sales indicate, there isvalue in the Permian Basin these days, which is why Vanguard Natural Resources should make cashing in on this play a priority. It desperately needs cash right now, and the Permian is the best source in the current market.
Investor takeaway
With tight liquidity and weakening credit metrics, Vanguard Natural Resources needs to take action. While it does not have many options, it does have assets in the Permian Basin. Given the premium valuation those assets are fetching, the company should start auctioning off its assets in the region before time runs out to address its balance sheet woes.
The article Are Additional Asset Sales in Vanguard Natural Resources, LLC's Future? originally appeared on Fool.com.
Matt DiLallo has no position in any stocks mentioned. The Motley Fool owns shares of Devon Energy. Try any of our Foolish newsletter services free for 30 days. We Fools may not all hold the same opinions, but we all believe that considering a diverse range of insights makes us better investors. The Motley Fool has a disclosure policy.
Copyright 1995 - 2016 The Motley Fool, LLC. All rights reserved. The Motley Fool has a disclosure policy.