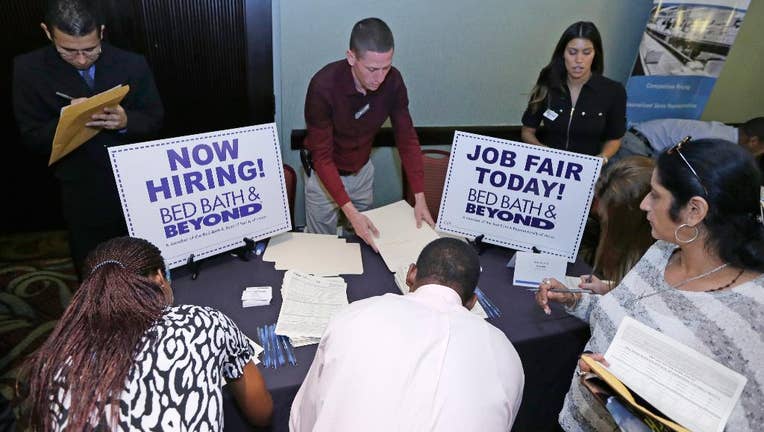 The U.S. Labor Department reports on the number of people who applied for unemployment benefits last week. The report will be released Thursday at 8:30 a.m. Eastern.
SLIGHT DECLINE: Economists forecast that weekly applications fell 8,000 to a seasonally adjusted 290,000, according to a survey of economists by the data firm FactSet.
Since September, applications for jobless aid have remained close to historically low levels of under 300,000. That's a sign that employers see ongoing economic growth, leading them to keep their existing workers and potentially bring on new employees to meet customer demand.
The four-week average, a less volatile measure, has plummeted 17.5 percent to 290,750 in the past 12 months.
STRONG HIRING: The decline in lay-offs has been matched by an increase in hiring.
In the monthly jobs report being released Friday, employers are expected to have added 243,000 jobs in December, according to FactSet. That would follow job gains of 321,000 in November and put total job growth in 2014 at just shy of 3 million, the best performance since 1999.
The unemployment rate has slid to 5.8 percent from 6.7 percent at the start of 2014.
In a separate report Wednesday, payroll processor ADP said that private companies added 241,000 jobs in December, up from 227,000 in November. It was a good indicator that hiring should be solid in Friday's U.S. report, which has shown job gains in excess of 200,000 for the past 10 months.
Still, wage growth has lagged hiring. Average wages increased only 2.1 percent in the past 12 months. That means that incomes are only barely outpacing inflation, with core consumer prices — which excludes volatile energy and food costs — have risen 1.7 percent over the past 12 months.