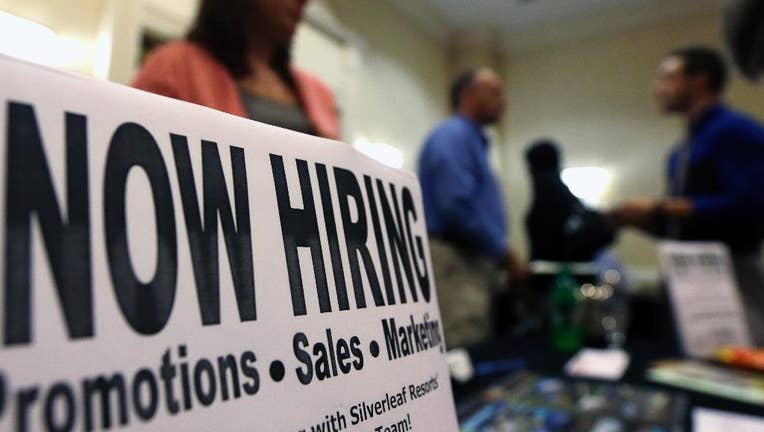 The Labor Department reports on the number of people who applied for unemployment benefits last week at 8:30 a.m. Eastern Thursday.
NEARLY FLAT: Economists expect that weekly applications for unemployment aid rose 1,000 last week to a seasonally adjusted 272,000, according to a survey by data firm FactSet.
Recent global financial struggles have yet to disrupt the U.S. job market. Employers have largely kept their staffs intact, as applications for jobless benefits, a proxy for layoffs, have remained near historic lows for the past several months. Few layoffs when coupled with steady job growth point to an economy that is expanding confidently.
Over the past year, the less volatile four-week average of applications for jobless benefits has plunged 9.5 percent to 272,500. Weekly averages below 300,000 applications tend to correspond with net monthly gains of 200,000 jobs.
HIRING GAINS: The Friday employment report released by the government are forecast show hiring growth of 207,500 jobs in August as the unemployment rate dips to 5.2 percent from 5.3 percent, according to FactSet. Hiring at that pace would reinforce the resilience of the U.S. economy amid uncertainty about China's financial health, a Canadian economy that just slid into recession and the stock market sell-off of the past month.
A private sector jobs survey released Wednesday indicated that the United States has largely been relatively insulated from the recent turmoil.
Payroll processor ADP said that businesses added 190,000 jobs last month. This marks an increase from 177,000 in July, but below a six-month high in June of 231,000.
The report found that small businesses with fewer than 50 employees accounted for 85,000 hires in August, while medium businesses with less than 500 employees added 66,000. Smaller companies are generally less likely to have international operations or trade in the stock market.
The Federal Reserve is closely monitoring jobs figures ahead of its next meeting, set for Sept. 16-17. The unemployment rate is near the level the Fed considers healthy, suggesting the central bank could raise short-term interest rates at that meeting for the first time in nine years.
But analysts say the choppy stock market, rising value of the dollar and slowdown in China's economy could force the Fed to hold off until December or later.