Apple's Siri Speaker Could Come as Soon as June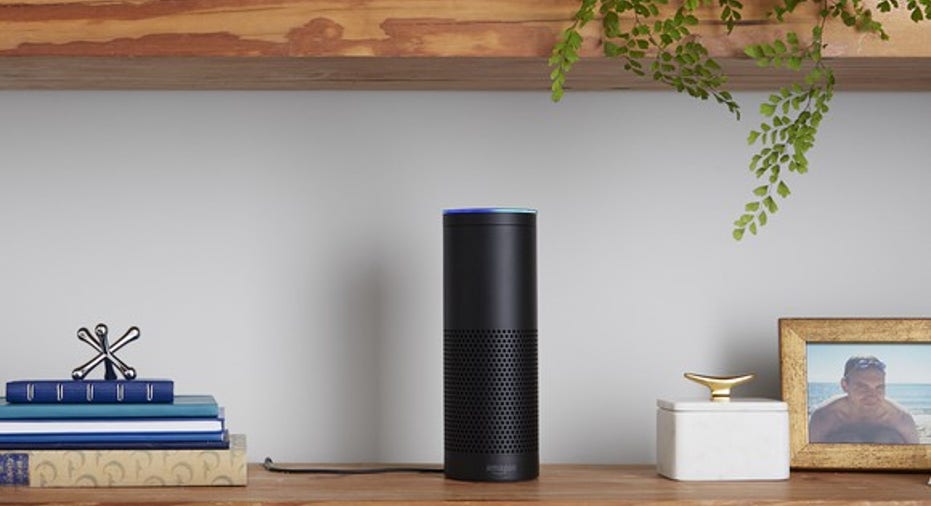 Rumors continue to swirl about Apple's (NASDAQ: AAPL) presumed interest in creating a Siri-powered speaker to take on Amazon.com's (NASDAQ: AMZN) popular Echo device, which is powered by the e-commerce giant's own virtual assistant, Alexa. Given Echo's success (Echo Look announcement notwithstanding), there doesn't really seem to be a way for Apple to avoid creating such a device, particularly if it wants to become a meaningful smart home player -- which it does.
Investors have been hearing about Apple's "Echo killer" for months, and some new details may be emerging from the rumor mill.
Echo has become a runaway success. Image source: Amazon.
Rumor has it
Known tech leaker Sonny Dickson shared some purported details about the device on social media yesterday. The Mac maker is reportedly finalizing its designs. Like tvOS, which is essentially a heavily modified version of iOS, the new device may also run a "variant" of Apple's mobile operating system.
Mashable reached out to Dickson and got more details.
The product should look similar to Apple's current Mac Pro, which is to say you could potentially mistake it for a trash can (or is it a jet engine?). It could have mesh portions covering the speakers with a concave top where the controls are located. Perhaps most importantly, we could get a glimpse of the device as early as WWDC, Apple's worldwide developer conference, which takes place June 5-9 this year in San Jose, California.
Questions remain
That pretty much sums up the recent leaks. But as usual, what's harder to ascertain may be more important to investors. It's not unusual for hardware details to leak out of the supply chain, but things like pricing strategy or product branding don't produce physical evidence, and those have greater impact on Apple's competitiveness. The flagship Echo costs $180, while Alphabet's Google Home costs $129. There should be little doubt that Apple will price its response at a premium, so we're probably talking about a price point of $200 or $250, if not more.
The challenge here is that while Apple almost always comes in at the top of a market, Siri has been pretty underwhelming compared to Alexa or Google Assistant. Since the virtual assistant is utterly critical to the user experience given the voice-activated nature of this category, it's much harder to justify premium pricing. Apple is also behind its rivals in terms of third-party integrations and search capabilities, only really opening up Siri to third-party developers less than a year ago with a Siri SDK.
Maybe Apple hopes to integrate its Siri Speaker (or will it be called "Apple Home"?) with other Apple products, like having it be able to read calendar events off your phone or announce incoming texts and phone calls, for example. But those minor conveniences may not compete well against the thousands of Skills that Alexa has learned, or Google Home's ability to Google things for you.
We don't know what we don't know, but maybe we won't have to wait long before Apple officially unveils its newest device. WWDC is just over a month away.
10 stocks we like better than AppleWhen investing geniuses David and Tom Gardner have a stock tip, it can pay to listen. After all, the newsletter they have run for over a decade, Motley Fool Stock Advisor, has tripled the market.*
David and Tom just revealed what they believe are the 10 best stocks for investors to buy right now... and Apple wasn't one of them! That's right -- they think these 10 stocks are even better buys.
Click here to learn about these picks!
*Stock Advisor returns as of April 3, 2017
Suzanne Frey, an executive at Alphabet, is a member of The Motley Fool's board of directors. Evan Niu, CFA owns shares of Apple. The Motley Fool owns shares of and recommends GOOG, GOOGL, Amazon, and Apple. The Motley Fool has a disclosure policy.