Apple's iPhone Sales Grew 133% in the Middle East and Africa, But It Still Has Lots of Work Ahead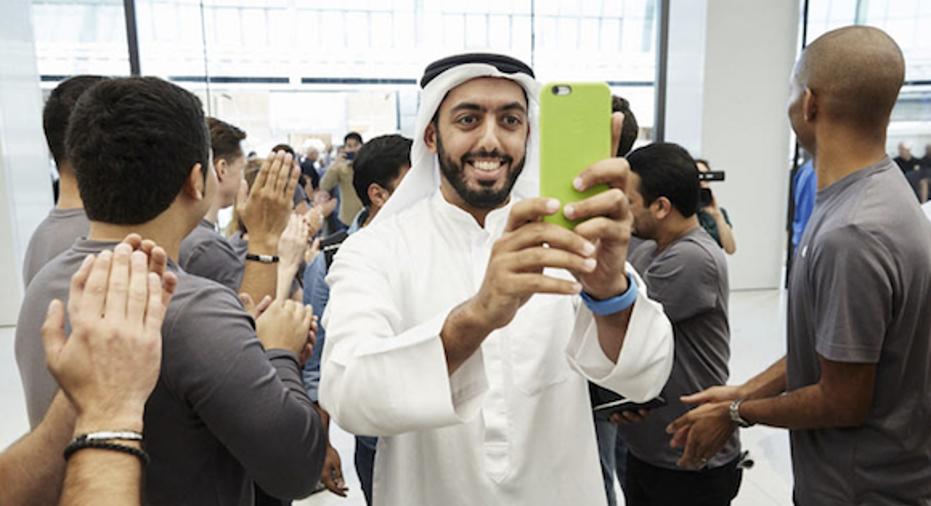 Image source: Apple.
There's always talk aboutApple's (NASDAQ: AAPL) plans to grab more market share in emerging markets, and with good reason. Many of the biggest smartphone markets (think the U.S. and China) are seeing much slower growth, so device makers need new places to sell their phones.
That's why the recent findings from CounterPoint Research is so important. The research firm said that Apple grew its shipments in the Middle East and Africa (MEA) by 133% in the third quarter of 2015 compared to the year-ago period.The growth comes as more people in MEA countries have transitioned to smartphones and are beginning to upgrade their devices.
The boost in shipment volumes made Apple the combined regions' firth largest vendor in the third quarter, but it doesn't come anywhere close to dominating the domain.Samsung (NASDAQOTH: SSNLF) leads the pack with a nearly 50% market share, while Apple holds just 3.9%.
Apple has a long road ahead hereAlthough Counterpoint says that Apple is snagging market share from Samsung and Sony, Samsung's strong presence in the Middle East and Africa is unlikely to be seriously impaired anytime soon.
Apple's phones are too expensive for many people in emerging markets, and the MEA is no different.Some have speculated that therumored 4-inch iPhone 6cwill help Apple boost its position in emerging markets, in part because it's expected to sell for between $400 and $500 (which is about $200 lower than the iPhone 6s price). But while a 6c could help Apple in the MEA region, I think the company will focus instead on selling older versions of its devices at discounted prices.
Apple just dropped the price of its iPhone 5s by nearly half in India, and I think the company will take a similar approach in the Middle East and Africa. Apple presumably wants to protect its high margins even as it expands into emerging markets -- and releasing a new, low-priced iPhone 6c specifically for emerging markets would work against this.
But as users in these markets get accustomed to more sophisticated phones, it seems reasonable to conclude that Apple will increase its market share. Especially when you consider that smartphone shipments are growing three times faster in MEA than the rest of the world.
It's worth remembering that just a few years ago Apple was chided for not moving fast enough in China, and that the company risked losing a foothold in the country. Now, things look much different. In the fiscal 2015 fourth quarter, iPhone revenues in the Greater China region increased 87% year over year, and China now represents 24% of Apple's total revenue.
Apple tends to move more slowly than other companies sometimes, and it's willing to make small gains rather than rush into new markets. So I don't expect the company to snag a large percentage of shipment volumes in the MEA region any time soon. But you can bet that Apple will continue to make incremental gains in both the Middle East and Africa, all while retaining high profitability from iPhone sales.
The article Apple's iPhone Sales Grew 133% in the Middle East and Africa, But It Still Has Lots of Work Ahead originally appeared on Fool.com.
Chris Neiger has no position in any stocks mentioned. The Motley Fool owns shares of and recommends Apple. Try any of our Foolish newsletter services free for 30 days. We Fools may not all hold the same opinions, but we all believe that considering a diverse range of insights makes us better investors. The Motley Fool has a disclosure policy.
Copyright 1995 - 2016 The Motley Fool, LLC. All rights reserved. The Motley Fool has a disclosure policy.